Description & Technical information
This accomplished head of Menander is carved in Egyptian red porphyry, a stone quarried in the Eastern Desert of Egypt at Mons Porphyrites. It was the costliest, hardest and most luxurious of all exotic stones employed by the ancient Romans. Under Roman rule, the ancient quarries were controlled by the Imperial family and the use of red porphyry remained limited. Porphyry has always been highly regarded as a royal stone, because its color was associated with the regal and (in Roman times) imperial use of purple to symbolize rank and authority. Following the dissolution of the Roman Empire, access to Egypt for Europeans became very limited, so that the only porphyry available was that excavated on the sites of ancient monuments. For this reason, the material continued to be highly prized in the early-Modern period.

In the seventeenth century, when the present head of Menander was carved, the rarity of porphyry and its association with the splendour of Ancient Rome would have been immediately recognised, signalling a conscious desire on the part of both the artist and the patron to establish an association with the aesthetic and thematic values of ancient art.

Represented life-size, this idealized but distinctive portrait represents the Greek playwright Menander who was born into a prominent Athenian family in circa 343 B.C. He was for a time the pupil of the philosopher Theophrastus and staged his first play in Athens in 321 B.C. During his thirty-year career he wrote more than a hundred plays.

This particular likeness is preserved in more than fifty Roman Imperial portraits and numerous European creations. For the longest time, the portrait type was called Virgil or Menander, but the identification as Menander was finally securely determined by a small inscribed bust now at the J. Paul Getty Museum in Malibu. The Roman writer Pausanias mentions that a bronze statue of Menander was set up on the Theater of Dionysus in Athens shortly after the playwright's death in 292 B.C. – and this no doubt corresponds to a statue base found in the theater in 1862. The marble base was clearly for a seated figure, most likely in bronze, and is inscribed for Menander and signed by Kephisodotos the Younger and Timarchos, the sons the legendry artist Praxiteles.

In conclusion, the costly and exotic material of our portrait, the distinguished provenance of the sculpture, the accomplished quality of the carving, as well as the identity of the distinguished sitter all combine to make this attractive likeness an important and evocative product of the Italian seventeenth-century.
Period: 17th century
Medium: Porphyry
Dimensions: 54 x 23 cm (21¹/₄ x 9 inches)
Provenance: Marquis of Remisa collection, Spain, acquired in the 19th century.

Literature: Related Literature
G.M.A. Richter, The Portraits of the Greeks, vol. 2, London, 1965, pp. 224-36, figs. 1514-1643.
P. Persano, "Una Statua dalle molte vite. Biografie di un Menandro romano inedito in una collezione privata Genovese," Römische Mitteilungen, vol. 122, 2016.
D. Del Bufalo, Porphyry: Red Imperial Porphyry. Power and Religion, 2nd Revised Edition, Turin, 2018.

Categories: Sculpture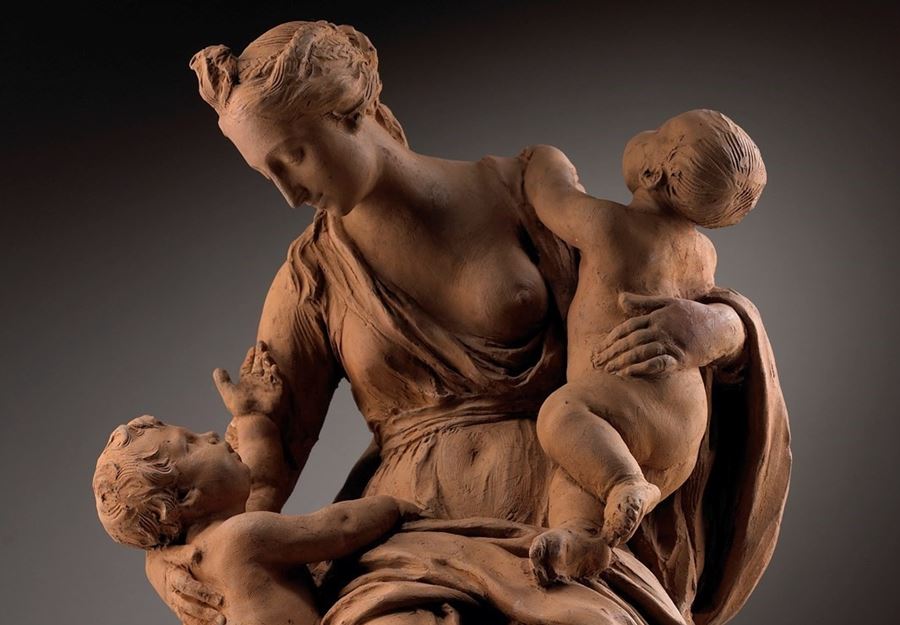 Discover the gallery
Tomasso
European Sculpture from the Early Renaissance to the Neoclassical periods, Master Paintings and Ancient Art
More Works From This Gallery