Description & Technical information
A very important Headhunter's decoration called ramog in the language of the Yahray Tribe of Southern Irian Jaya. It possibly represents a phallus, partly covered with a fringed skirt made of Jobs Tears seeds and is worn hanging on the back of the distinguished warrior. The neck-strap is decorated with several pieces of bamboo. This type of decoration was made by the old men of the tribe and was officially awarded during the batik-jamé, a pig feast that followed some successful headhunting raids.

There are four levels of distinction amongst the Yahray headhunters and the ramog is the first – awarded to a warrior who had succeeded in killing eight opponents during headhunting raids. The others are the tok for at least 12 kills; the oana for at least 15 kills; and finally, the ultimate distinction is the gouwa awarded to those who possessed the ramog, tok and oana.

Yahray Area (formerly known as the Mappi), Mouth of the Digul River, Southern Irian Jaya, Indonesian New Guinea. Gourd, feathers, seeds, and fiber.

Origin: Indonesian New Guinea
Medium: Gourd, feathers, seeds, and fiber
Provenance: Collected in the field by a Dutch colonial some 30 to 40 years ago and since then forgotten amongst his belongings. Ex coll. : Maurice Stevens, Holland.
Literature: See a similar but un-identified example in "Asmat, Leben mit den Ahnen" by Konrad & Konrad & Schneebaum, 1981, Fig a, p. 150, INV. N° N019, col. Konrad. The only other examples known of these larger necklaces presently are the one in the collection of Ursula & Gunter Konrad. The one in the Friede collection, NY (ex Galerie Meyer); one in the collections of the Musée de l'Homme, Paris and one other in a private collection. They all seem to be more recent then the present example or at least show much less wear.

Pub. : Catalogue of Asmat Art, Oceanic & Eskimo Art, and Paintings by Eugène Brands. Galerie Meyer - Oceanic & Eskimo Art, TEFAF 2019, p. 19.
Categories: Jewellery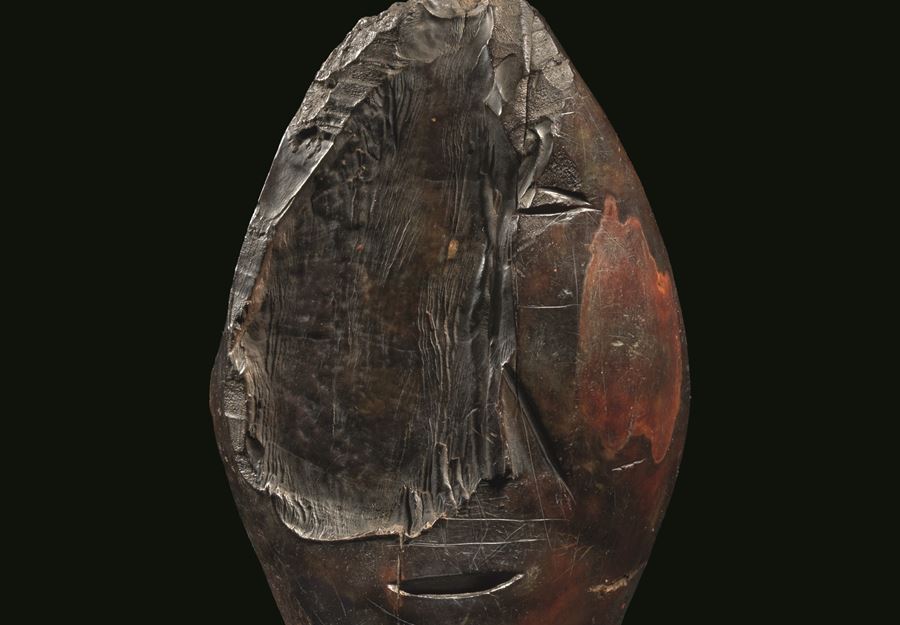 Discover the gallery
Galerie Meyer-Oceanic Art
Tribal Art dealer specializing in early Oceanic Art since 1980 and archaic Eskimo Art since 2010
More Works From This Gallery