Description & Technical information
Jiaqing period circa 1800
European Market
Height: 4½ inches; 11.5cm

Price: £11,250

A matched pair of Chinese export candlesticks of caparisoned elephant form painted in pale iron red, underglaze blue and gold.

This is an early example of this entertaining form that was popular at the end of the eighteenth century. A similar type was also made with a pug dog - and both are inspired by zoomorphic forms in bronze and similar porcelain hookah bases from the Wanli period.

Originally elephants were found across China but were largely exterminated during the Han and Tang periods so that by the late Ming hardly any were left. In the Qing the only such animals were imports from India, used for transport of goods. Xie Zhaozhe, writing in the late Ming, commented on them in his Fivefold Miscellany (1608): "Although these beasts are bulky and awkward in nature and do not have an elegant shape, they nonetheless possess uncanny intelligence. Thus it is that that many humans are not the equals of animals."
Elephants were rare and popular in Europe; the naturalist René de Réaumur sent one to Paris in 1755, but his ship was captured by the English and the elephant, expecting to arrive in Paris, disembarked instead in Portsmouth, where it promptly died (of disappointment?). It was stuffed and later returned to the French, finally arriving in Paris somewhat moth-eaten. Buffon wrote in his Natural History (1749–1789) that the elephant was powerful, courageous, prudent, moderate even in the strongest passions, and constant in love; it remembers favours as well as injuries and is modest, never mating in front of witnesses.

References: Veiga 1989, p110, a single similar to this; Shimizu & Chabanne 2004, p111, a late Ming example in blue and white; Sargent 1991, p242, two pairs.

Date: circa 1800
Period: Jiaqing period
Medium: Porcrelain
Dimensions: 11.5 cm (4¹/₂ inches)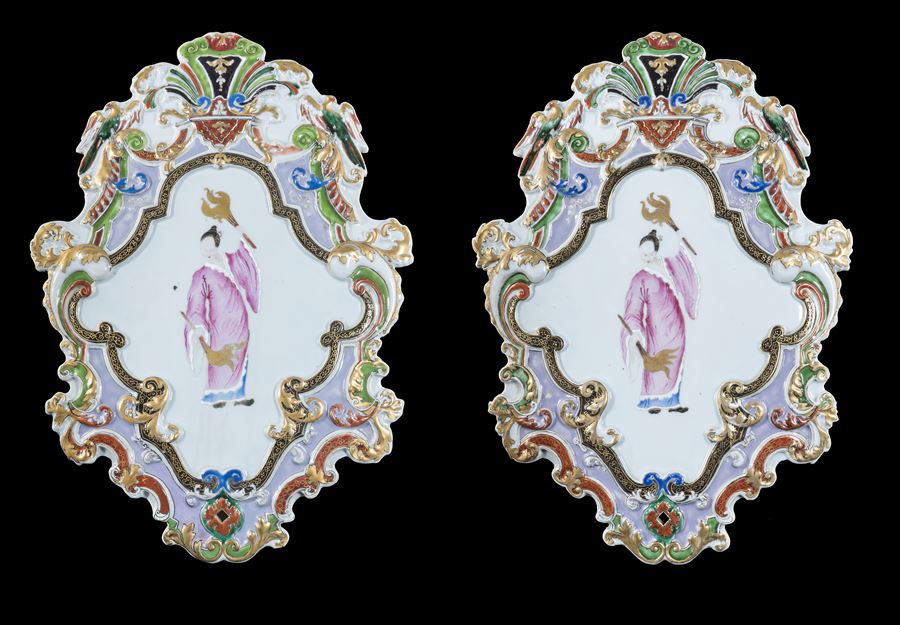 Discover the gallery
Cohen & Cohen
Chinese Export Porcelain, 17th & 18th Century, Works of Art
More Works From This Gallery