Description & Technical information
Made for the European market
Stock No.: A5279

With masterful detail and great sensitivity, this vivid display captures the enchanting nature of a group of Southeast Asian birds. An arrestingly vivid black-naped oriole (Oriolus chinensis) occupies the foreground, with brilliant yellow plumage and black-tipped wings. Above a pair of cuckoos shimmer with electric indigos, iridescent greens and glistening chestnuts, set against their mottled breasts. Two munias are perched to the right, the black-headed munia (Lonchura malacca) with a rich copper sheen and scaly-breasted munia (Lonchura punctulata) with cascades of brown and white scales. The elegant male olive backed sunbird (Cinnyris jugularis) appears on the lowest branch, its slender, arched beak adept at reaching the most inaccessible nectar.
Perched within the meandering branches of a viburnum, the birds inhabit the space with tranquil equilibrium. Clusters of dainty fruits and pink flowers accentuate this feeling of languid rhythm. Layers of paint achieve a great sense of depth, while minute details such as a wisp of feathers protruding into the oriole's beak, reveal an exceptional level of observation. Dashes of silver highlight the branches and several of the leaf tips display yellowing blemishes. Such accomplished style, depth and observation typify the hand of a Chinese artist, hailing from the classical tradition of natural history painting.
From the Song dynasty (960–1279) accomplished artists were trained to paint flowers and birds (huaniao) with exceptionally fine brushwork (gongbi). Latterly artists referred to the influential Mustard Seed Garden Manual of Painting, multiple copies of which were reproduced from the 17th to the 20th century. The text presented detailed instructions for painting plants and flowers with naturalism and accuracy. The long-established tradition of natural history painting amongst Chinese artists proved valuable to Western patrons. Many of those serving in the East India Company commissioned paintings of local flora and fauna, creating albums of particular scientific interest. Notable examples include The William Farquhar Collection commissioned between 1819 and 1823, donated to The National Museum of Singapore, the Sir Thomas Stamford Raffles Collection obtained between 1811–1824, in the British Library, London and The Reeves Collection established between 1812–1831, now held in the Natural History Museum, London.
These enlightening collections provide highly accomplished studies of birds, animals and flowers whilst incorporating refined Chinese painterly techniques with Western taxonomic interests. The present work bears significant comparison to these studies (see for example black-naped oriole, Oriolus chinensis) from an Album of 51 Drawings of Birds and Mammals made at Bencoolen, Sumatra, for Sir Stamford Raffles. Originally published in c.1824. British Library, London). The present study would also have comprised part of an album, it bears the number 15 on the top and the paper is marked J. Whatman Turkey Mill, 1829. Between 1817–1830 the majority of drawings sent by John Reeves to England were on J. Whatman paper, which was used frequently by East India Company officials commissioning local artists.
One notable exception between the present work and that of contemporaneous albums produced by Chinese artists lies in the composition. The great majority of studies in the Raffles, Farquhar and Reeves collections depict either individual specimens or breeding pairs of birds. This group portrait of various different species appearing together is therefore rare and insightful; it indicates the specific requirements of the patron and demonstrates the versatility and imagination of the artist. The result is a resounding success, as the graceful composition echoes the melodies of the songbirds themselves, their exceptionally detailed feathers and glinting eyes suggest these spirited creatures might depart their perches at a moment's notice.
Date: c.1829–50
Period: 19th century
Origin: Guangzhou (Canton), China
Medium: Watercolour and bodycolour heightened with gum arabic
Dimensions: 46 x 57.5 cm (18¹/₈ x 22⁵/₈ inches)
Categories: Paintings, Drawings & Prints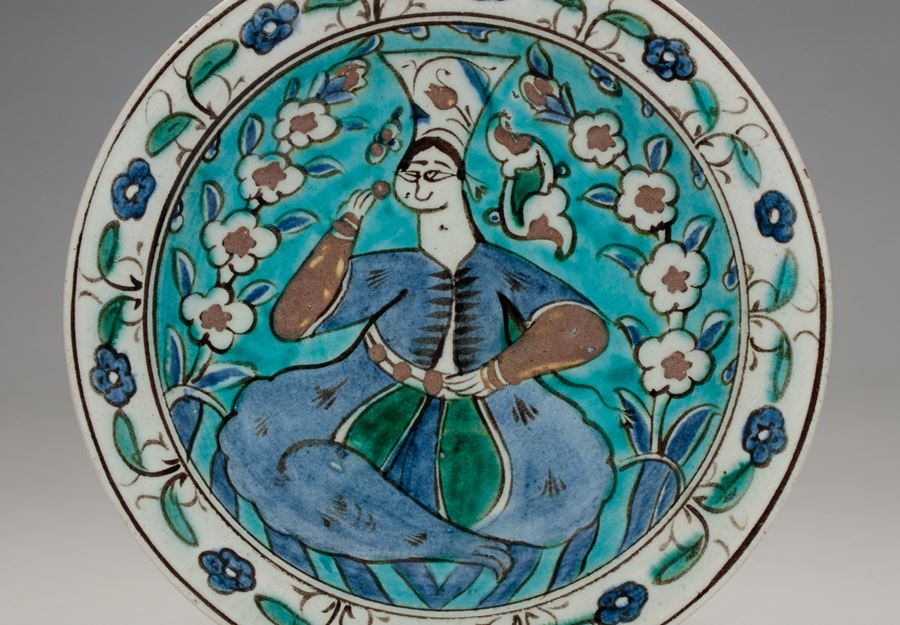 Discover the gallery
Amir Mohtashemi Ltd.
Indian,Islamic and Cross-Cultural Works of Art
More Works From This Gallery