Description & Technical information
Made for the European market
Stock No.: A5312

This wooden panel painted in coloured shellac and highlighted in gold features a central scene and a floral border (partially cut off) with vegetal scrolls on a red ground. The central field depicts a courtly outdoor scene on a green ground. Slightly off centre to the right, is a small raised canopied pavilion with a removable step; the flat textile canopy is supported by four corner posts. On the raised dais a woman sits on a chair embracing her naked child in a pose reminiscent of the Virgin and Child. The woman is attended by three female servants. Although their attire seems to derive from European sources, possibly from prints like those which inspired contemporary Mughal paintings, the style follows long-established Persian conventions. A large flowering tree in the background and plants and flowers sprinkled in the foreground cover much of the remaining space. As in similar Persianate depictions of garden scenes, such as contemporary Mughal and Deccani paintings, food is being served by attendants and there are typical Persian-shaped bottles for water or wine (ṣurāḥī) and cups. There are also two dogs in the foreground, birds flying over the flowering tree and Chinese-style clouds.
This wooden panel was part of a now lost drop-front writing cabinet called escritório in Portuguese. It belongs to a rare group of furniture painted in shellac made in Gujarat (and also in Thatta in Sindh, present-day Pakistan) for export to Europe probably under Portuguese commission and following a European prototype known mainly from Germany, where the most coveted and expensive ones were produced, known as schreibtisch or writing desk. The hinged front would drop down to form a surface for writing while the interior drawers would be used to store writing implements and valuables. Prevalent in the interior furnishings of European noble and patrician households, portable drop-front writing cabinets were a basic requirement of Portuguese officials, merchants and traders living and travelling in Asia.
To this rare group belongs one drop-front writing cabinet in the Victoria and Albert Museum, London (inv. IS.142–1984) painted with both secular and Christian imagery depicting Europeans.1 Missing its front panel, this cabinet shares many decorative and iconographic features with the present panel. One other complete example, probably made in Sindh on account of its highly Persianate style and the materials used, belongs to the Ashmolean Museum, Oxford (inv. EA1978.129). Another drop-front writing cabinet, also missing its front panel and similarly decorated with Christian imagery combined with Hindu iconography and more Persianate figures has recently been identified in a Portuguese private collection and was made in Gujarat. Also modelled after European prototypes, two Gujarati small table cabinets veneered in tortoiseshell belong to this group, one in the Museu Municipal de Viana do Castelo (inv. 1080) and the other to the Museu Nacional de Soares dos Reis, Porto (inv. 2689 Mob MNSR). This second one, the so-called 'cabinet of the family scenes', is one of the most important objects made in India under the Portuguese as it depicts the same Portuguese couple and their family in their different activities while living in India.2 A myriad of images is painted on every available surface of the drawers, the sides and top veneered in mottled tortoiseshell, some relating to surviving contemporary Jain paintings. While the floral decoration on both this table cabinet and the present example match in style, the painting style of this panel is more Persianate and draws less on the local Gujarati Jain painting tradition.

Footnotes:
1.Jaffer 2002, pp. 25-26
2.Crespo 2021, pp. 57-67

Bibliography:
Crespo, H. M. India in Portugal: A Time of Artistic Confluence (cat.), Porto, Bluebook, 2021.
Jaffer, A. Luxury goods from India: The art of the Indian cabinet maker, London, V&A Publications, 2002.
Period: Late 16th to early 17th century
Origin: Gujarat, India
Medium: Lacquer on wood
Dimensions: 20 x 30 cm (7⁷/₈ x 11³/₄ inches)
Provenance: US private collection

Categories: Paintings, Drawings & Prints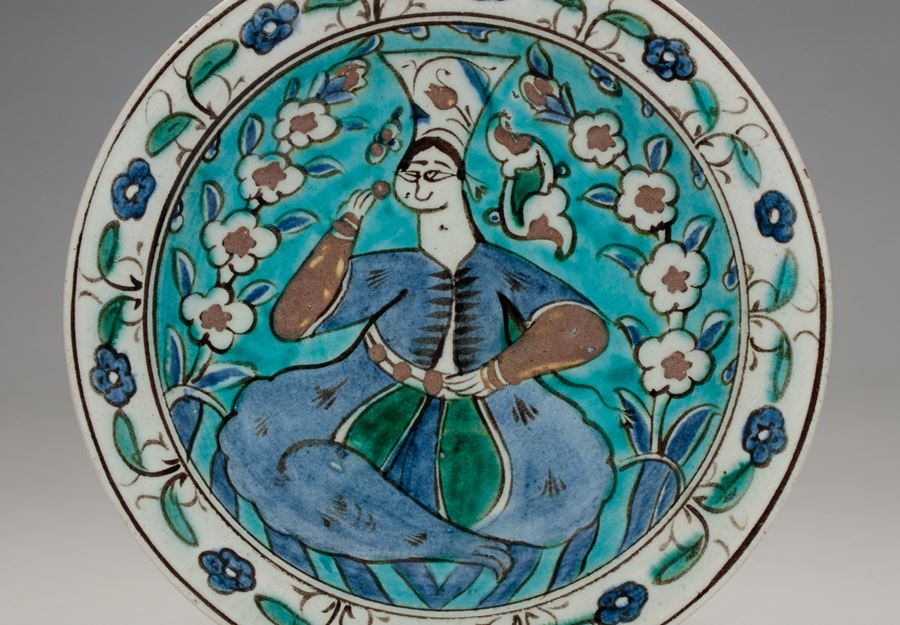 Discover the gallery
Amir Mohtashemi Ltd.
Indian,Islamic and Cross-Cultural Works of Art
More Works From This Gallery