Description & Technical information
An important four-section gilt bronze and mirrored glass table top, rectangular in shape with rounded ends and openwork sides depicting seated Bacchic figures holding garlands of vines. In the centre of the garlands, a central medallion of stylized laurel wreaths and thyrses, attributes of Bacchus. Each panel ends with a clawed base topped by a decorative element showing a basket of fruit.
Although the "surtout" appeared on tables as early as the Renaissance, it was not until the 18th and 19th centuries that these table pieces gained in importance and wealth. From a utilitarian element, the "surtout" became a decorative and sumptuous element. It shows the wealth and culture of its owner. Lamps and centrepieces were placed on top of the tableware. Thomire, at the beginning of the 19th century, renewed the decorative repertoire of these supports by developing the neoclassical style.
L:264cm/ l:63cm/ H:18cm.
103.9 in (8 ft, 8 in)/ W: 24.8 in/ H: 7 in
Period: Restauration. Circa 1820
Price: 42000€
REF:4550
Réfèrence:
Musée de Marmottan Paris. Surtout de Lucien Bonaparte. Thomire.
Vergoldete Bronzen, Munich 1989, vol. 2, p. 382, no. 5.16.2.

Date: Circa 1820
Period: 19th century
Medium: Gilt bronze and mirrored glass
Categories: Furniture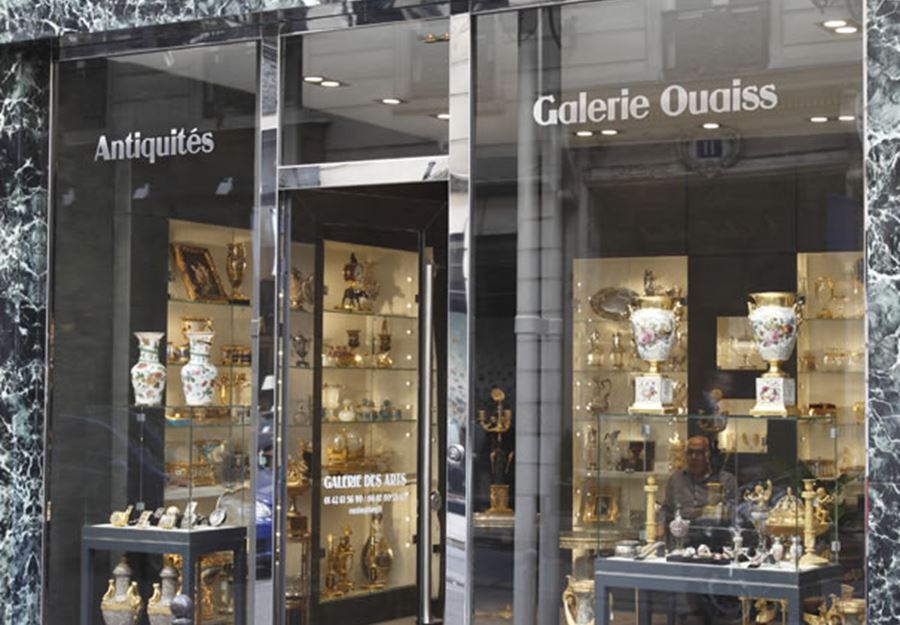 Discover the gallery
Galerie Ouaiss Antiquités
Antique snuff and gold boxes decorated with precious stones, enamel, and micromosaics.
More Works From This Gallery