Description & Technical information
Designs after Maria Sybille Merian.

Dutch Market

Price: £5,800

A pair of blue and white plates with a design after Maria Sybille Merian, probably from the Pronk workshop.

The main image is taken from a design that is traditionally attributed to Maria Sybille Merian (1646-1717), a remarkable Natural Historian and botanical artist who travelled to the Dutch West Indies in 1698. She later published a book of her drawings, Metamorphosis Insectorum Surinamensium (Pub: Holland 1705 and France 1771). For some time it was not known which source had been used, as the complete image is not found in her books. However a careful analysis of the elements has shown that at least four parts are derived from different plates in Merian's third Raupenbuch (caterpillar book) 1717 or the Erucarum Ortus of 1718. The iris is taken from Plate 20 (CXXI in the 1730 complete Edition) and the anemone from plate 34 (CXXXV). The Cinnabar moth (Phalaena jacobaea, L. 1758) is similar to one in plate 28 (CXXIX) and the larger caterpillar (Cerura vinula, L. 1758) on the anemone is taken from plate 39 (CXL) originally depicted on a willow branch. The smaller caterpillar is probably from plate CXIII.

The designs on the rim and the cavetto are also unusual and closely correlate with an Imperial vase in the Victoria and Albert museum (Qianlong mark and period from about 1740), which also has the iris and anemone from Merian's prints, though the other flowers and butterflies are of a more Chinese style. This suggests an artistic interaction and exchange between Imperial ceramic workshops in Jingdezhen and those making porcelains for the export market.

The border design is also found en grisaille on two armorial services for the Dutch market (Kroes 2007, p284-6) and some European subject plates (note 1)

The design can be attributed to the workshop producing designs by Cornelis Pronk and it may even be one assembled by him, or by a second talented designer working with the VOC who may have been responsible for a number of the other designs attributed to this workshop but with no direct attribution to Pronk. These blue and white examples are the best of their type being made at the same time as the famille rose examples. The pattern was ordered later in blue and white but is of poorer quality and is found on many different shapes, whereas the earlier ones are mostly on plates like this.

References: The origin of this composite design was discovered by C. Jacob-Hanson. See Charlotte Jacob-Hanson, "Maria Sibylla Merian: artist and naturalist," The Magazine Antiques 158, no. 2 (August 2000), pp. 174-183 (discusses her life and work, including motifs found on the eighteenth-century faience of Höchst and Strasbourg, and on Chinese Chine de commande porcelain); Howard & Ayers 1978, p304, No 298, a famille rose dinner plate; Howard 1994, p78, No 60, a famille rose dinner plate; Jörg 1997, p287, fig 334, a famille rose saucer; Cohen & Cohen 2005, Cat 11, a large famille rose charger; 2006, Cat 32, a later blue and white tureen and cover with the same design; 2013, p58-67.

Note 1: for example: Hervoüet 1986, No 7.115, Les Deux Fontaines, after Bernard Picart and another with a scene of Jupiter and Juno on Mount Ida, after an engraving by Gaspard Duchange after a painting by Antoine Coypel (1661-1722) - a version of the painting sold Sothebys in 2019, though other versions are known and it was much copied in the 18th century (by Franz Christoph Janneck) and also engraved by Jeremias Wolff.

Date: circa 1740
Period: Qianlong period
Origin: Chinese
Medium: porcelain
Dimensions: 25.6 cm (10¹/₈ inches)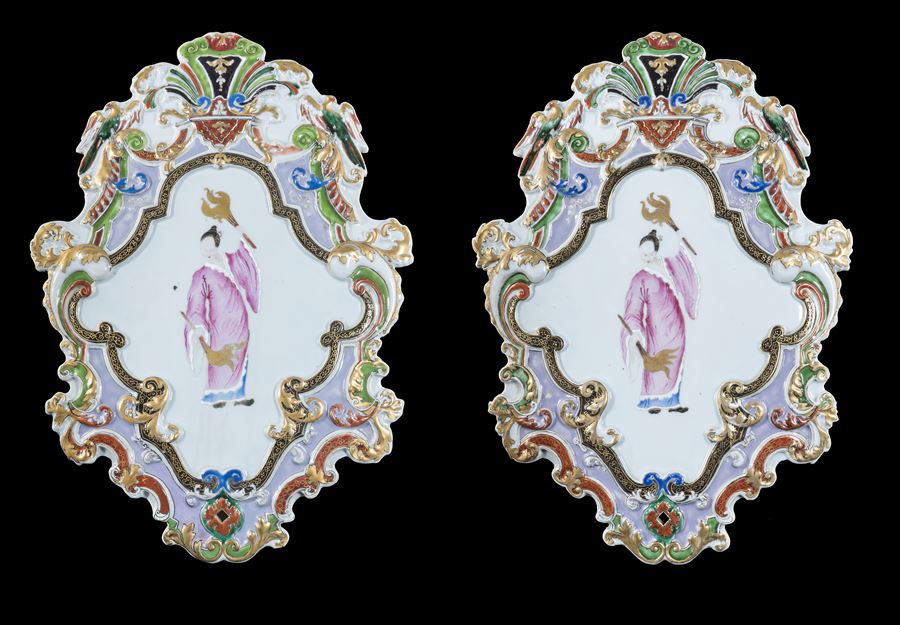 Discover the gallery
Cohen & Cohen
Chinese Export Porcelain, 17th & 18th Century, Works of Art
More Works From This Gallery