Description & Technical information
"This Establishment is – particularly – conspicuous for its great variety of marble works, bronzes, candelabras, table-tops, etc. besides a rich collection of the best mosaics and shell engravings."

Thus, Francesco Saverio Bonfigli described Bendetto Boschetti's workshop in his Guide to the Studios in Rome, a handbook aimed at assisting travellers make their way through the city's cobbled streets, one artist bottega after the other. Situated at the heart of the Eternal City, at 74 Via Condotti, Boschetti's atelier was famous among contemporaries for the exceptional quality of its works after the antique, highly sought after by the ever growing number of foreigners visiting Rome as part of their Grand Tour.

Objects like the present tazza would have responded exactly to the demands of such an audience. Giallo antico marble had been a favourite material of ancient Romans, who quarried it in present day Tunisia and called it marmor numidicum. Beautifully finished, this vase also echoes the shape of ancient Roman labra, basins used for cold or hot water in thermal baths, or vessels such as the celebrated Warwick Vase (Burrell Collection, Glasgow, inv. 42.20). Throughout the 18th and 19th centuries, these models were filtered through the vocabulary of Giovan Battista Piranesi's influential Vases, candelabra, grave stones, sarcophagi, tripods, lamps, and ornaments, a collection of designs for decorative objects inspired to the antique first published in Rome in 1778.

Here, the tazza's main body, carved inside with a rosette motif, is flanked on two sides by foliate handles and encircled by an egg-and-dart border. It rests on a fluted socle. A closely comparable Roman labrum in pavonazzetto marble was unearthed during the pontificate of Pius VI (1775-1799) and exhibited in the Vatican Museums, where it remains to this day (inv. 1144).

Period: Early 19th century
Medium: Giallo antico
Signature: Signed "B. BOSCHETTI / ROMA"
Dimensions: 45 x 60 x 49 cm (17³/₄ x 23⁵/₈ x 19¹/₄ inches)
Categories: Works of Art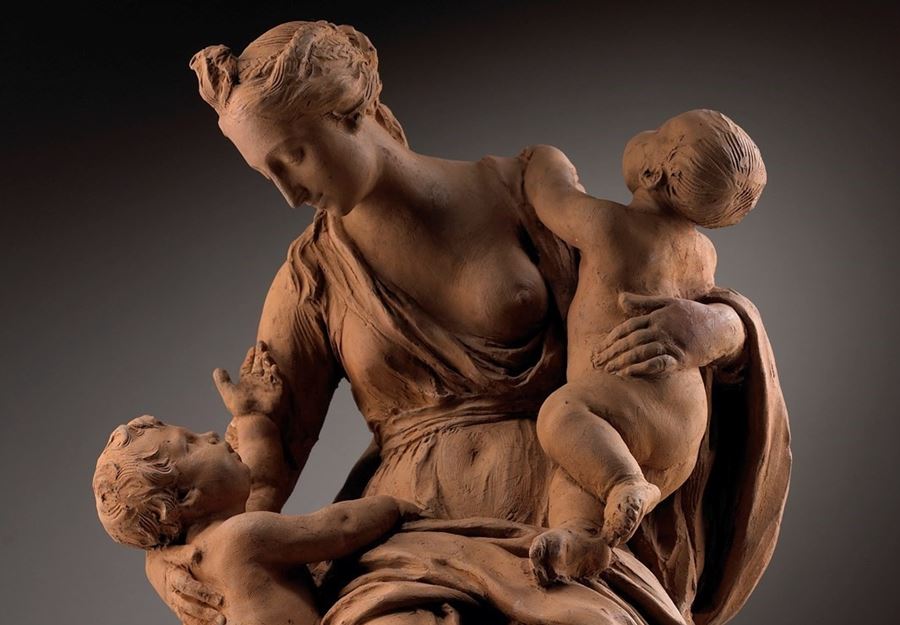 Discover the gallery
Tomasso
European Sculpture from the Early Renaissance to the Neoclassical periods, Master Paintings and Ancient Art
More Works From This Gallery