Description & Technical information
Native-Copper in its natural state is often found on the surface or in running water where it is uncovered by nature. The pure, unadulterated copper nodules or sheets can be hammered with stone mauls into desired shapes without heating – this is known as cold-hammering. The edge of copper blades made in this fashion retain a sharper and more durable edge than the stone ones. The Copper-Eskimo and other local populations used the hammered copper for utensils and ceremonial objects such as knives, spoons, rattles, and masks. Copper was widely traded and used as far west as the Tlingit and Haida tribes of coastal British Columbia or southward to the Plains Indians.

A rare and archaic so-called snow-knife or panaujaq with a cold-hammered, native-copper blade. The handle is decorated with incised radiating lines and the fan-shaped pommel is inserted and riveted twice with copper rivets in place and then bound with a spiral hide wrap. The blade of leaf shape is hammered into its form with a thick protruding rib separating the thin cutting edges.

Copper Eskimo, Central Northern Canada & the Arctic circle in general. Native copper, bone, and sinew. 45,1 cm. 18th/19th century.




Provenance: Ex collection Bjorn Wandal, Pakhuset Krik, Denmark.
Literature: Ref. : Cadzow, Donald A. : Native copper objects of the Copper Eskimo. Museum of the American Indian, Heye Foundation, New York, 1920
Categories: Tribal Art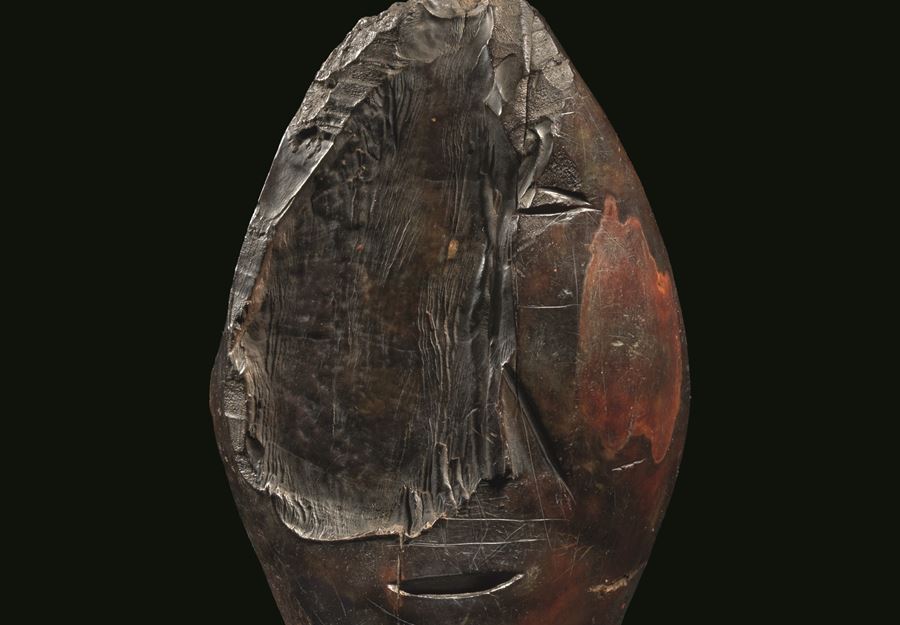 Discover the gallery
Galerie Meyer-Oceanic Art
Tribal Art dealer specializing in early Oceanic Art since 1980 and archaic Eskimo Art since 2010
More Works From This Gallery