Description & Technical information

A similar bureau cabinet formerly belonging to Queen Mary and thence by descent to H.R.H the Duke of Windsor, was sold, Christies, London, July 18, 1957, lot 34. It was later owned by Merle Oberon and was sold, Sotheby's, Los Angeles, November 19-20, 1973 lot 34. With Edwin H. Herzog (Antiques) Ltd., it was given to the Pierpont Morgan Library, subsequently sold, Christies, New York, October 17, 1981 bought by Wendell Cherry and sold from his Estate, Christies New York, October 12, 1996, lot 277.
This impressive bureau-cabinet can be confidently attributed to the workshop of Giles Grendey (1693-1780) and would have been a significant commission.
Giles Grendey of Aylesbury House, St John's Square, Clerkenwell, was described at the time of his wife's death as a 'great dealer in the Cabinet Way', and further in 1755 when his daughter married the Royal Cabinet Maker John Cobb as an 'eminent Timber Merchant.' Apprenticed in 1709, Grendey who was born in Wotton-under-Edge in Gloucestershire, became a freeman in 1716, by 1726 taking apprentices into his own employ. After his marriage in 1720, he became a freeman of the city of London and was elected to the livery of the Joiner's Company in 1729.
In 1731, Aylesbury House caught fire and the majority of the building and its contents were almost completely destroyed. According to contemporary newspaper reports, Grendey experienced a devastating loss in the fire, with 'among other rich and valuable Goods was burnt a Chair of such rich and curious Workmanship… it being intended, to be purchas'd by a person of Quality who design'd it as a Present to a German Prince,' together with furniture to the value of £1000 which he 'had pack'd for Exportation against the Next Morning.' It is clear therefore, from such contemporary accounts, that not only was Grendey's business as furniture maker a considerable one, but that he also made furniture specifically for exportation. Furthermore, according to Symonds, he is the only English furniture maker, of whom definite evidence exists to support this.

The upper section with arched pediment flanked by the original turned and japanned finials on plinths above a pair of paneled doors, japanned with scenes of villages with birds opening to an elaborately fitted interior with drawers, pigeon holes and central doors flanked by fluted pilaster document slides and further drawers with arched niches; the bureau with fall opening to a similarly fitted interior of drawers, pigeon holes and doors over a slide covering a well; with two short drawers over two long drawers; raised on bracket feet; the whole cabinet decorated in elaborate scarlet japanning with scenes of figures in oriental dress in landscapes with sprays of flowers, birds and trees. This cabinet is a rare survival, retaining the original scarlet japanning in an extraordinary state of preservation.


Date: circa 1720
Period: 18th century, George I Period
Origin: English
Dimensions: 241 x 107 x 58.5 cm (94⁷/₈ x 42¹/₈ x 23 inches)
Provenance:
The Geoffrey Hart Collection, 1937
The Connoisseur Magazine, 1937, by R. W Symonds
With Partridge Fine Art, 1957
Collection of Mrs. Henry Ford, Grosse Pointe Farms, Michigan

Literature: Brown, E, Sixty Years of Interior Design: The World of McMillen, New York, 1982 p. 204
(illustrated in situ in the Library, Grosse Pointe Farms, Michigan).

Categories: Furniture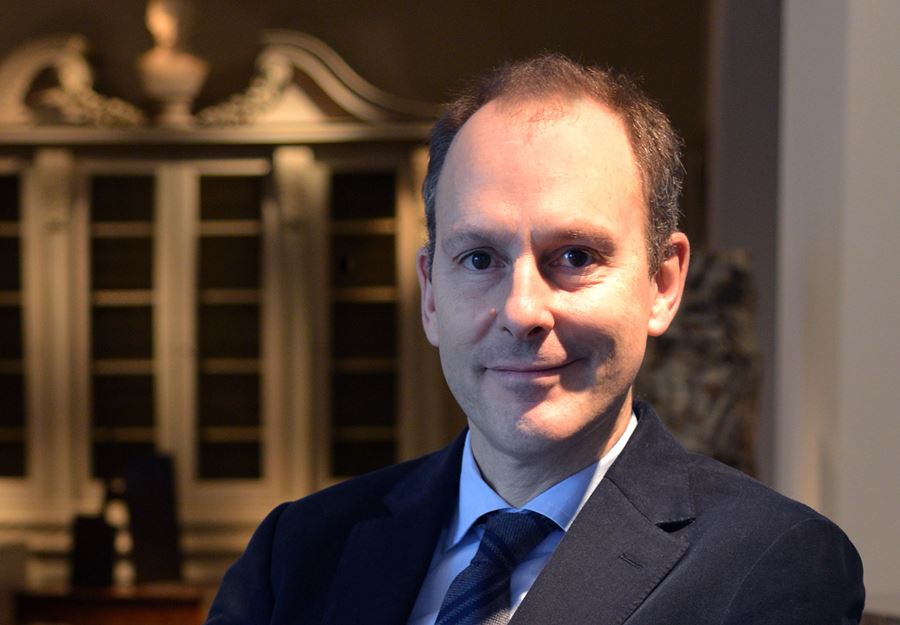 Discover the gallery
Godson & Coles
English Antique Furniture and Modern British Art
More Works From This Gallery