Description & Technical information
This oval snuffbox with vertical sides and cambered lid is decorated on the sides with deutsche Blumen and on the lid and underside with allegorical painting in purple monochrome. The scene on the lid shows two female figures, one of which is most likely Fama, representing Clemens Wenceslas of Saxony (1739–1812), who was a son of the Polish king and Saxon elector Augustus III and whose name and titles are displayed on the allegorical figure's raised tablet. The female figure sitting in front is a personification of Saxony with the electoral crown upon her head; by her right arm are a crozier and mitre and a cartouche with the electoral arms. While the military attributes in the background are a reference to the participation of Clemens Wenceslas in the Seven Years War, the ecclesiastical attributes remind us of his years as Bishop of Freising and Regensburg (1763–68), following which he became Archbishop and Elector of Trier and Bishop of Augsburg (1768–1801). His sister Maria Anna Sophie was married to Elector Joseph III of Bavaria. On the inside of the lid, surrounded by two golden palms, is a particularly lifelike portrait of Clemens Wenceslas in his ceremonial robes as Elector of Trier, exceptionally finely executed after an engraving by Johann Michael Söckler (1744–1781).
A further oval Nymphenburg snuffbox in the Sammlung Bäuml in Munich (published in Ziffer, Alfred. Nymphenburger Porzellan: Sammlung Bäuml. Munich, 1997, p. 247, cat. no. 729) shows the same portrait.
Date: 1764-68
Period: 1750-1850, 18th century
Origin: Germany
Medium: Copper-gilt mount
Dimensions: 4.3 x 7.5 cm (1³/₄ x 3 inches)
Categories: Jewellery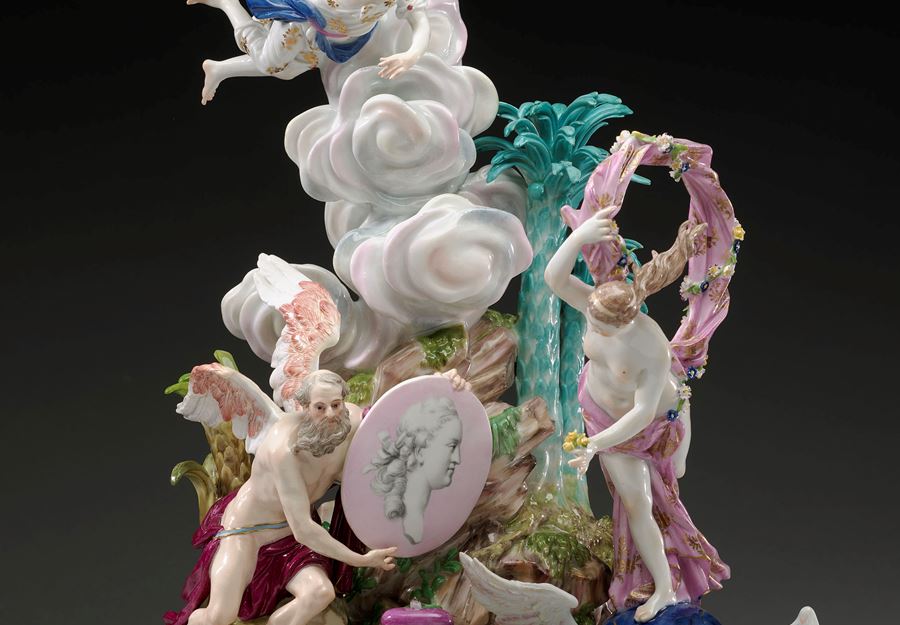 Discover the gallery
Röbbig München
Early German Porcelain, 18th Century French & German Furniture, Paintings & Objets d'Art
More Works From This Gallery