Description & Technical information
Designed by: Josef Hoffmann, around 1909
Executed by: Wiener Werkstätte, model no. G 1039 (rectangular
pieces), G 957 (pendant)
Marked: pendant: Austrian hallmark – head of Diana (A for Vienna, 2 for 900/1000), clasp: WW 925 fine silver (according to an expert opinion 878 fine silver for the extended chain), mother-of-pearl, remains of gold plating
L 43 cm
As yet, we have only been able to find evidence for parts of the necklace. The Wiener Werkstätte archives hold sketches for the two rectangular decorative elements – model no. G 1039, described as part of the chain for neck jewellery. The pendant is also documented on a design drawing preserved in the Wiener Werkstätte archives (model no. G 957, referred to as pendant) and depicted in an illustration in "Deutsche Kunst und Dekoration, 1909/1910" (Professor J. Hoffmann, neck jewellery, gold-plated silver with mother-of-pearl).
Evidently Hoffmann designed elements for the serial production of jewellery just as he had done with his earlier furniture designs for J. & J. Kohn.
Exhibited at: Gustav Klimt Zentrum am Attersee, 2016, Emilie Flöge. Reform der Mode, Inspiration der Kunst
Date: around 1909
Period: around 1909
Origin: Austrian
Medium: 925 fine silver, Pearl, gold plating
Signature:
Marked: pendant: Austrian hallmark – head of Diana (A for Vienna, 2 for 900/1000), clasp: WW
Dimensions:
43 cm (16⁷/₈ inches)
Provenance:
private property, New York, USA
Literature:
Ref.:
Deutsche Kunst und Dekoration, vol.
XXV, 1909, p. 383

S. Tretter/P. Weinhäupl (ed.), Gustav Klimt Zentrum am Attersee, exhib. cat., Gustav Klimt. Emilie Flöge. Reform der Mode, Inspiration der Kunst, Vienna 2016
Exhibitions:
Gustav Klimt Zentrum am Attersee, 2016, Emilie Flöge. Reform der Mode, Inspiration der Kunst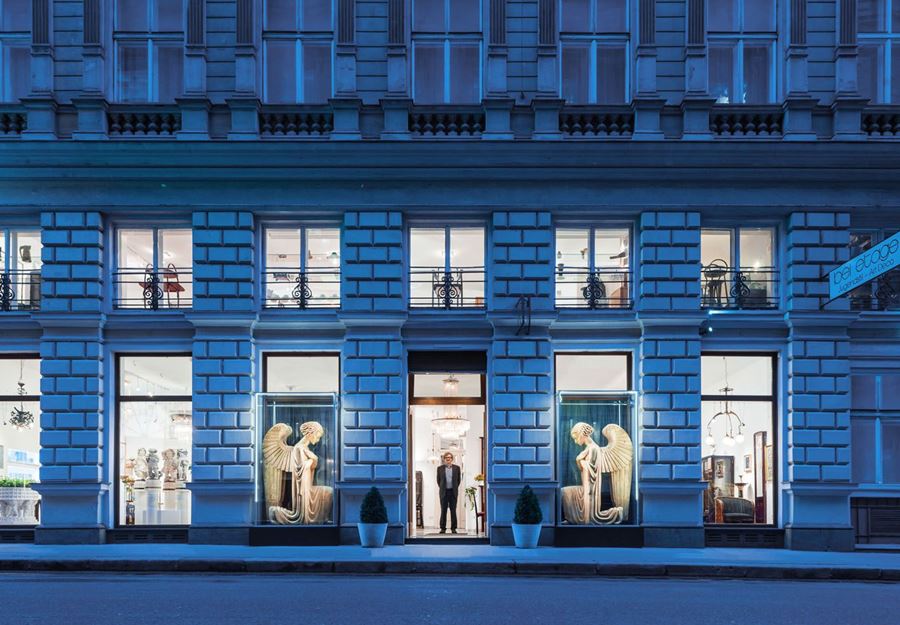 Discover the gallery
Bel Etage, Wolfgang Bauer, Vienna
Viennese Jugendstil, Secessionist Movement
More Works From This Gallery