Description & Technical information
A rectangular Gujarati casket of prismatic, faceted lid, made in exotic timber, probably teak (Tectona grandis), and coated in mother-of-pearl tesserae cut from green turban sea snail shell (Turbo marmoratus), a marine gastropod, fixed to the wooden structure by large, dome-headed silver tacks that have replaced the original brass pins.
Set on four ball-shaped silver feet, its four elevations feature a complex fish scale pattern framed by plain borders. Contrasting with these, the three wider lid segments are characterised by an angular fish scale pattern of identical border and by a narrow peripheral frieze of triangles.
This exceptional casket was also ornamented with sumptuous silver mounts, possibly applied in Goa, or more probably in Lisbon, considering the particularly erudite nature of the decoration. The casket edges are reinforced by thin bands of silver, decorated with acanthus leaves chased frieze. Both the lock and the hinges are similarly chased with fine scrolls (rinceaux) over a stripped ground, reminiscent of the engraved sources that inspired its decoration. As is the norm in such caskets, there is a lizard on the latch, an apotropaic element which protected the casket's valuable contents. The top handle finials, shaped as snake heads, underline the protective purpose of such details.
The Indian origin of this production, namely from Cambay and Surat, in present day State of Gujarat in north-western India, has been consensual for the last decades, as well as fully demonstrated by documental and literary evidence - descriptions, travelogues and contemporary archival documentation – and by the survival in situ of 16th century wooden structures coated in mother-of-pearl tesserae.
A particularly fine and relevant example of one such structure, is the canopy over the Sufi Saint Sheik Salim Chisti's (1478-1572) tomb, in Fatehpur Sikri in the Agra district of Northern India. This is an artistic production, geometric in character and Islamic in nature, in which the mother-of-pearl tesserae form complex patterns of fish scales or, like dishes made using the same technique, stylized lotus flowers with thin brass sheet and pins.
The lid's faceted, prismatic shape, like their contemporary tortoiseshell counterparts also made in Gujarat, corresponds to a familiar European type made from tooled leather coated wood fitted with iron bars, as to better protect its contents.
Regardless of the mounts particularities, the exceptional character of this casket as a testimony to contacts between Portuguese clienteles and Gujarati craftsmen, resides in the rare figurative inner lid and casket interior decoration, painted over a vivid red ground. In the former, centrally placed amidst stylized vegetation, two hornless Indian Antelope females and one male, also known as blackbucks (Antelope cervicapra), leaping, and featuring characteristic prominent long ears, flanked by birds and two hares chased by a dog. In the latter, a couple dressed in typical Portuguese India attire; the male in jerkin over the shirt, ruff (wide starched collar), baggy pants and top hat in 1560s-1570s fashion. The female in a skirt (saio), bodice (similar to the male jerkin) and long skirt, her hair styled in a chignon, as would become the norm for female hairstyles, particularly in Goa.
This rare depiction, which points to the marital character of many of these Gujarati objects made for the Portuguese market, is one of a rare group of objects featuring these figurative depictions in coloured shellac. Other such objects that belong to this same group are, the large hand washing basin from Dresden (Grünes Gewölbe, inv. IV 248) that features animals painted on its reverse, the small writing chest depicting an Indian couple (from the São Roque collection), and another small casket with zoomorphic decoration now in a private collection. The casket described is unquestionably an important contribution to this rare group, which predates by some decades the well-known "cabinet of family scenes", and a significant testimony of the Portuguese presence in Asia.

Date: 2nd-half of the 16th century
Origin: India, Gujarat, probably Lisbon (mounts)
Medium: Teak, Mother-of-pearl, Silver mounts
Dimensions: 15.6 x 25.8 x 14 cm (6¹/₈ x 10¹/₈ x 5¹/₂ inches)
Categories: Oriental and Asian Art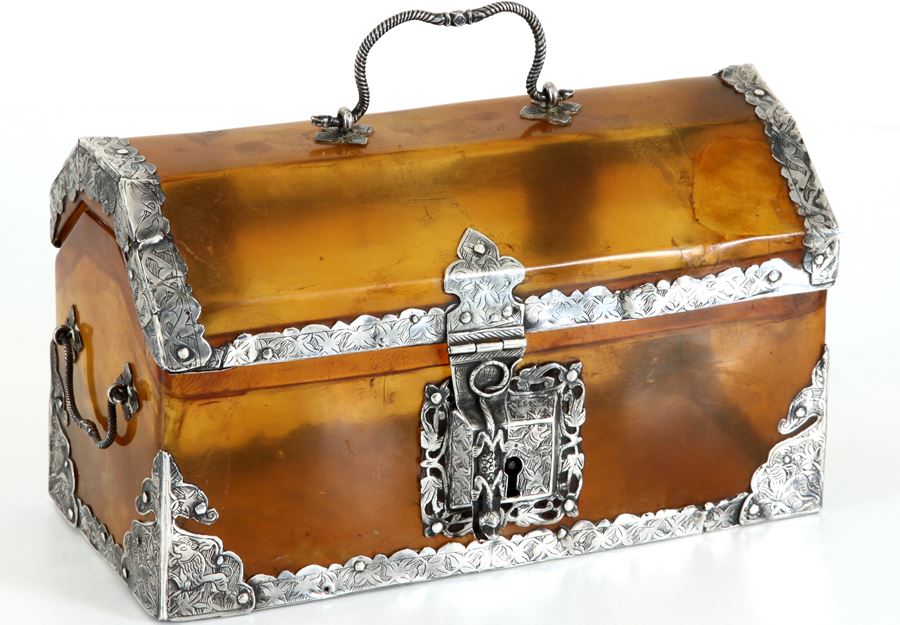 Discover the gallery
São Roque
Fine Furniture, Silver, Portuguese Tiles and Ceramics, Arts of the Portuguese Expansion, Chinese Porcelain, Fine Arts
More Works From This Gallery