Description & Technical information
This minute brass figure, a devotional pendant inspired by a European prototype taken to the Congo by the Portuguese in the late 15th century, portrays Saint Anthony of Congo, also known as "Anthony of Good Fortune", Toni Malau, Ntony Malau or Dontoni Malau.
Highly stylized, the Saint features a radiant halo, and supports the standing Child Jesus on the left palm while holding a Latin cross in the right hand. In turn, the child is portrayed supporting the orb on its left hand while blessing with the right. Anthony is attired in the characteristic Franciscan hooded habit, tied at the waist by a long, knotted cord. Although diminutive in scale the figure was modelled with wondrous detail and cast by the lost wax technique.
Anatomically, it shares evident African features with larger sized brass and ivory examples, namely in its characteristic almond shaped eyes. From the figure's flat back stands out a suspension loop that allowed for hanging from a necklace. The pendant's dense patina, and worn and abraded surface, confirm its use as an amulet, a magic charm to ward off evil that, as a nkisi, or spirit inhabited object, should be rubbed on the areas of the body affected by disease.
Saint Anthony of Padova, or of Lisbon, as he is referred to in Portugal and in its former overseas territories, was born in Lisbon in 1195 and, following from his studies in the University of Coimbra decided, in 1220, to join the Franciscans. Departing for Morocco soon after, following the martyrdom of five Franciscan friars, he would be forced to return to Europe in consequence of a severe fever. Subsequently, he taught theology at the University of Bologna and preached in southern France. On his death in Padova, aged 36, Anthony became the most popular Franciscan Saint, after Saint Francis of Assisi himself. His popularity in Portugal, and in former Portuguese territories worldwide, where many extant churches were dedicated to him, does naturally relate to his Portuguese origins and to his brief travels in Africa.
Wooden or ivory carved, and cast brass images of Saint Anthony, were made in Portugal but also in Ceylon, now Sri Lanka, in Goa, in the Philippines – carved by Chinese artisans known as sangleyes -, and in the Lower Congo. Encouraged by Italian Capuchin monks, the earliest examples produced in the latter African region correspond to a small group of brass figurines, that includes our example, known as Toni Malau or Dontoni Malau, from "Dom António", and malau, the plural form of lau, meaning "good fortune, luck or success".
In addition to these small figures, other depictions of the Saint, carved in wood and of evident African features, do also exist. A well-documented example, previously in Sankt Augustin, in Germany, belonged to Petelo Kianana, of the Ntumba-Mwembe, and was destined to be used by the clan women, who held the image on their knees while praying for successful child delivery.
Some of the Saint's imagery can also be related to the Antonian religious movement led by Beatriz Kimpa Vita (1684-1706), a Congolese priestess trained as nganda mrtinda (a person with the ability for communicating with the supernatural world). Kimpa Vita claimed that Jesus was Congolese and that she herself had died and was possessed by Saint Anthony, hence bringing many prophecies in the name of the Saint. Encouraged by her messianic vision, her followers took over the capital city of Mbanza Kongo, but her cult was ended once Beatriz was charged with rebellion and heresy and sentenced to death by fire in 1706.
Brass pendants, particularly as small as the present example, are rare. An analogous, albeit larger pendant (dim.: 10.2 x 3.5 x 2.9 cm) belongs to the Metropolitan Museum of Art, in New York (inv. 1999.295.1).
Hugo Miguel Crespo
Centre for History, University of Lisbon
Date: 17th century
Origin: Kingdom of Kongo
Medium: Brass
Dimensions: 8 cm (3¹/₈ inches)
Provenance: Miguel Baganha collection, Oporto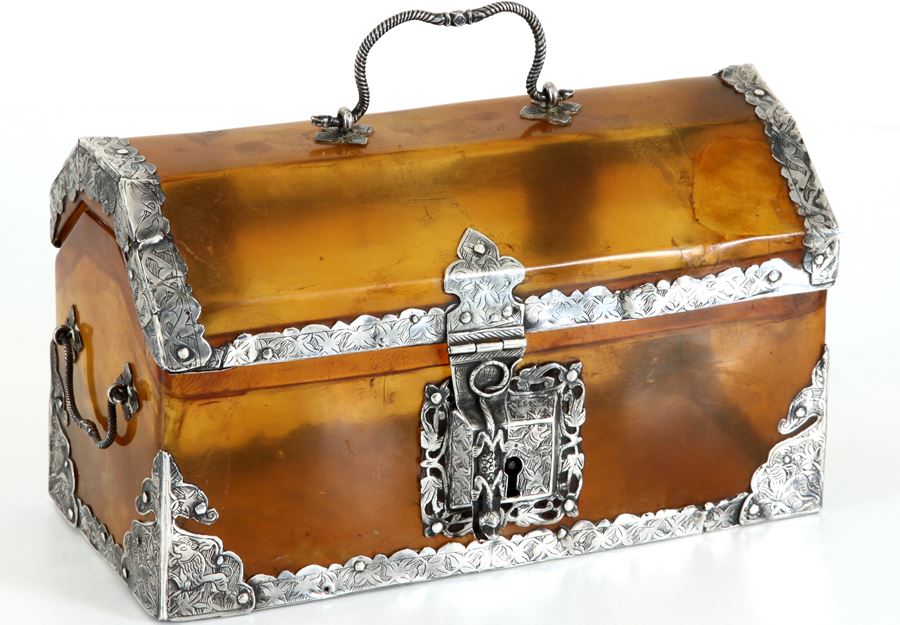 Discover the gallery
São Roque
Fine Furniture, Silver, Portuguese Tiles and Ceramics, Arts of the Portuguese Expansion, Chinese Porcelain, Fine Arts
More Works From This Gallery