Description & Technical information
Rare, standing up Chinese sculptural depiction of Saint Peter. Wood carved, lacquered, and painted, the Saint is portrayed with the left foot resting on a raised rock outcrop, attired in a long-sleeved tunic and cloak, and holding the keys to heaven in his left hand, while blessing with the right.
Also referred to as Peter the Apostle, Saint Peter was one of Jesus Christ twelve Apostles, and one of the earliest leaders of the primitive Christian Church. He is counted as the first bishop, or pope, of Rome, and is generally portrayed in the iconography as an aged and burly man, with a "mildly bellicose" face, short beard, and grey hair.
In this sculpture, probably intended to be paired with a similar representation of Saint Paul, Peter is portrayed in a contemplative, yet hieratic manner, after the Chinese tradition of representing bodhisattvas and arhats for the adornment of Buddhist temples and monasteries. The Saint's gracious gaze and the beauty of the cloak's undulations and folds, contrasting in this instance, with the short curly beard and hair details. It's quintessential Chinese characteristic, however, is the presence of pierced rocks, analogous to scholar's rocks, or gongshí, from lake Taihu, a porous limestone sourced from the foot of Dongting Mountain, in Suzhou, which was often used in making stands for Chinese religious imagery. The figure's highly appealing golden surface, a customary characteristic in contemporary Chinese wooden sculptures made to resemble more costly and precious gilt bronze alternatives, is further emphasized by the abraded tunic and cloak gilt surface exposing the dark reddish-brown hues of the underlaying lacquer coating.
Although more stylized and of lesser naturalism and graciousness then our Saint Peter, a sculpture in the Victoria and Albert Museum, in London (inv. A.7-1917), does also attempt at imitating a gilt bronze work. Made in carved, lacquered, and gilt wood (height: 120.0 cm) and dating from the second half of the 17th century, it represents Guan Di, or Lord Guan, one of the most popular Chinese deities that is worshipped as God of War.
Made in Southern China for a Christian community, our sculpture is a unique piece of carved art produced by Chinese artisans, independently of whether they were Christian converts of otherwise. Most likely modelled after a European prototype, it is possible that a hollow square section raising from the rock outcrop forming the stand, might have supported a now missing element, perhaps a lost identifying attribute.
Lacking any information regarding its early origin, it is impossible to ascertain who, in the 17th century, commissioned such large and important artwork, or to where it was intended. Although it is fair to assume that it was carved under the patronage of Jesuit priests, other possibilities must not be excluded.
Even though no other similar sculpture of this type has, so far, been identified by us, it is evident that our Saint Peter shares stylistic characteristics with a late-Ming dynasty painting on paper portraying Saint Jerome, which has been associated to converted Chinese artists referred in correspondence by Jesuit priests. Now in the Manuel Castilho collection, in Lisbon, this rare vertical painting, measuring 133.0 cm in height, portrays the Saint in a more relaxed and sensual manner comparatively to our wooden sculpture, a fact probably explained by the European prototype on which it was based. We must also refer a painted depiction of the Virgin and Child, albeit one more hieratic and sculptural, from the Field Museum of Natural History, in Chicago (inv. 116027). In this instance a vertical silk scroll painting, based on both European (Salus Populi Romani) and Buddhist (Guanyin) prototypes, and dating to the late-Ming dynasty, which can be attributed to Qichang Dong or to his circle.
Hugo Miguel Crespo
Centre for History, University of Lisbon
Date: 17th century
Origin: Southern China
Medium: Lacquered, painted, and gilt wood
Dimensions: 62 cm (24³/₈ inches)
Categories: Oriental and Asian Art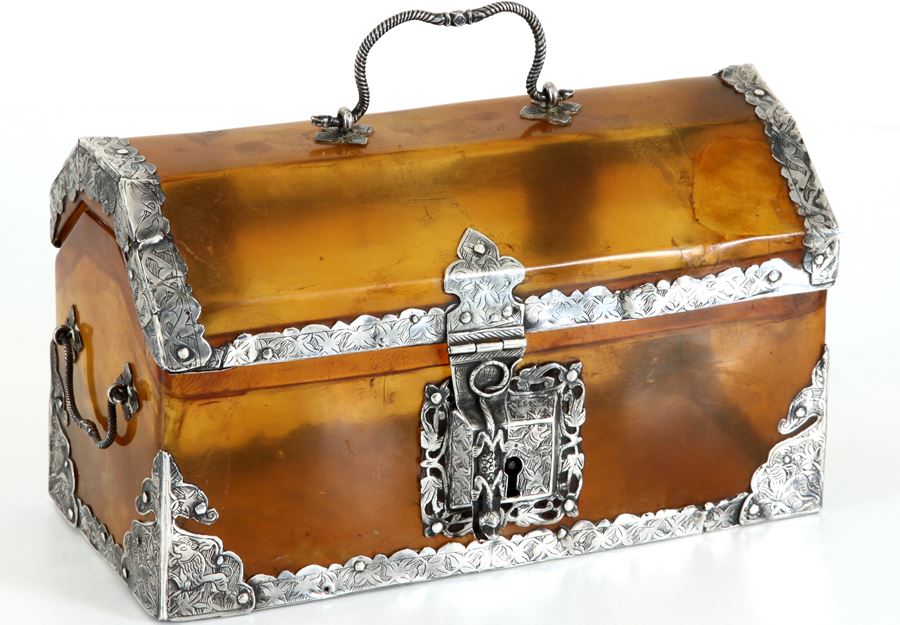 Discover the gallery
São Roque
Fine Furniture, Silver, Portuguese Tiles and Ceramics, Arts of the Portuguese Expansion, Chinese Porcelain, Fine Arts
More Works From This Gallery