Description & Technical information
This small, low rectangular folding table, to be set on a raised platform or dais, is made from wood lacquered in black (urushi), decorated in gold (maki-e) and inlaid with mother-of-pearl (raden). Featuring bow-shaped folding trestle legs, ideal for easy transportation, it is set with gilt copper fittings (kazarikanagu), finely chased with floral motifs over a punched ground know as 'fish roe' (nanakoji). These comprise the highly elaborate corner fittings decorated with tree peonies and a chequered pattern that emulates the inlay pattern of the bevelled edges of the rectangular top, the lock plate (aimeita) in the shape of a chrysanthemum flower with large leaves of the drawer, and the chrysanthemum-shaped hooks that secure the trestle to the frieze when the table is erected. The carpet-like decoration of the top consists of a broad border with the typical 'endless pearl' pattern called shippotsunagi, a narrow border with a triangular pattern, and a centre filed with is partitioned in four by a large stepped cross in a chequered pattern. The resulting four stepped medallions, radially oriented, are decorated with flowering trees with birds and animals, namely a pair of hares which points, not surprisingly, to the marital, female nature of this object, used in a feminine context in Iberian households. The flowering trees and plants include Chinese bellflower or kikyo (Platycodon grandiflorum), Japanese maple or momizi (Acer palmatum), Japanese camellia, tsubaki or wabisuke (Camellia japonica), and Mandarin orange tree or tachibana (Citrus tachibana). The bow-shaped feet and stretchers are decorated with crushed mother-of-pearl and reserves depicting Chinese bellflower on the exterior sides and typical Namban stylised vine scrolls on the inside. The front drawer is decorated with Mandarin orange tree, while the back and sides depict Japanese arrowroot or kuzu (Pueraria lobata).
The shape of the table copies a contemporary Iberian prototype, while its small size points to its use as a dais table for the use of Portuguese aristocratic women who spent much of their time sitting on large cushions over a dais covered in precious carpets and other luxury textiles. Simple or more elaborate and decorated similar tables would be used for serving small meals between the women of the household or for displaying precious objects and even as a writing surface. The first references to Japanese tables likely made for export may be found in the 1616 list drafted by the Jesuit priest Manuel Bento of his belongings which records, alongside seven lacquered trunks, 130 tables. That same year four large and one smaller table are listed in the Dutch East India Company records. It has been suggested by Oliver Impey and Christiaan J. A Jörg in their seminal work on Japanese Export Lacquer that such tables would possibly be used by Jesuit priests as portable altars. Although plausible, it should be noted that these authors were unaware of this specific type of low table for the dais and its use in a female context in contemporary Portugal. Contemporary tables and table tops made in Asia for export to the Portuguese market include rare wooden pieces covered in mother-of-pearl made in Gujarat, India; in carved wood made in Ceylon (present-day Sri Lanka), usually, a folding tabletop to be set on trestles; and in lacquered, gilded wood made in the Kingdom of Pegu; and also in China. One other Namban table of this shape and decoration (without the cross-motif on the top partitioning the central field) features straight rectangular legs that may have been fixed at a later stage. It was sold at auction at Christie's London, 20th June 1994, lot 273. A handful of later imitations of these rare folding tables exist, probably made in the same workshop in the first quarter of the nineteenth century. The sole known example of a full-size Namban table (80 x 125 x 82 cm), which dismantles into sections, belonged to the collection of the Wilanów Castle in Poland and is now in the National Museum, Warsaw (inv. 986 Wil).
The refined gold decoration applied to this rare dais table called maki-e, literally 'sprinkled picture', was common in Momoyama Period (1568-1600) and early Edo Japan. During this period, a special lacquerware made for export, which mixed mother-of-pearl inlay with hiramaki-e, was called nanban makie or nanban shitsugei. Namban or Nanban-jin (literally, 'Southern Barbarian') is a Japanese term derived from Chinese that refers to the Portuguese and Spanish merchants, missionaries and sailors who arrived in Japan in the sixteenth and seventeenth centuries. Namban has also become synonymous with the types of lacquerware and other products that were commissioned in Japan for the home market or export and reflected Western taste and were modelled after European prototypes, such as the present folding table, or included European iconography, namely depictions of Portuguese merchants, officials and missionaries. Namban-style products thus combine Japanese techniques, materials and motifs with European styles and shapes.

Date: Late-16th century
Period: Momoyama Period (1573 – 1603)
Origin: Japan
Medium: Black lacquered wood, gold, Mother-of-pearl, gilt copper fittings
Dimensions: 36.2 x 56.5 x 43.5 cm (14¹/₄ x 22¹/₄ x 17¹/₈ inches)
Provenance: Private collection, Lisbon

Literature:
IMPEY, Oliver, Jörg, Christiaan J. A., 'Japanese Export Lacquer, 1580 – 1850', Amsterdam, Hotei Publishing, 2005, p. 196; IMPEY, Oliver, 'After The Barbarians', Lisbon, 2003, pp. 78 – 83.
Exhibitions:
'Portugal, Jesuits, and Japan', McMullen Museum of Art, Boston (cat. no. 42); 'Namban Commissions, The Portuguese in Modern Age Japan', Museu do Oriente, Lisbon, 2010 (cat. pp. 146 – 50)
Categories:
Oriental and Asian Art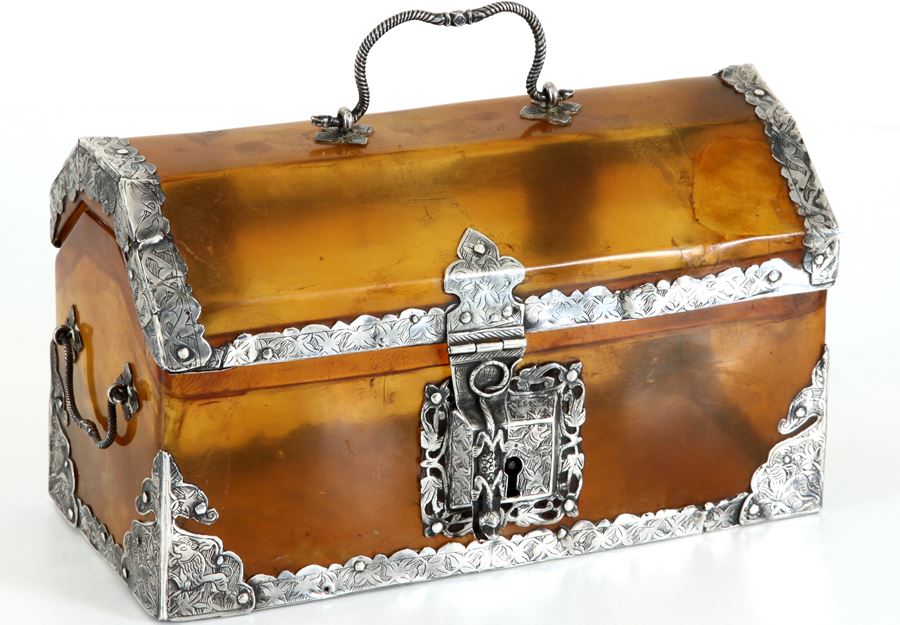 Discover the gallery
São Roque
Fine Furniture, Silver, Portuguese Tiles and Ceramics, Arts of the Portuguese Expansion, Chinese Porcelain, Fine Arts
More Works From This Gallery