Description & Technical information
Ferahan (or Feraghan) is in NW Iran and became an important area for carpet weaving in the 18th century. Both the city and the surrounding plain received same name and are in a triangle formed by Qom, Sultanabad and Hamadan.
Nadir Shah (1736-1747) forced weavers who lived in Herat (today's Afghanistan) to come over to Ferahan and to settle in the area. The local production was totally reshaped. Patterns from eastern provinces of the empire suddenly appeared on the market and influenced the traditional style of the local weavers.
Upto the end of the 19th century many of the rugs were produced in Mushkabad. Sultanabad (now Arak) Saruk, Goltuk, Malayer and Mahal.

Nadir Shah:
Nadir Quli was a general in the army of the last Safavid rulers who reigned from 1501 on and were defeated by the Afghan troops in the very beginning of the 18th century. During many years Nadir Quli fought the Afghans, the Ottomans and Russians and eventually saved Persia from their domination. In 1736 he was crowned Nadir Shah in his new capital Mashad. He invaded Afghanistan one year later and went as far as Delhi. His troops looted the Indian city and he brought back to Persia the famous Koh-i-Noor and the legendary Takht-e-Tavousi or Peacock-throne. He fought the Uzbeks from Khiva and Bukhara and also the Ottomans. Nadir Shah was murdered in 1747.
Period: around 1880
Medium: warp and weft: cotton, pile: wool
Dimensions: 413 x 313 cm (162³/₅ x 123¹/₅ inches)
Categories: Textiles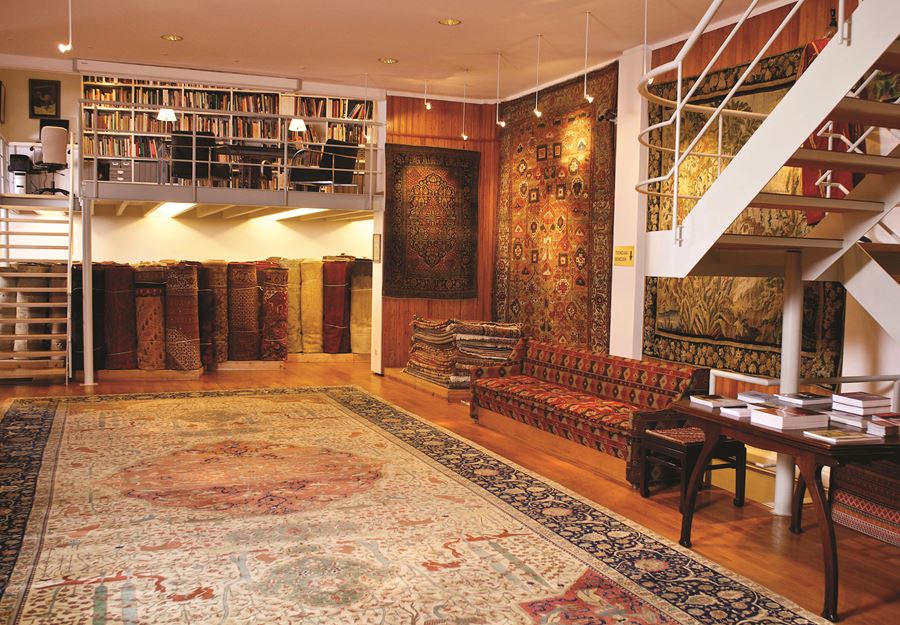 Discover the gallery
N. Vrouyr
Carpets and Textiles
More Works From This Gallery