Description & Technical information
English Market

Price: £17,500

A massive Chinese export armorial porcelain punchbowl brightly decorated in rose mandarin palette with scenes of Chinese figures inside and out, with quatrefoil panels bearing two crests and a ribbon with the motto: MUNUS ET MONUMENTUM VICTORIA HENRY VIII SPURS 1513.

The two crests are for the family of Clerke and the motto suggests that this very unusual bowl was made to commemorate the 300th anniversary of the Battle of Spurs in 1513 in which Sir John Clerke had captured the commander of one half of the French Army, Louis d'Orleans, Duke of Longueville. As a reward for this Henry VIII awarded him an augmentation to the Clerke arms, an extra 'canton' with a ram and fleurs-de-lys, which appears on a Chinese armorial service made in 1730.

A descendant of Sir John was made a Baronet, of Hitcham, in 1660 and this bowl and a porcelain service were probably ordered by Sir William Clerke, 8th Bt.

Sir William (1751-1818) was the younger brother of Sir Francis, 7th Bt, (aide-de-campe of General Burgoyne), who died at Saratoga in the American Colonial Rebellion. William was a Fellow of All Souls, Oxford, and Rector of Bury in Lancashire with a great interest in social health and an investor in agricultural schemes. He was robbed by his partners and died imprisoned for debt in the Fleet Prison, 1818. He married Byzantia Cartwright and his son, Sir William, 9th Bt, fought at the Battle of Waterloo.

The Battle of Spurs took place on 16 August 1513 between the forces of Henry VIII allied with the Imperial forces defending the Pope against the French. The battle was a resounding defeat for the French and earned its name from the speed with which the French cavalry fled the battlefield.

References: Howard 1974, p785, a meatdish from the service, with birds and insects and the same crests and motto - & p396, a service circa 1730 with the full coat of arms of Clerke including the augmentation.

Date: circa 1813-15
Period: 19th century, Jiaqing period
Origin: China
Medium: porcelain
Dimensions: 53.5 cm (21 inches)
Categories: Oriental and Asian Art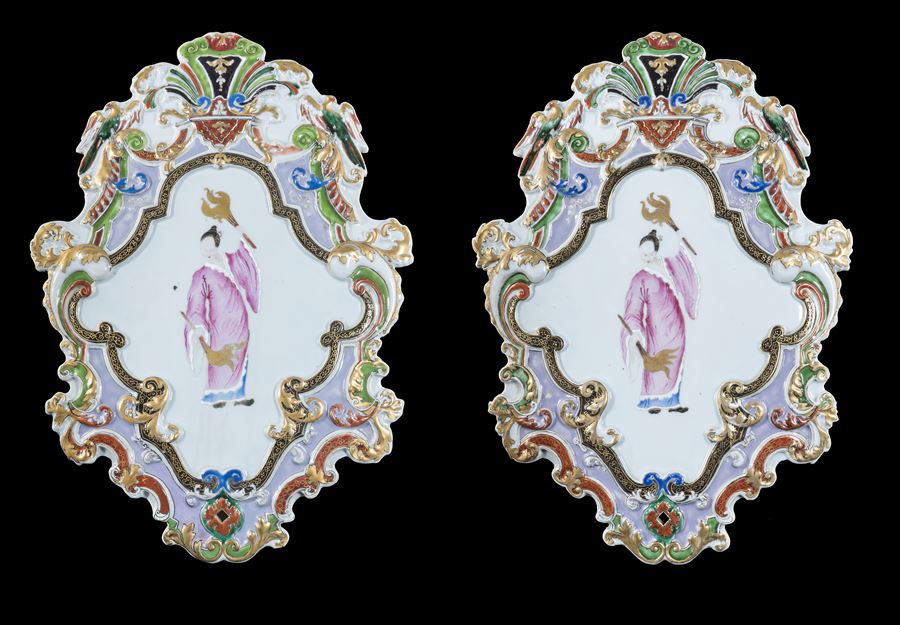 Discover the gallery
Cohen & Cohen
Chinese Export Porcelain, 17th & 18th Century, Works of Art
More Works From This Gallery