Description & Technical information
Qianlong period
Dutch or English Market
A Chinese export porcelain plate painted in underglaze blue with a central image of figures by water, a cell diaper border at the rim. This unusual scene is known as the 'shipwreck' as it appears to show figures abandoned on a shore. Some have suggested that they are survivors of the famous wreck of the Grosvenor off the east African coast. The Grosvenor was lost in 1785 so that is unlikely but the possibility of being wrecked was always in the minds of those in the China trade. In fact this seems to be a much simplified and altered version of a composition known on other Chinese export plates, The Immersion of Achilles, engraved by Edme Jeaurat after a painting by Nicholas Vleughels. Prints of this period were frequently copied and copied again and reused for different purposes. The dark figure on the right, the two figures on the left, with reflections in the water and the rocks behind with trees all show similarities. References: Hervouët et Bruneau 1986, p 206, No 9.42 an identical saucer from the Groninger Museum; Sapage 1992, Cat 35, a pair of teabowls and saucers; Victoria & Albert Museum, another plate, C.368-1921; Cohen & Cohen 2002, p12, an earlier lotus-form dish with this scene; Cohen & Cohen 2014B, p85, No 48, a small blue and white plate with this pattern and p86, a dinner plate with the Jeaurat print painted en grisaille.

Date: 1740
Period: 1600-1750, 18th century
Origin: China
Medium: porcelain
Dimensions: 23 cm (9 inches)
Categories: Oriental and Asian Art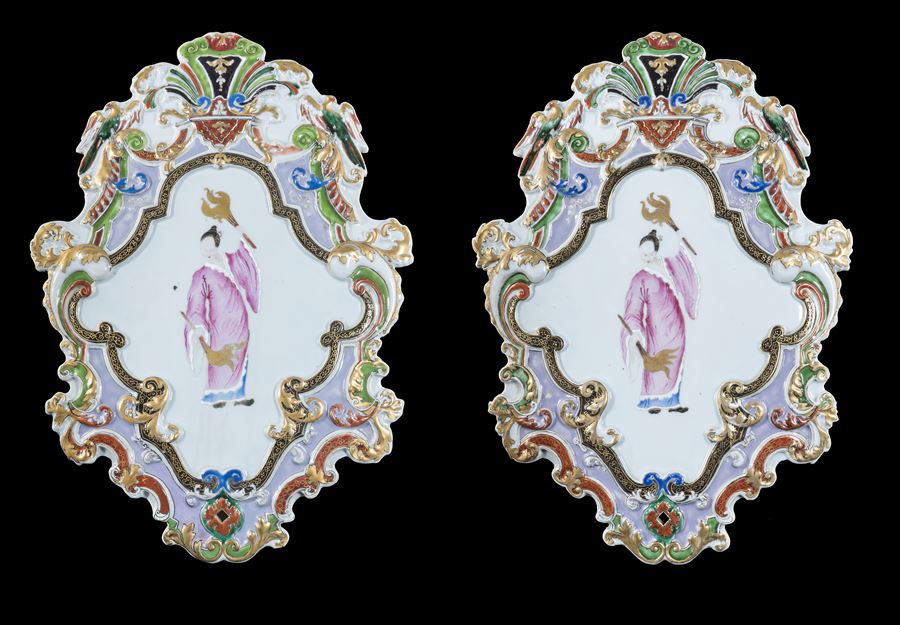 Discover the gallery
Cohen & Cohen
Chinese Export Porcelain, 17th & 18th Century, Works of Art
More Works From This Gallery