Description & Technical information
An extremely rare painted enamel mirror frame, brightly painted with flowers and insects with four pierced and moulded sections fixed to a wood frame.

This rare piece demonstrates the versatility of the painted enamel medium, with the intricately pierced and moulded elements.
In 1925 a discovery was made in the Forbidden Palace of a collection of very fine hua falang or 'painted enamels' which came from the period 1720-1780. Each was packed in individual cedarwood boxes and stored in the Duanming Palace, next to the east wing of the Qianqing Palace. These items are now in the National Palace Museum, Taipei.
The objects tell the story of the evolution of Chinese enamelling, beginning with the activities in the reign of Kangxi. He was fascinated by the different techniques of enamelling on metal, glass, Yixing wares and porcelain and encouraged experimentation and the importing of ideas and expertise from the West. He extended the Beijing Workshops in 1693 and built a glass factory in 1696 under the direction of Kilian Stumpf (1655-1720) who taught the Chinese how to prepare different enamel colours.
By 1706 Kangxi was distributing enamelled glasswares as gifts and enamelled copper boxes with Kangxi marks are known from this period. By the end of his reign the French Jesuit Missionary Jean Baptiste Gravereau was supervising the enamelling and this coincides with the development of the pink enamel that gave its name to famille rose.
The artistic styles of enamels during the reign of Kangxi were mainly Chinese, derived from cloisonné. But under Yongzheng the designs flourished, influenced by European enamels brought to the workshops and by painters such as Castiglione, who is known to have painted in enamels, and his student Lin Chaokai who was active during Yongzheng's reign.
By the early Qianlong period an Imperial workshop had been established at Canton and the production of painted enamel in Canton was highly sophisticated and, as well as being mainly for the domestic market, some of the best pieces were exported to the Scandinavian Market, including a group of sconces (see Cohen & Cohen 2012, No 15) which were part of the orders for the King of Denmark by Christian Lintrup who was in Canton five times from 1736.
In 1741/2 Lintrup's orders included a group of enamel mirror frames ordered from a Monsieur Attey in Canton, which arrived in Copenhagen in July 1742 in the ship Dronningen af Danmark (Queen of Denmark). This was possibly part of that order.
Very few examples of Canton 'painted enamel' mirror frames are recorded, though one example appearing for auction in Denmark some years ago came from the Lindencrone family. Christian Lintrup was ennobled in 1756 as Baron Lindencrone.



Date: Qianlong period circa 1740
Period: 1600-1750, 18th century
Origin: China
Medium: Painted enamel
Dimensions: 52 x 31 cm (20¹/₂ x 12¹/₄ inches)
Literature: References: Wirgin, 1999, p243, No 259, a painted enamel mirror frame of different design but the same date; Clemmensen & Mackeprang 1980, p151, the same frame as in Wirgin 1999; Cohen & Cohen 2012, No 16, an identical example, the pair to this frame.

Categories: Oriental and Asian Art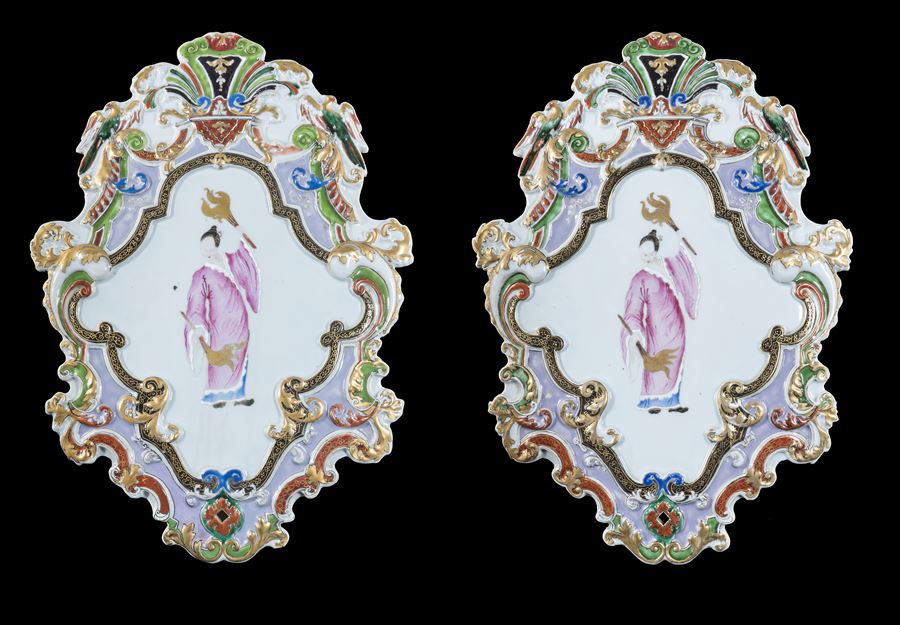 Discover the gallery
Cohen & Cohen
Chinese Export Porcelain, 17th & 18th Century, Works of Art
More Works From This Gallery