Description & Technical information
English Market

Price: £16,500

A famille rose punchbowl painted with English hunting scenes after James Seymour, the panels reserved on an elaborate mandarin palette border.

Hunting bowls were popular in the second half of the eighteenth century and many different versions are known. This is a fine example of a high quality bowl with decoration that places it in the last quarter of the eighteenth century. The hunting scenes on the outside are quite fanciful and, though reminiscent of the scenes by James Seymour, engraved by Thomas Burford and P Canot, they are quite different too. The buildings have been exaggerated and the riding figures are holding their crops up high. Most likely this is the result of several cycles of copying and elaboration by the Chinese enamellers.

However the scene in the interior of this bowl is a close copy of a print by Thomas Burford, Pointers and Pheasants. It is not known if this is after Seymour, though a similar print Pointers and Hare is by Burford after Seymour and that print is known on another Chinese export punchbowl.

References: Lange 2005, p222, a very similar bowl to this but with different interior; Brawer 1992, p117, No 90, an identical bowl; some examples of other hunting bowls can be found at: Howard 1997, No 144; Howard & Ayers 1978, p281-3, No 280; Howard 1994, p231 Lloyd Hyde 1964, Colour plate B; Phillips 1956, p141, pl59, Cohen & Cohen 2007, p54-6, Nos 32, 33; Cohen & Cohen 2008, 52, No35; Hervouet and Bruneau 1986, Nos 3.25a-b; British Museum, (Franks.625.a); Krahl & Harrison-Hall 1994 No 46; Buerdely 1962, fig 44; Litzenberg 2003 p168-9, No 163; Antunes 2000, p106-7, bowl with one scene the same as on this bowl.

Date: 1770-80
Period: 18th century, Qianlong period
Origin: China
Medium: porcelain
Dimensions: 40 cm (15³/₄ inches)
Categories: Oriental and Asian Art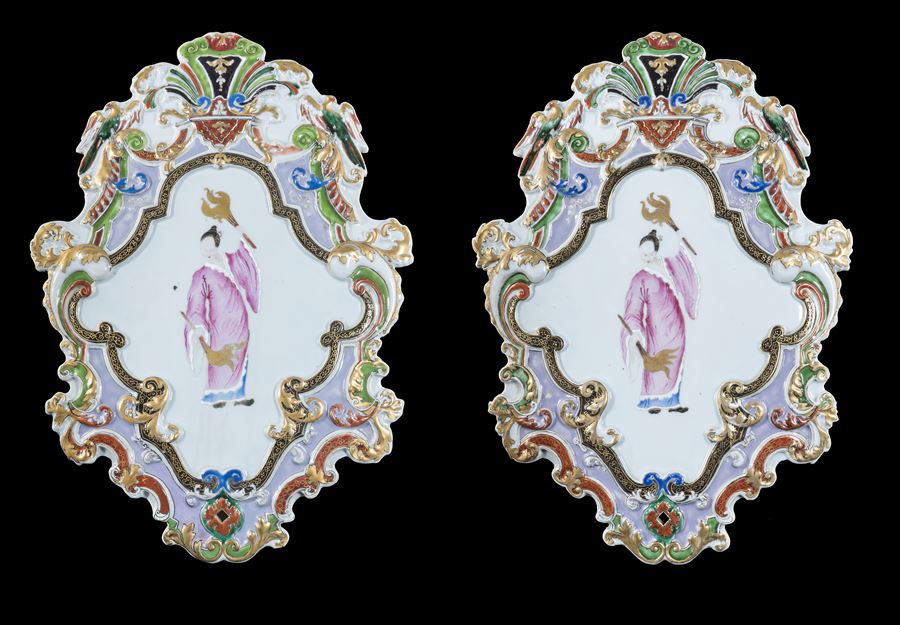 Discover the gallery
Cohen & Cohen
Chinese Export Porcelain, 17th & 18th Century, Works of Art
More Works From This Gallery