Description & Technical information
The serpentine tops decorated with arte povera scenes of Chinese figures in landscapes surrounded by floral sprays and rocaille borders on a yellow ground with a serpentine apron carved with C-scrolls, raised on a turned baluster stand in lacquer simulating Rosso di Verona marble with a central bulb decorated with arte povera flowers on a cream ground, on a red-lacquered S-scroll tripod foot with a turned pendant.


The Trespolo is a particularly Venetian type of furniture developed in the eighteenth century as a small table on a tripod base meant to serve as a candelabrum-stand. Trespoli were often richly carved or decorated with polychrome lacquer; the lacca povera decoration on the present set, however, is much rarer. Although trespoli were manufactured in series, and pairs or sets of four are found in various private collections and Venetian palazzi, this ensemble of six appears to be an unprecedented survival.

A trespolo in plain walnut of almost identical form is illustrated in Edi Baccheschi, Il Mobile Veneziano del Settecento (Milan 1962), p.65. Numerous other examples of classic Venetian trespoli are illustrated in G. Morazzoni, Il Mobile Veneziano del Settecento (Milan 1958), plates CCIII – CCXI, including in plate CCVII a piece with a simpler version of the turned baluster stem seen on the present set. Several blue, red and green-lacquered trespoli, including a group from the Ca' Rezzonico, Venice, are illustrated in Saul Levy, Lacche Veneziane Settecentesche (Milan 1967), plates 230-37, and a further example from the Ca' Rezzonico is illustrated in Enrico Colle, Il Mobile Rococò in Italia (Milan 2003), p.346.

The technique of lacca povera (also termed arte povera or lacca contrafatta) was developed as a means of imitating the effects of costlier and more time-consuming painted lacquer decoration on furniture and smaller wooden objects. The process involved applying motifs cut out from ornamental prints and covering them with a varnish known as sandracca. Although the technique was fashionable in other European countries, notably the Scandinavian courts and in France, where such work was called découpure, the leading centre for production was in Venice, whose workshops created results every bit as sophisticated as true lacquer decoration. The best quality prints were actually produced outside of Venice in nearby Bassano by the celebrated firm of Remondini, which was started by the publisher and engraver Giovanni Antonio Remondini (1634-1711) in c.1660 and continued by his descendants well into the 19th century.


Date: Mid-18th Century
Period: 1750-1850, 16th Century
Origin: Italy, Venice
Medium: Serpentine
Dimensions: 84 x 40 x 30 cm (33¹/₈ x 15³/₄ x 11³/₄ inches)
Categories: Furniture, Works of Art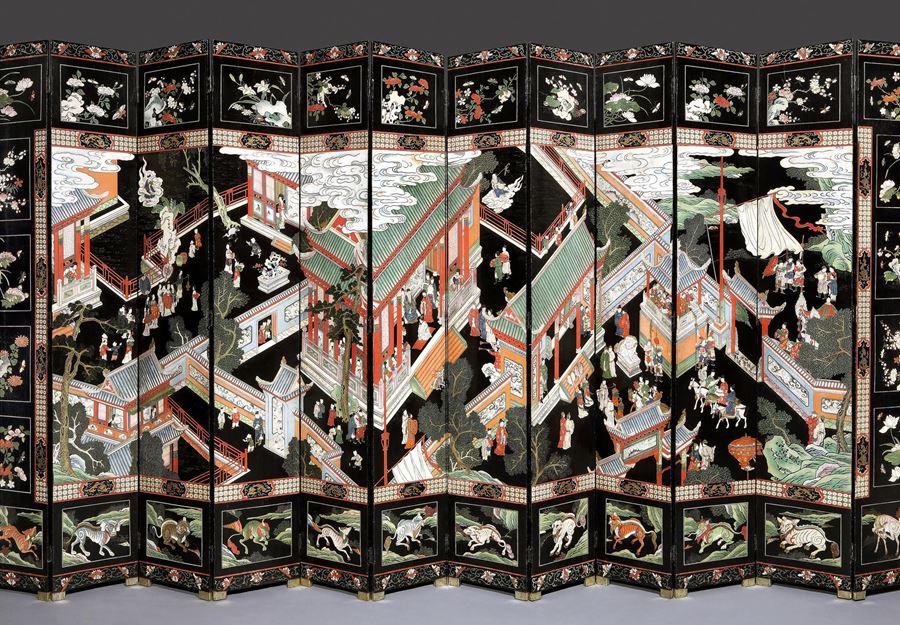 Discover the gallery
Pelham Paris & London
Furniture, Works of Art, Screens, Architectural Decorations and Early Musical Instruments
More Works From This Gallery