Description & Technical information
View of Italianate Buildings on the Banks of the River epitomises Thomas Wyck's evocative depictions of Mediterranean inspired scenery and architecture. Wyck executed drawing, paintings and etchings in the Italianate style, which was highly popular amongst seventeenth-century Dutch artists. He often portrayed backstreet views and courtyard scenes such as An Italian Courtyard with a Gateway and Seated Figure, as well as harbour scenes like the present one. His images reveal the keen attention he paid to what could have been regarded as mundane activities and commonplace people, giving them added resonance and significance.

Like many of his Dutch contemporaries, including Johannes Lingelbach, Abraham Storck and Jacob van der Ulft, Wyck depicted harbour scenes in varying degrees of accuracy, often embellishing his compositions with fanciful elements. While journeying through Italy sometime before 1640, Wyck is known to have made copious sketches in black chalk and wash, resembling this one, although his work is rarely dated so it is difficult to distinguish between what was completed on his actual travels or from memory. The biographer Arnold Houbraken recorded that he painted a number of views of harbours and markets populated with figures 'and behind the same showed large buildings and palaces drawn by himself from life in Italy'1. The seemingly hasty sketchiness of the present composition, and the atmospheric effects and employment of light and shadow, might suggest that the drawing was made on site. A similar range of buildings in a study by Wyck in the British Museum have been identified as the Ripa Grande in Rome2. In the present work, one notes the inclusion details such as the bottle sitting untouched on one of the barrels, that seems to have been included for artistic purposes rather than realism.

In the foreground of View of Italianate Buildings on the Banks of the River, stevedores await the arrival of a ship on which to load their crates and barrels. Sitting near them is a man in a black brimmed hat, suggesting that he is a merchant. The labourers are oriental in appearance, which is typical of Wyck's representations of figures working in international ports. Similar figures feature in Italian Seaport, a watercolour by Wyck, in The Courtauld Gallery. The compositional parallels in the two works are apparent, with both depicting a tall Italianate building on one side, backed by hills, and a stretch of water on the other, with goods assembled on the bank. Italian Seaport, perhaps more than View of Italianate Buildings on the Banks of the River, gives the impression of being a capriccio due to the romantically dilapidated state of the architecture.

Wyck spent the majority of his life in his native Haarlem, where he painted a number of works based on his preparatory studies from Rome. His pupils included Jan van der Vaardt and Jan Wyck, both of whom moved to London, where they established successful careers.

1 A. Houbraken, De groote schouburgh, 1718–21, ii, pp. 16–17.
2 A.M. Hind, Catalogue of Drawings by Dutch and Flemish Artists preserved in the Department of Prints and Drawings in the British Museum, vol. IV, London 1931, p. 117, no. 6, reproduced plate LXVII.

Period: 1600-1750, 17th century
Origin: The Netherlands
Medium: Brush, Grey wash, Black chalk, Brown ink
Signature: Signed in black chalk 'T Wijck' (lower left of verso).

Dimensions: 13 x 16.5 cm (5¹/₈ x 6¹/₂ inches)
Provenance: A.W.M. Mensing, his sale, Amsterdam, Frederick Muller & Cie., 29 April 1937, lot 825;
J. Fred Bianchi, his sale, Amsterdam, Paul Brandt, 25 November 1964, lot 672.
Categories: Paintings, Drawings & Prints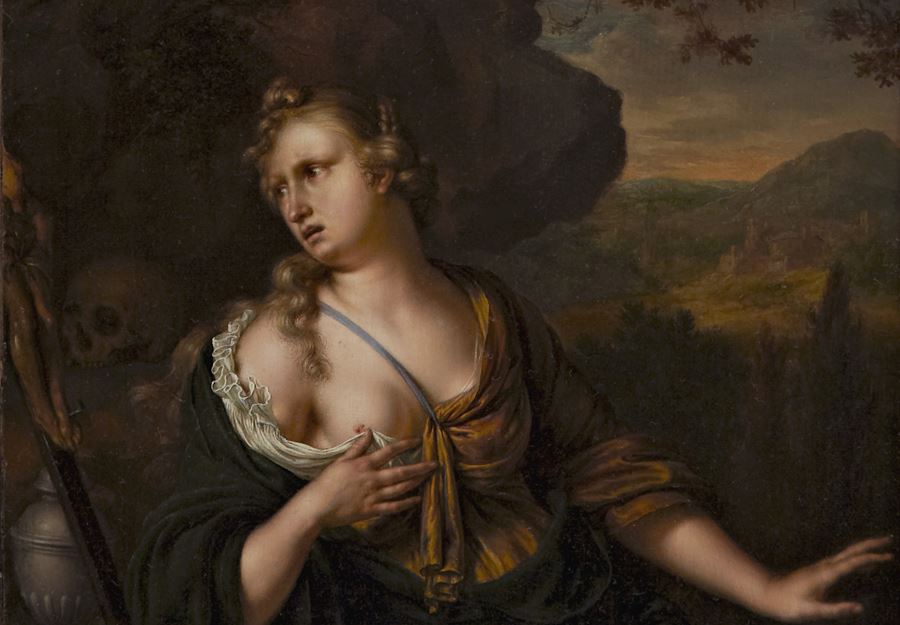 Discover the gallery
Sphinx Fine Art
Old Master & Russian Paintings
More Works From This Gallery