Description & Technical information
From a Choir Book, this miniature depicts Gabriel kneeling in an arid landscape, the dove of the Holy Spirit above him, and approaching the kneeling Virgin, her hands clasped in prayer. The initial is composed of pin and salmon sculptural forms with terminals of pink, green, and blue foliage set against a burnished gold ground. The initial "M" likely introduces the chant that begins Missus est Gabriel angelus, of which several words can be made out on the reverse (see below). There are a few tiny holds in the initial and one on the Virgin's robe, slight losses from the gold ground, some smudging, but generally the cutting is in very good condition. A vellum surround extends the miniature by about an inch on all sides. On the reverse: [Missus est Gabriel angelus ad Mariam virginem desponsatam Joseph nuntians ei verbum] et expa [vescit] virgo de lumin[e ne timeas Maria invenisti gratiam apud dominum ecce concipies et paries et vocabitur altissimi filius].
Extensively published and with excellent provenance, this initial was already recognized as the work of Guglielmo Giraldi by Suida in his article of 1947. Giraldi, a favorite illuminator of Borso d'Este, duke of Ferrara, was documented working for the Este court from 1445 to 1477, and he stands out as one of the most important personalities of Renaissance book decoration.



Date: 1470
Period: 1400-1600, 15th century
Origin: Italy, Ferrara
Categories: Illuminated Manuscripts & Medieval Works of Art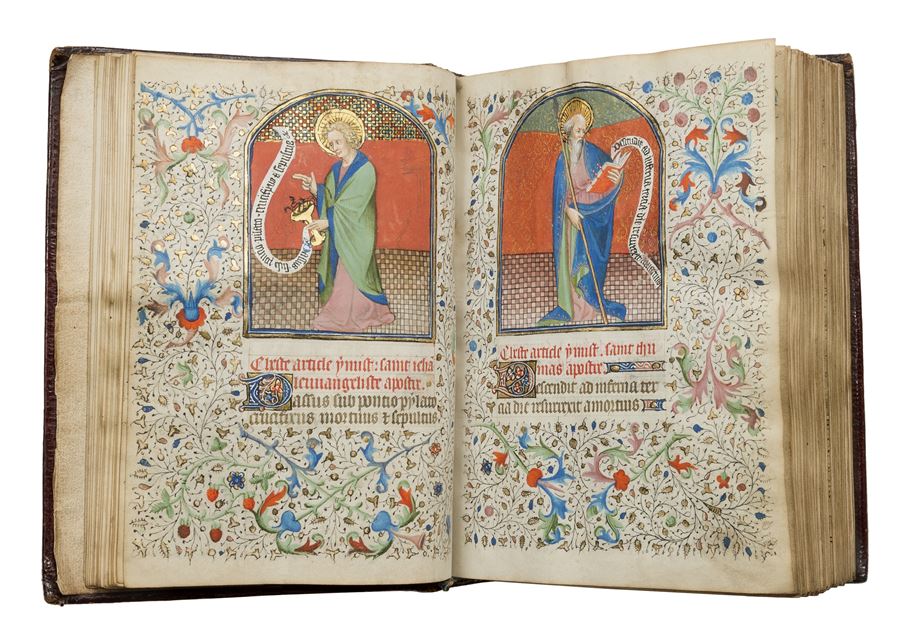 Discover the gallery
Les Enluminures
Medieval Works of Art including Illuminated Manuscripts, Miniatures, Books of Hours and Rings
More Works From This Gallery