Description & Technical information
Pencil and reworked lithograph, on several joined sheets of paper, cut out and laid down by the artist onto a larger sheet. The seated figures at the left and centre, as well as the upper part of the seated figure at the right, each engraved separately and mounted by Ingres onto another sheet, on which the artist has drawn the background, as well as the standing figure at the right of centre and the figure in the background at the extreme left, all in pencil. Most of the lower half of the figure seated at the right, drawn and reworked by the artist in pencil.

One of the largest and most ambitious of Ingres' portrait groups, this drawing bears a dedication to the artist's close friend Edouard Gatteaux (1788-1881), the son of the engraver and medallist Nicolas-Marie Gatteaux.

Ingres has here assembled three lithographs by Claude Marie François Dien after his own earlier portrait drawings of Nicolas-Marie Gatteaux (1751-1832), his wife Louise-Rosalie Gatteaux, née Anfrye, and their son Edouard Gatteaux. These engravings were carefully laid down by Ingres onto a much larger sheet, to which he added in pencil the standing figure of Paméla de Gardanne (Mme. Edouard Brame), the granddaughter of Nicolas-Marie Gatteaux, as well as drawing most of the lower half of the seated Edouard. Ingres also drew the interior setting, as well as the figure of Edouard's cousin, Mme. Anfrye, in the background at the extreme left.

The three original portrait drawings by Ingres of M. and Mme. Gatteaux and Edouard Gatteaux - drawn in 1825, 1828 and 1834, respectively – belonged to Edouard Gatteaux and were destroyed in a fire in the Gatteaux home in 1871, during the fighting in Paris at the time of the Commune.

is interesting to note that, in this large composite drawing of The Gatteaux Family, Ingres was creating an imaginary family group. In 1850, when the drawing was made, Nicolas-Marie Gatteaux had been dead for eighteen years and Louise-Rosalie Gatteaux for three, while Edouard Gatteaux, seen here as a young men, was aged sixty-two. The two drawn portraits of Paméla de Gardanne and Mme. Anfrye, however, would seem to correspond to their proper ages at the time the drawing was made.

The present sheet has long been admired as one of Ingres's most significant works on paper. Extensively published and widely exhibited since 1881, the drawing remained in the collection of the Gatteaux family and its descendants until 1931. As early as 1863 it was described by one writer as the finest drawing in the Gatteaux collection, 'a marvelous work, the sight of which brings great pleasure.' In 1932, this drawing was acquired by the bibliophile and collector Douglas H. Gordon, Jr. (1902-1986), in whose collection it remained for over fifty years.


Date: 1850
Period: 1850-1900, 19th century
Origin: France
Medium: Pencil, Reworked lithograph
Signature: Signed, dated and dedicated Ingres à Son / Excellent ami / Gatteaux 1850 in pencil at the lower right.

Dimensions: 44.2 x 60.9 cm (17³/₈ x 24 inches)
Provenance: Edouard Gatteaux, Paris, until 1881
The husband of his niece, Edouard Brame, Paris, until 1888
His son, Paul Brame, Paris, until 1908
Mme. Paul Brame, Paris
Her son, Henri Brame, Paris
Galerie Hector Brame, Paris, by 1931
Galerie Paul Cassirer, Berlin, in 1931
M. Knoedler & Co., New York, in 1931
Purchased from them in 1932 by Dr. Douglas Huntly Gordon, Annapolis and Baltimore, Maryland (Lugt 1130a)
Anonymous sale, London, Christie's, 6 July 1987, lot 55
Masataka Tomita, by February 1988
Acquired from him by Jan Krugier and Marie-Anne Poniatowski, Geneva.


Literature: Albert Magimel, ed., Oeuvres de J.A. Ingres, Paris, 1851, unpaginated, pl.58 (incorrectly dated to between 1824 and 1834); Théophile Silvestre, Histoire des artistes vivants, Paris, 1856, p.36 (incorrectly dated to the period between 1824 and 1834); Théophile Gautier, 'Ingres', L'Artiste, 5 April 1857, p.6 (incorrectly dated to between 1824 and 1834); Jules Lecomte, Le Perron de Tortoni; indiscrétions biographiques, Paris, 1863, p.247 ('Le morceau le plus admirable peut-être de cette précieuse collection était le dessin à la mine de plomb qui représentait la famille de M. Gatteaux...C'était un merveilleux travail, dont la vue causa une vive jouissance aux délicats.'); Olivier Merson and Emile Bellier de la Chavignerie, Ingres: sa vie et ses oeuvres, Paris, 1867, p.81 ('Le dessin représentant la famille Gatteaux...le montrent affable, naturel, assaisonné d'intentions fines et délicates.'); Henri Delaborde, Ingres: Sa vie, ses travaux, sa doctrine, Paris, 1870, pp.297-298, no.308; Edouard Gatteaux, ed., Collection de 120 dessins, croquis et peintures de M. Ingres, Paris, n.d. (1875?), Vol.I, illustrated pl.10; C.R., 'Exposition de Versailles', La Chronique des Arts et de la Curiosité, 20 August 1881, p.225; Paul Marmottan, L'école française de peinture (1789-1830), Paris, 1886, p.406; Henry Jouin, Musée de portraits d'artistes, Paris, 1888, p.76; Vicomte Pierre-Paul Both de Tauzia, Musée National du Louvre: Dessins, cartons, pastels et miniatures des diverses écoles. Exposés, depuis 1879, dans les Salles du 1er étage, Paris, 1888, p.141; Henry Lapauze, Les dessins de J.-A.-D. Ingres du musée de Montauban, Paris, 1901, p.266; Henry Lapauze, Les portraits dessinés de J.-A.-D. Ingres, Paris, 1903, p.50, no.26, pl.26; Jérôme Doucet, Les peintres français, Paris, n.d. (1906), illustrated p.119; Henry Lapauze, Ingres: Sa vie et son oeuvre, Paris, 1911, p.286, illustrated p.429; 'Ein neuer Naturalismus?? Eine Rundfrage des Kunstblatts', Das Kunstblatt, September 1922, illustrated p.386; Lili Frölich-Bum, Ingres: Sein Leben und sein Stil, Vienna, 1924, illustrated pl.57; Louis Hourticq, Ingres: L'oeuvre du maitre, Paris, 1926, illustrated p.100; Morton Dauwen Zabel, 'The Portrait Methods of Ingres', Art and Archaeology, October 1929, pp.113 and 116; Hans Eckstein, 'Romantische Malerei in Deutschland und Frankreich', Kunst und Künstler, 1931, p.442; Jacques Mathey, 'Sur quelques portraits dessinés: Par Ingres ou ses graveurs?', Bulletin de la Société de l'histoire de l'art français, 1932, pp.196-199; Jacques Mathey, 'Ingres portraitiste des Gatteaux et de M. de Norvins', Gazette des Beaux-Arts, August 1933, p.118, illustrated p.121, fig.7; Walter Pach, Ingres, 1939, illustrated p.207; John Lee Clarke, Jr., 'David & Ingres: The Classic Ideal. Springfield Shows Two Great French Neo-Classicists', The Art News, 25 November 1939, p.16; James W. Lane, 'David & Ingres View in New York. Arrival of the Springfield Show of Two Great Neo-Classicists', The Art News, 6 January 1940, illustrated p.7; Hans Naef, 'Ingres und Cézanne als Bildnismaler', Werk, October 1946, illustrated p.342; Karl Scheffler, Ingres, Bern, 1947, pl.43; Claude Roger-Marx, Ingres, Lausanne, 1949, unpaginated, illustrated pl.43; Jean Alazard, Ingres et l'Ingrisme, Paris, 1950, p.107; G.R., 'From Ingres to Gauguin', Baltimore Museum of Art News, November 1951, illustrated p.5; Adelyn D. Breeskin, 'From Maryland Collections: Brilliant Facets of French 19th-Century Art', The Art Digest, 15 November 1951, p.11, illustrated; Daniel Ternois, Inventaire general des dessins des musées de province, Vol.III: Les dessins d'Ingres au Musée de Montauban. Les portraits, Paris, 1959, unpaginated, under nos.57-59 (incorrectly as in the Louvre); Jean Sutherland Boggs, Portraits by Degas, Berkeley and Los Angeles, 1962, p.13, pl.26; Ernest John Knapton and Thomas Kingston Derry, Europe, 1815-1914, London, 1965, p.39; George Levitine et al, Hommage à Baudelaire, exhibition catalogue, College Park, 1968, p.33, illustrated p.66; Hans Naef, Die Bildniszeichnungen von J.-A.-D. Ingres, Vol.II, Bern, 1978, pp.485-503 and Vol.V, Bern, 1980, p.318-321, no.417; Theodore Reff, Degas: The Artist's Mind, New York, 1976, p.48; John Hayes, 'Degas: The Artist's Mind, by Theodore Reff' [book review], Journal of the Royal Society of Arts, January 1978, p.113; Agnes Mongan, 'J.-A.-D. Ingres, Portraitist', in Patricia Condon, Marjorie B. Cohn and Agnes Mongan, Ingres. In Pursuit of Perfection: The Art of J.-A.-D. Ingres, exhibition catalogue, Louisville and Fort Worth, 1983-1984, p.148, illustrated p.226, no.75; Jacques Foucart, 'Notes sur les vitraux de Neauphle et les portraits de la famille Gatteaux', Bulletin des musées et monuments lyonnais, 1986, p.65, fig.2; Georges Vigne, Dessins d'Ingres: Catalogue raisonné des dessins du musée de Montauban, Paris, 1995, p.476, illustrated; Uwe Fleckner, Abbild und Abstraktion: Die Kunst des Porträts im Werk von Jean-Auguste-Dominique Ingres, Mainz, 1995, pp.162-170, fig.62; Anne Baldassari, Picasso et la photographie: "À plus grande vitesse que les images", exhibition catalogue, Paris, 1995, pp.163-171, fig.136; Alexander Dückers, ed., Linie, Licht und Schatten: Meisterzeichnungen und Skulpturen der Sammlung Jan und Marie-Anne Krugier-Poniatowski, exhibition catalogue, Berlin, 1999, pp.156-157, no.71 (entry by Sigrid Achenbach); Philip Rylands, ed., The Timeless Eye: Master Drawings from the Jan and Marie-Anne Krugier-Poniatowski Collection, exhibition catalogue, Venice, 1999, pp.182-183, no.84; Tomàs Llorens, ed., Miradas sin tiempo: Dibujos, Pinturas y Esculturas de la Colección Jan y Marie-Anne Krugier-Poniatowski, exhibition catalogue, Madrid, 2000, pp.228-229, no.98 (entry by Sigrid Achenbach); Klaus Albert Schröder and Christine Ekelhart, ed., Goya bis Picasso: Meisterwerke der Sammlung Jan Krugier und Marie-Anne Krugier-Poniatowski, exhibition catalogue, Vienna, 2005, pp.48-49, no.13 (entry by Sigrid Achenbach); Patricia A. Condon, 'Jean-Auguste-Dominique Ingres: The Politics of Friendship', in Deborah J. Johnson and David Ogawa, ed., Seeing and Beyond: Essays on Eighteenth- to Twenty-First-Century Art in Honor of Kermit Champa, New York, 2006, p.49; Adrien Goetz, Ingres collages: Dessins d'Ingres du musée de Montauban, exhibition catalogue, Montauban and Strasbourg, 2005-2006, pp.30-32; Jean-Pierre Cuzin and Dimitri Salmon, Ingres: Regards croisés, exhibition catalogue, Paris, 2006, p.225 (as lost); Christiane Lange and Roger Diederen, ed., Das ewige Auge – Von Rembrandt bis Picasso: Meisterwerke aus der Sammlung Jan Krugier und Marie-Anne Krugier-Poniatowski, exhibition catalogue, Munich, 2007, pp.180-181, no.82 (entry by Sigrid Achenbach); Jean-Pierre Cuzin et al, Ingres et les modernes, exhibition catalogue, Quebec and Montauban, 2009, p.312; Mark Evans and Lucie Page, "Full of truth and simply arranged": Wilhelm von Kaulbach's Portrait of the Amsler Family', Master Drawings, Spring 2016, pp.72-73, fig.9; Sotheby's, Impressionist and Modern Art Day Sale, 13 November 2018, p.190, under no.201, fig.1; Patrick Elliott, Cut and Paste: 400 Years of Collage, exhibition catalogue, Edinburgh, 2019, p.61, no.15.

Exhibitions: Paris, Galerie Georges Petit, Exposition Ingres, 1911, no.165; Paris, Chambre Syndicale de la Curiosité et des Beaux-Arts, Exposition Ingres, 1921, no.120; Springfield, MA, Springfield Museum of Fine Arts, David and Ingres: Paintings and Drawings, 1939, no.33; Rochester, NY, Memorial Art Gallery, David-Ingres, 1940; Louisville, The J. B. Speed Art Museum and Fort Worth, The Kimbell Art Museum, Ingres. In Pursuit of Perfection: The Art of J.-A.-D. Ingres, 1983-1984, no.75 (lent by Douglas Gordon); Madrid, Museo Thyssen-Bornemisza, Miradas sin tiempo: Dibujos, Pinturas y Esculturas de la Colección Jan y Marie-Anne Krugier-Poniatowski, 2000, no.98; Vienna, Albertina, Goya bis Picasso: Meisterwerke der Sammlung Jan Krugier und Marie-Anne Krugier-Poniatowski, 2005, no.13; Munich, Kunsthalle der Hypo-Kulturstiftung, Das ewige Auge – Von Rembrandt bis Picasso: Meisterwerke aus der Sammlung Jan Krugier und Marie-Anne Krugier-Poniatowski, 2007, no.82.
Categories: Paintings, Drawings & Prints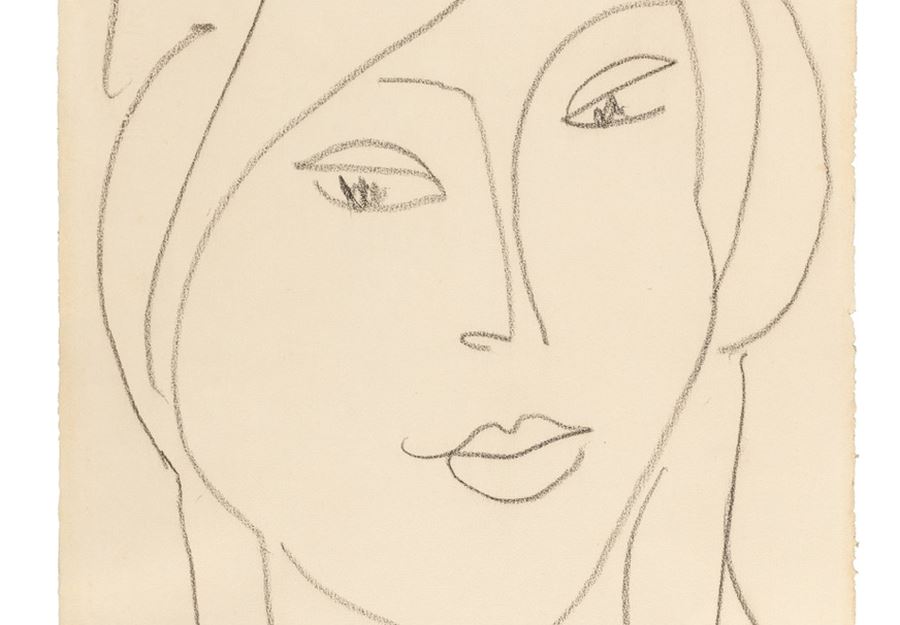 Discover the gallery
Stephen Ongpin Fine Art
Old Master, 19th Century and Modern Drawings, Watercolours and Oil Sketches
More Works From This Gallery