Description & Technical information
The circular dish is portrayed with a central floral design deploying a combination of bole red, green and cobalt blue all outlined in black. The centre of the dish contains various types of flowers and foliage including carnations, roses and hyacinths together with a long serrated leaf coming up through the middle of the dish and then a smaller leaf looping down the left side. The rim is painted with an alternating pattern of green rosettes and blue double-headed tulips. The reverse of the dish is decorated with alternating green flower heads and cobalt blue floral sprigs. The back of the dish is painted with a thin black foliated line on the rim.
As the 17th century commenced, the Ottoman Empire became less-affluent as a result of the numerous military campaigns they had launched in neighbouring lands. The funding to the Iznik potters abated and, in conjuction with a loss of patronage by the court, Iznik wares began to fall out of favour. As a result, Iznik painted decoration and potting in the 17th century is quite dissimilar to that of the highly-controlled and meticulous painting seen on 16th-century Iznik wares.
Date: 1650-1675
Period: 1600-1750, 17th century
Origin: Turkey
Medium: Ceramic
Dimensions: 35.5 cm (14 inches)
Categories: Oriental and Asian Art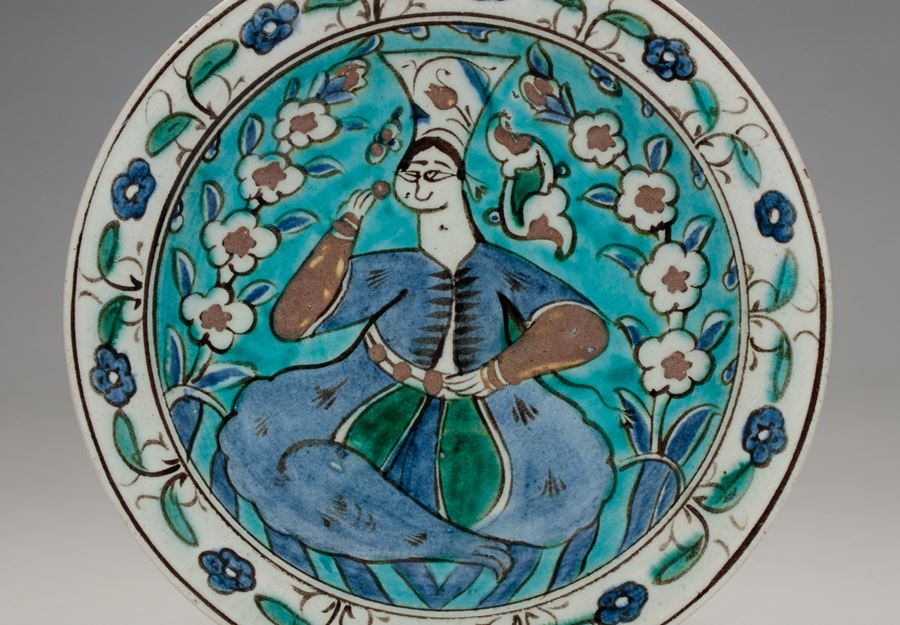 Discover the gallery
Amir Mohtashemi Ltd.
Indian,Islamic and Cross-Cultural Works of Art
More Works From This Gallery