Description & Technical information
This fritware vase features moulded decoration under opaque blue, turquoise and purple glazes. The vase rises from a flared rim to a globular body which tapers inwards towards the neck, emphasizing its curvature. The neck is angular and flares at the end. On each side of the neck there are elephant head-shaped handles.
The shape of the vase is reminiscent of earlier 14th-century Chinese altar-vases. Examples can be found in The British Museum, London, dating to 1351 (Accession Number PDF, B.614). The British Museum vases are blue and white and have strikingly similar handles in the shape of elephant heads. Persian potters seemingly had access to Chinese originals in the 17th century, and they also appeared to have mixed elements from different periods. It was not unusual for the potters to copy designs several centuries old (Watson, p. 63).
Our monochrome vase in a shade of deep aubergine is both alluring and uncommon. It seems to belong to a particular type of 17th-century Safavid ceramics with rich glazes, of which deep purple is sometimes used. Furthermore, the use of opaque glazes gives the blue a turquoise tint, which is another aspect of this style of pottery (Watson, p. 477). The Al-Sabah Collection, Kuwait, contains a dark purple rosewater sprinkler with turquoise decoration, which is of a similar style to our piece and is also dated to 17th-century Iran (Watson, p. 477, cat. 33). The colour is almost identical and at the bottom of the rosewater sprinkler the turquoise glaze appears to have 'melted' into the aubergine body, providing a smudge-like decoration. Similarly, the turquoise used on the elephant head handles of our vase also appears to have run into the predominant purple glaze.

Date: 17th century
Period: 17th century, 1600-1750
Origin: Iran
Medium: opaque blue, turquoise purple glazes
Dimensions: 39 cm (15³/₈ inches)
Literature: Watson, O. Ceramics from Islamic Lands, London, Thames & Hudson, 2004.

Categories: Oriental and Asian Art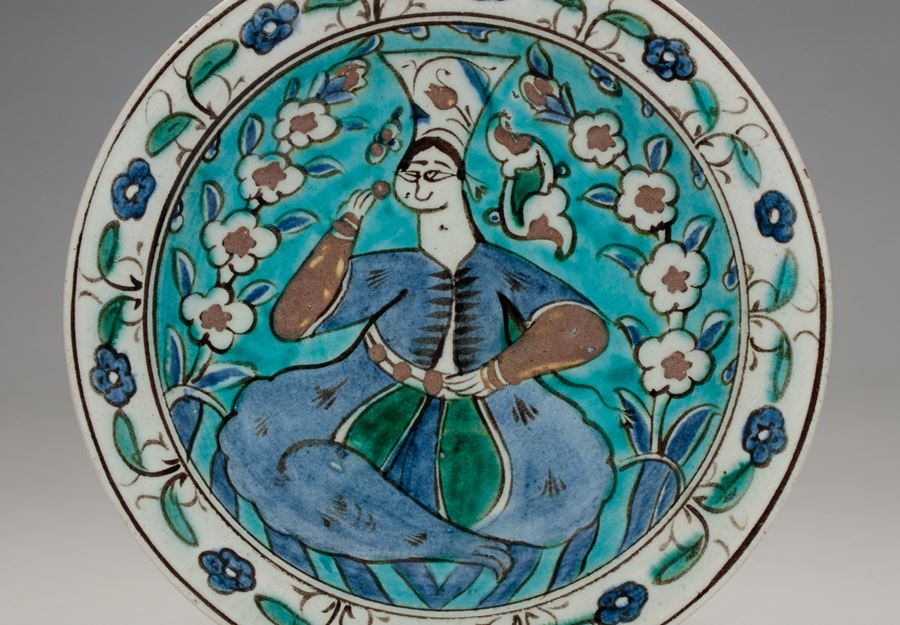 Discover the gallery
Amir Mohtashemi Ltd.
Indian,Islamic and Cross-Cultural Works of Art
More Works From This Gallery