Description & Technical information
In this sublime representation, the saint stands next to her red bricked tower, her gaze slightly downward in contemplation. Her hair is held in a beautiful head dress, her magnificent golden locks in thick rope-like plats framing her delicate face and falling gracefully over her shoulders to her slender waist. Dressed in richly decorated opulent garments, with billowing slit sleeves and corset, patterned and golden fringed drapery, one feminine foot emerging from beneath the robing, a beaded diamond-shaped medallion hanging from her waist, she is elegant, graceful and refined, her high forehead and angelic facial features quintessentially Mechelen in character. The open Gospels in her left hand and missing attribute in the right, this beautifully balanced composition is in extraordinarily fine condition with extensive original polychrome and gilding preserved, the craquelure exquisite. It is an outstanding representation of the legend of one of the most popular and venerated of the female saints.

Barbara, who lived in Nicomedia, Bithynia during the late 3rd and early 4th centuries, was the beautiful intelligent daughter of Dioscorus, a wealthy pagan. Her father imprisoned her in a tower to protect her from the outside world and to preserve her virginity. He forbade her association with friends allowing contact only with teachers and servants instructed to teach the worship of pagan gods. Barbara spent years in the tower hauling her food and laundry up and down by means of a basket on a rope. One day a stranger slipped a book about Christianity into her basket and, upon reading it, she feigned sickness and sent for a doctor. The man who arrived was a priest, who secretly baptised her.

Before leaving on a trip, Dioscorus commanded that a bath-house be constructed for Barbara with two windows only. During her father's absence, Barbara instructed the workmen to install three windows to symbolise the Holy Trinity. When Dioscorus returned, he was enraged at the change and infuriated when Barbara confessed that she was a Christian and refused an offer of marriage arranged by him. Dioscorus took her before the prefect of the province who ordered that she be paraded naked though the town. A fog rose suddenly and hid her from the crowd. The prefect then decreed that she be tortured and beheaded. Barbara refused to renounce her faith under torture, her wounds healing each morning. It was her father himself who carried out the death sentence. On his way home, a violent tempest arose. He was struck and killed by lightning and consumed by fire God had caused to descend on him.

It is due to this legend that Saint Barbara is invoked for protection against explosion and sudden death. She is venerated by Catholics who face the danger of unpredictable violent death in the workplace. She is the patron saint of artilleryman, miners, fire fighters, sailors and, because of her imprisonment, of prisoners.

The tower in which Saint Barbara was confined by her father is always associated with her in Christian art. Sometimes it appears as a building in the background. Not infrequently, she holds a miniature representation of it in her left hand. In other works, as in our example, she leans upon it. Where the tower does not appear in the left hand, its place is usually occupied, as it is here, by a copy of the Gospels. Her right hand usually holds either a palm branch or sword as a symbol of her martyrdom. The missing attribute in our example was most likely a sword. Saint Barbara differs from every other female saint in Christian art in that she is often depicted carrying a chalice representing the Holy Eucharist.
Date: 1510-1520
Period: 1400-1600, 16th Century
Origin: Belgium, Mechelen
Medium: Walnut, Original polychrome, Gilding
Dimensions: 35.5 x 14 x 5 cm (14 x 5¹/₂ x 2 inches)
Provenance: Private collection, Belgium
Categories: Sculpture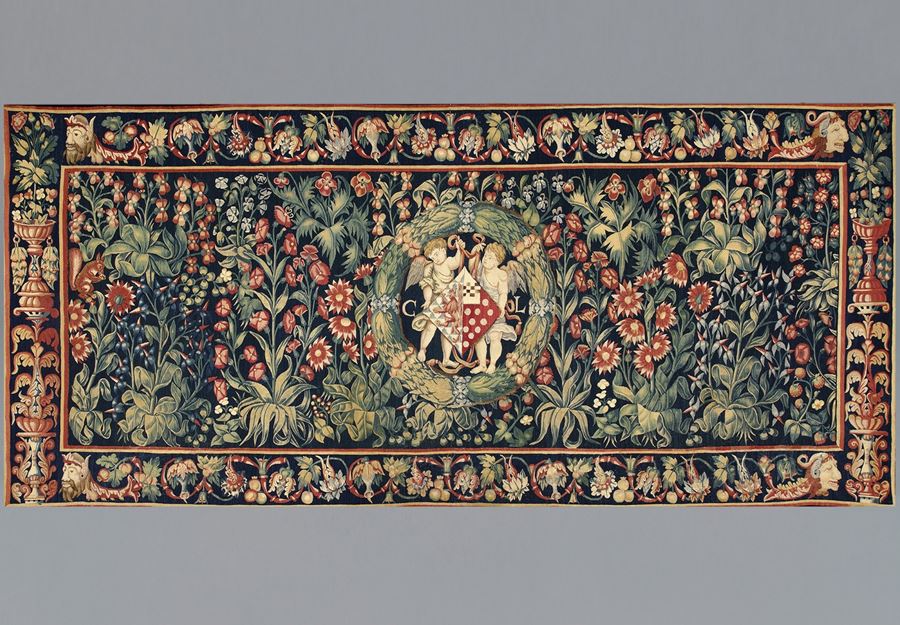 Discover the gallery
Mullany
Haute Epoque Fine Art
More Works From This Gallery