Description & Technical information
Triptych with arched top.
Central panel, overall with engaged frame ; painted surface
Height: 24 cm; 9⅖ in. ; 20 cm; 8 in.
Width: 19 cm; 7½ in. ; 15.2 cm; 6 in.

Right and Left wings, overall with engaged frame ; painted surface
Height: 24 cm; 9⅖ in. ; 24 cm; 9⅖ in. ; 20 cm; 8 in. ; 20 cm; 8 in.
Width: 9.4 cm; 3⅔ in. ; 9.7 cm; 3⅘ in. ; 5.5 cm; 2⅕ in. ; 6 cm; 2⅖ in.

This beautiful small triptych, with a central panel showing a landscape with Madonna and Child and outer wings with Joseph and Mary pregnant with the Christ Child and the Rest on the Flight into Egypt, has recently been given Adriaen Isenbrant and workshop, a Northern Renaissance painter active in Bruges by 1510, the year he is recorded as having become a master in the Guild of Saint Luke.


A significant artist of the period, he ran a large workshop specialising in religious subjects and devotional paintings notable for their reliance on models by other artists, particularly those of Gerard David, the leading painter in early 16th century Bruges who, it has been suggested by Hulin de Loo, was Isenbrandt's teacher. As is apparent from the present example, the influence of David can be seen clearly in the composition and the landscape background. It is likely that Isenbrant travelled to Genoa in 1511 with David and Joachim Patinir, another artist whose style is discernible in his work. In addition to these links, we find in the oeuvre of this master pictorial ideas from Jan van Eyck, Rogier van der Weyden, Jan Gossart, Dürer and the Antwerp Mannerists. On more than one occasion Isenbrant used the same compositions which Ambrosius Benson used. Where Isenbrant displayed originality was in relation to colour, achieving a loosening and blurring of the brushwork. He almost obsessively favoured a warm palette, as is evident in the present work. Multiple glaze-like layers achieve an overall bond of often languid harmony. At times the heavy pigment layer has an almost smoked or fired aspect and this individual type of brushwork brings on a characteristic craquelure that enhances the flesh parts. Records of pictures being sent from Antwerp to Spain suggest an international reputation and production for both local and export markets until 1540.

The Flight into Egypt, as shown on the left wing, was a commonly painted theme by Isenbrant. Popular during the early 16th century due to the prevalence of the Modern Devotion, a religious movement focused on empathetic responses to the suffering of Christ and the Virgin, the devoted viewer was encouraged to follow the Holy Family's arduous journey as they fled persecution by King Herod.


Small, portable, intended for private devotion and to engage the viewer in an empathic contemplation of the Life of the Virgin, the present triptych can be compared to another small example by Isenbrant now in the Metropolitan Museum, New York (Acc. no. 13.32a-c).

We are grateful to Mr Peter van den Brink, Director of the Suermondt-Ludwig Museum, Aachen, for confirming the attribution to Adriaen Isenbrant and workshop based on first hand examination of the work.
Date: 1520
Period: 1400-1600, 16th cnetury
Origin: Belgium
Medium: Oil on panel
Dimensions: 24 x 19 cm (9¹/₂ x 7¹/₂ inches)
Provenance: Private collection, Spain
Literature: M. J. Friedländer, Early Netherlandish Painting. The Antwerp Mannerists, Adriaen Ysenbrant, Vol. XI (A. W. Sijthoff, Leyden, 1974), pp. 47-58, pls. 101-105, 124-125, 133-135, nos. 124-127, 150-152, 176-182a

M. W. Ainsworth and K. Christiansen (eds.), From Van Eyck to Bruegel: Early Netherlandish Painting in The Metropolitan Museum of Art (The Metropolitan Museum of Art, New York, 1998), pp. 370-373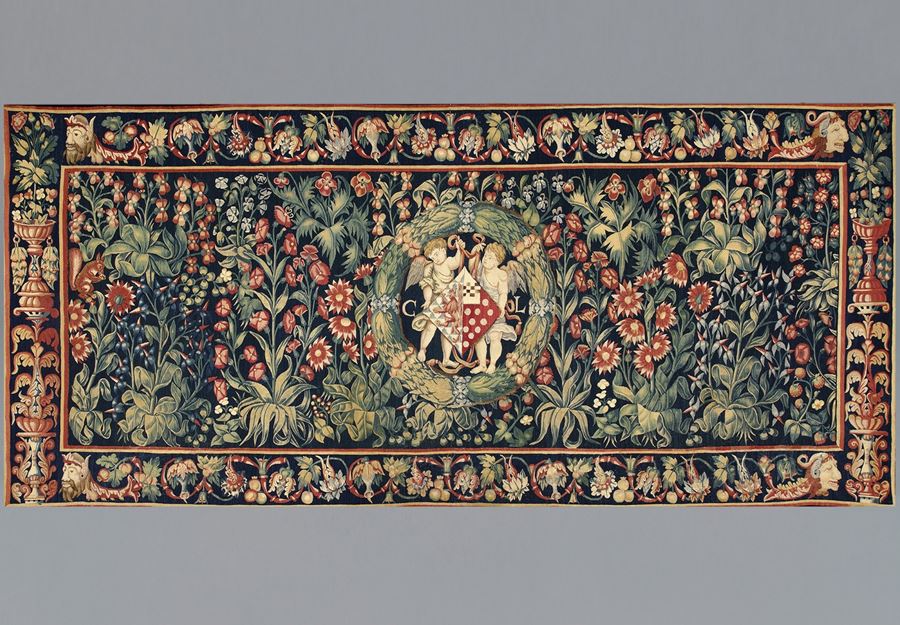 Discover the gallery
Mullany
Haute Epoque Fine Art
More Works From This Gallery