Description & Technical information
Carved in the round, with extensive remains of the original polychrome and gilding, this beautiful Saint John of Calvary stands barefoot on a mound, the toes of his right foot visible, his head turned to the right, draped in a cloak worn over a simple tunic with a slit at the neckline. His left arm and hand covered, the missing right hand exposed from the sleeve, his cloak is draped across one shoulder, the heavy fabric falling in full voluminous 'V' shaped folds and undulating pleats on the right, a large folded flap of material visible at his back. Beardless, with almond eyes, prominent cheekbones and a square jaw, his curled waved locks of hair, arranged in two rows, form a crown and 'skull cap'.

Undoubtedly a product of one of the Burgundian workshops active in the first decades of the fifteenth century, the nature of the wood, the particular facial features and the weight and volume of the drapery, are characteristic of the post-Sluterian school (Claus Sluter (Harlem 1340 – 1406 Dijon)). It has been opined with confidence that the present work originates from the same workshop which produced the altarpiece for the Cistercian abbey of Theuley (Haute-Saône), sold and destroyed after the French Revolution. The subject of study since at least 1926, individual statuettes of the dismembered altarpiece have been located over the years, some eighteen having now been identified as likely to have been part of the original ensemble. Our saint is approximately a dozen centimetres smaller in height than the apostles presumed to have belonged to the Theuley altarpiece, making it unlikely that it is from that work. It is, however, probable that the object originates from the same workshop that produced that great sculpture, the physiognomy, the facial features, the hair, its styling, the position of the arms and hands, the treatment of the voluminous drapery and the bases on which the individual saints stand, sharing striking similarities (cf., eg., the statuettes now in the Musée du Louvre (Inv. R.F. 1885, 1371), Musée de Cluny (Inv. Cl. 23761) and the Musée du Couvent Sainte-Catherine d'Utrecht (Museum Catharijneconvent) (Inv. RMCC b304)).

The dimensions of the present work suggest that it was not part of the procession of apostles, but rather Saint John of Calvary, placed as a pendant to a Virgin, under the horizontal arms of the cross of a great crucifixion scene, his parted lips and mournful expression conveying the sorrow of the occasion supporting this conclusion also. Of high sculptural quality and clearly part of an important commission from a major monastery or church, this beautifully balanced and highly expressive work of art survives in extraordinarily fine condition with a superb deep rich red brown patina and exquisite gold craquelure.
Date: 1420-1430
Period: 1400-1600, 15th century
Origin: France, Burgundy
Medium: Original polychrome, Walnut, Gilding
Dimensions: 36.5 x 12 x 8.5 cm (14³/₈ x 4³/₄ x 3³/₈ inches)
Provenance: Private collection, France
Literature: V. Huchard, 'Colligite fragmenta ne pereant' in G. Bresc-Bautier, et al, La sculpture en Occident: Etudes offertes à Jean-René Gaborit (Editions Faton, Dijon, 2007), pp. 78-85
S. Guillot de Suduiraut, 'Neuf elements d'un retable' in P. Le Pogam (ed.,), Les Premiers Retables XIIe-début du XVe siècle: une mise en scène du sacré, exhibition catalogue (Musée du Louvre éditions, Paris, 2009), pp. 178-183, no. 48, fig. 63
P. Le Pogam, 'Autour de 1400: vers la victoire des retables complexes?' in P. Le Pogam (ed.,), Les Premiers Retables XIIe-début du XVe siècle: une mise en scène du sacré, exhibition catalogue (Musée du Louvre éditions, Paris, 2009), pp. 166-172, no. 48, fig. 56
Categories: Sculpture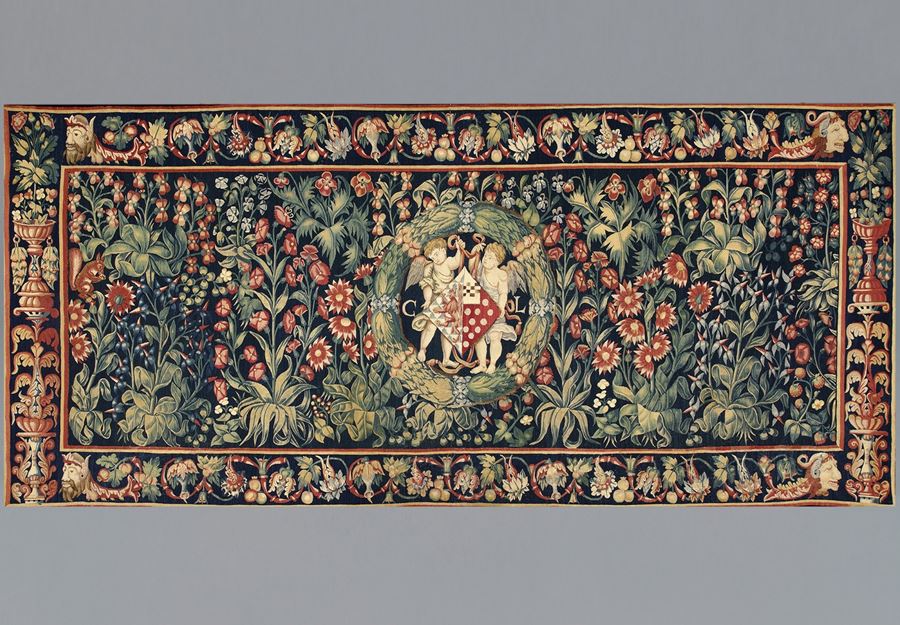 Discover the gallery
Mullany
Haute Epoque Fine Art
More Works From This Gallery