Description & Technical information
Luis de Morales is one of the defining painters of sixteenth century Spain. Indeed, despite the conspicuous difference in artistic ambition and stature, he is no less important for an understanding of Spanish art in the age of the Counter-Reformation than El Greco, who strove to convert the same intense spirituality, albeit with strikingly different results. The exquisite facture and morbid sensibility of Morales's devotional paintings made them perfect vehicles for meditation, earning him the epithet of 'El Divino'.

What makes his work so important to any history of Spanish art is the way his images complement the practice of mental prayer that was at the centre of the religious life of the great Spanish mystics, such as Saint Teresa of Ávila (1515 – 1582), Saint John of the Cross (1542 – 1591) and Juan de Avila (1500 – 1569). Morales expressed the religious fervour of his age providing objects of meditation in keeping with the lessons of such contemporary Spanish figures. The character of his intensely felt images, of which our painting is a fine example, has been related to such influential religious texts as Fray Luís de Granada's Libro de la oracíon y meditacíon (The Book of Prayer and Meditation, 1554, revised 1566). Indeed, it has been said: "No Spanish painter was ever to surpass Morales in expressing the passionate, personal faith of the mystical writers." (Brown, op. cit., p. 52). No other artist of his time knew how to appeal to the ardent faith of his countrymen so well or how to impart to his sacred subjects such intense and palpable emotion. With works of almost shocking realism, Morales produced vivid and precisely executed portrayals of suffering holy figures and refined devotional images in a highly individual style, which show the primary influence of Leonardo da Vinci and Raphael. His knowledge of these masters came indirectly through his contact with Italianising Flemish painters then working in Spain. The statement by Antonio Palomino (1653 – 1726) that Morales was trained in Seville by the Flemish mannerist painter, Pedro de Campaña (Pieter de Kempeneer, 1503 – 1586), who was recorded in Spain from 1537, is quite likely given the character of his work. That said, since Morales was already active independently by 1535, it is equally possible that he got his artistic training in Castile.

His contact with Portuguese painting, especially that of Frei Carlos and the Évoran school, as well as his knowledge of German and Flemish art he had come to know through prints add to the complexity of his unique artistic vision. In his earliest work, Italianate balance and harmony predominate. Morales clearly studied Florentine masters and is known to have made many studies of works by Michelangelo. In what has been termed a second style, the Italianate and the Flemish/German elements have been fused into a truly unique personal style. In works such as the present Pietá, Morales reduces the number of figures in his compositions to no more than two or three, often seen in bust or in half-length. He focuses on his favourite themes of the Passion – the Ecce Homo, Christ at the Column, and The Pietà. In these works his drawing is clean and firm, the anatomy correct, and the figures, which recall primitive German and Flemish work in their austerity, have their own grace and beauty despite an overriding mood of sorrow and anguish. The colouring is delicate yet glows with great brilliance. Through the use of half-tones, Morales models his figures using a sfumato technique based on that of Leonardo. Yet, like early Northern painters, he takes great care to delineate in minute detail every hair and each grain of wood. He renders with agonising reality each drop of blood and every tear in the afflicted Mother's eyes.

The Pietà was a subject represented often by Morales, no doubt because of its conformity to prevailing counter-reformation ideals, as well as the great demand for private devotional images among his clientele in the isolated region surrounding his home in Badajoz, a small remote town in Estremadura near the Portuguese border. Although images of the Pietá were among those most often produced by Morales, he never created direct repetitions. Instead his autograph works are distinguished by subtle alterations in the poses and disposition of the figures or the arrangement of the drapery. The present work shares some compositional similarities with other treatments by the artist, but its design is wholly unique.

Morales' earliest dated work is a Madonna and Child of 1546, painted for the hospital of San Andrés but now in the church of San Augustin, Madrid. One of his most important surviving retables was for Arroyo del Puerco (Arroyo de la Luz) near Cáceres (1560 – 1568). In 1564 he painted the portrait of the new, reform-minded bishop of Badajoz, Juan de Ribera (1532 – 1611), whose favoured painter he became (the portrait is in the Museo del Prado; a triptych with Juan de Ribera shown in one of the shutters is in the Museo de Bellas Artes, Cádiz). Juan de Ribera had attended the Council of Trent, which laid out guidelines for the function of religious images and his reforming zeal was crucial to Morales' art, especially for his devotional panels. We know that in 1567 Morales was contracted by Juan de Ribera to paint two pictures showing Christ at the column with Saint Peter and two of the Virgin dressed as a gypsy with the Christ Child. These works provided models that were repeated in the workshop, with variations. Even before then, in 1564, it seems that Morales's work had come to the attention of Philip II, who in that year is said to have given a painting showing the dead Christ (Cristo Nazareno) with the Virgin and Saint John to the royal monastic foundation of San Jerónimo in Madrid. According to Palomino, Morales was summoned by the king to the Escorial, who realised, however, that while he excelled in the painting of works for private devotion, he was less talented for the job of painting the many altarpieces required for the Escorial. That task went instead, in 1568, to Juan Fernández Navarrete (1526 – 1579), called El Mudo. The only known signed work by Morales is the Raphaelesque Madonna of Purity, now in San Pietro Maggiore in Naples.

The date of Morales's birth in Badajoz is the subject of debate. According to Palomino, it was 1509 and this accords with what the artist declared in 1584 when he said he was 73 or 74 years of age. Alternative opinion has his birth as late as 1520. He had two sons (born 1551 and 1554) and five daughters.
Date: 1560 – 1565
Period: 1400-1600, 16th Century
Origin: Spain
Medium: Oil on panel
Dimensions: 55.4 x 42.5 cm (21³/₄ x 16³/₄ inches)
Provenance: Private collection, France, for more than four generations
Sotheby's, London, 7 December 2006, lot 127
Literature: L. R. Gómez (ed.), El Divino Morales, exhibition catalogue (Museo Nacional del Prado, Madrid, 2015)
C. S. Rodriguez, Luis de Morales (Fundación Caja de Badajoz, Badajoz, 1999)
J. Brown, The Golden Age of Painting in Spain (Yale University Press, New Haven, 1991)
Categories: Paintings, Drawings & Prints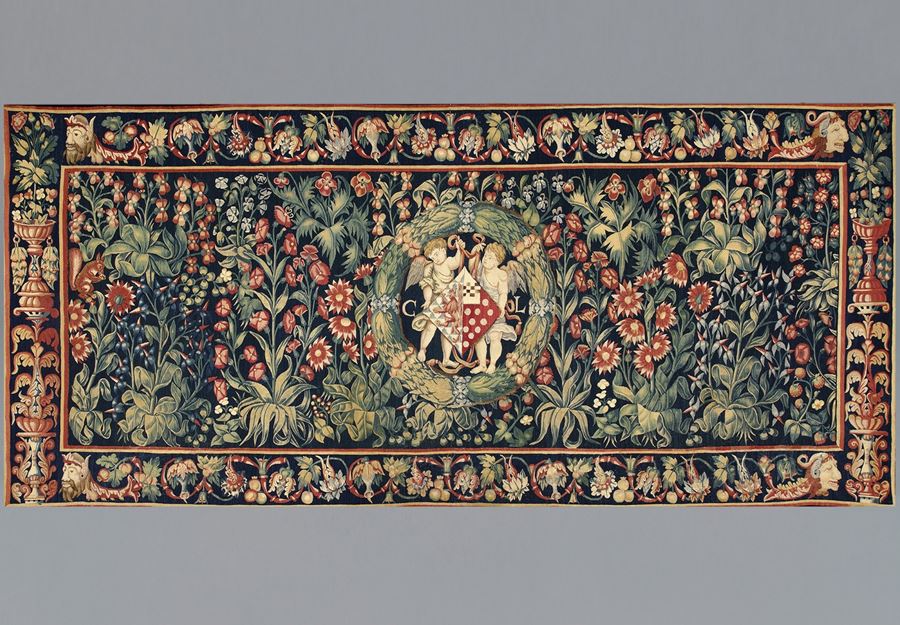 Discover the gallery
Mullany
Haute Epoque Fine Art
More Works From This Gallery