Description & Technical information
China, Early Tang Dynasty (618-907)
TL Tested by Oxford Authentication, UK

A pair of warriors in a striking stance with fierce expressions. Their feet are apart, arms outstretched and fists clenched ready to fight off any evil forces. They wear full body armour bound with cords, worn over knee length tunics. One has puffy sleeves coming out of dragon mouth armholes, with a small scarf which is open at the neck. The other figure has flanged sleeves and a larger scarf draped over the shoulders, knotted at the neck. They both wear shin protectors over padded breeches and plain pointed-toe boots. Their helmets have upturned rims and a high pointed finial. The grey earthenware bodies are covered with a dark slip, decorated with white pigments and they stand on distinctive c-shaped bases. These figures would have been moulded in separate parts, the finer details finished by hand.

The non-Chinese facial features of both figures, would have been inspired by the foreigners who are known to have lived in the Tang Empire. The silk road had ensured not only an exchange of goods, but also of people and culture. This made Tang-society extremely diverse and cosmopolitan.



Date: Late 7th Century
Period: 7th century, Middle Ages
Origin: China
Medium: Terracotta
Dimensions: 89.5 cm (35¹/₄ inches)
Provenance: - Private Collection, The Netherlands 2017
- With Priestley & Ferraro at TEFAF Maastricht 2008

Categories: Oriental and Asian Art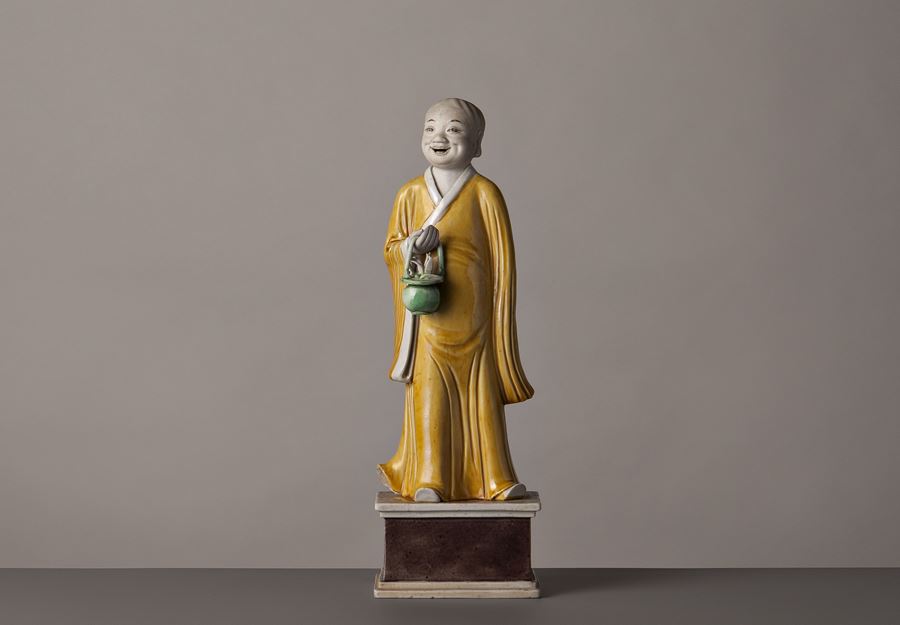 Discover the gallery
Vanderven Oriental Art
Chinese Ceramics and Works of Art
More Works From This Gallery