Description & Technical information
Northern Qi period (549-577AD)
TL-tested, By Oxford Authentication Ltd, UK (2000)

This impressive nearly life-size figure, is made of unglazed earthenware. It is boldly but finely modelled, and was cold decorated with pigments after firing. It stands solemn and upright in watchful attention, the head held high and the hands clasped together across the chest. He wears a loose flowing wide-sleeved tunic, belted at the waist, over loose trousers, the pointed shoes peeking out from underneath. On his head is a black court cap and over his tunic he wears a sturdy ceremonial breastplate, buckled over the shoulders. He has a furrowed brow, upward slanting eyes, slightly smiling red lips and a thin black moustache

This imposing figure, bridges the sculptural style between Northern Wei and the Tang periods. It is finely manufactured, with attention to detail. Particularly, the slightly haughty expression and clothes suggests a realistic style. We can assume that this figure would have been placed against the wall, as the reverse has less detailing.

Such large and impressive figures are unusual and would certainly have been intended for the tomb of a high ranking noble. Civil officials such as this, would have formed part of the expansive household. In addition to their administrative responsibilities, they would also have served as an honour guard for members of the imperial family and aristocracy.

An similar figure was exhibited in the Metropolitan Museum of Art in 'Dawn of a Golden Age' (2004).


Date: 549-577 A.D.
Period: Middle Ages, 6th century
Origin: China
Medium: Terracotta
Dimensions: 149 x 44 cm (58⁵/₈ x 17³/₈ inches)
Provenance: Private Collection, The Netherlands, 2000

Categories: Oriental and Asian Art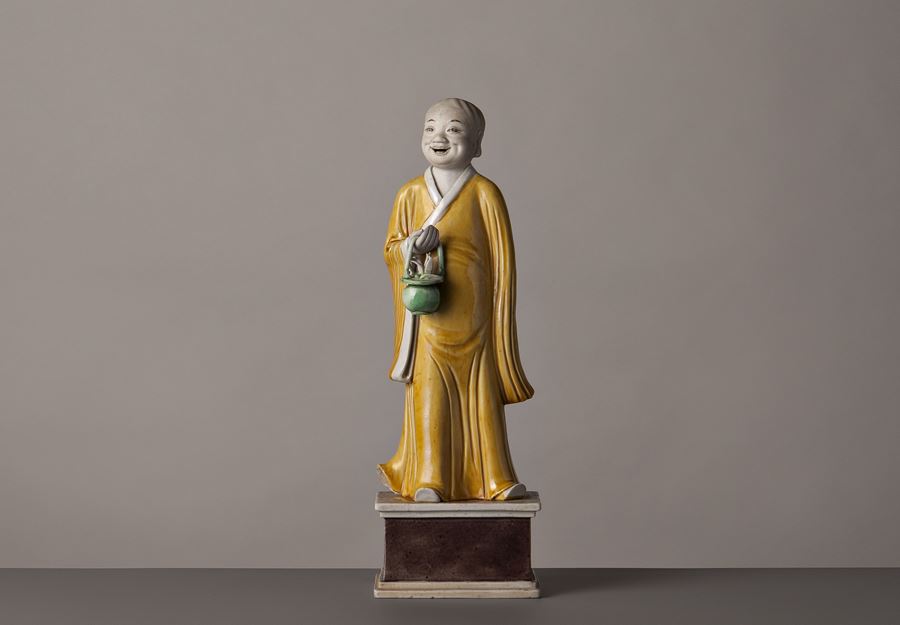 Discover the gallery
Vanderven Oriental Art
Chinese Ceramics and Works of Art
More Works From This Gallery