Description & Technical information
Of rectangular shape, they each open by two front doors set between two pillars.
They are topped with an incurved and slightly projecting cornice. The slightly stepped plinth-shaped base rests on four ball-shaped feet.

The marquetery on the bands framing the doors consist of rectangular friezes of scrolled flowers and foliage, terminating at each corner with unfolded leaves, the whole surrounded by bands.
Small brass frames to the recessed rectangular part of the compartments.

The central pilasters linking the two doors represent vertically set flowerets and quadrilobates.

The plinths, the frames of the pillars and those of the sides with concave corners, and the lower part of the cornice are also underlined with brass bands and borders.

Each cabinet is ornated with chased and gilded bronze mounts, such as the cornice s ornamental leaves alternating with a chandelles frieze, the front falls with bearded men s faces in scrolling cartouches, from which spring foliated vine branches, tied by a ribbon at the top.
The frames of the doors have an alternating gadroon and darts motif.

The mounts at the centre of each door represent the seasons:

- a woman dressed in a kind of toga, holding a bunch of wheat from one arm and a sickle form her other hand, representing the summer.
- a man covered with a heavy coat, warming himself near a burning glowing cassolette, representing the winter.
- another woman with a basket of picked flowers, representing the spring.
- a lightly covered man holing a large ewer in one hand, and a cup in the other. He is close to a tree trunk, stylized raisins and vine leaves. He seems to have harvested grapes – representing the autumn.

These four figures each stand on a plinth in black wood, set horizontally, underlined by a leaf-decorated frieze and flanked by two stylized ovine heads, their hair dressed with leaves. They seem to be set on a gilt bronze framed banded pedestal.





Date: First half of the 18th century
Period: 1600-1750, 18th century
Origin: France
Medium: Brass, Ebony, Gilded bronze, Dark marble top
Dimensions: 90.42 x 102.62 x 35.56 cm (35³/₅ x 40²/₅ x 14 inches)
Categories: Furniture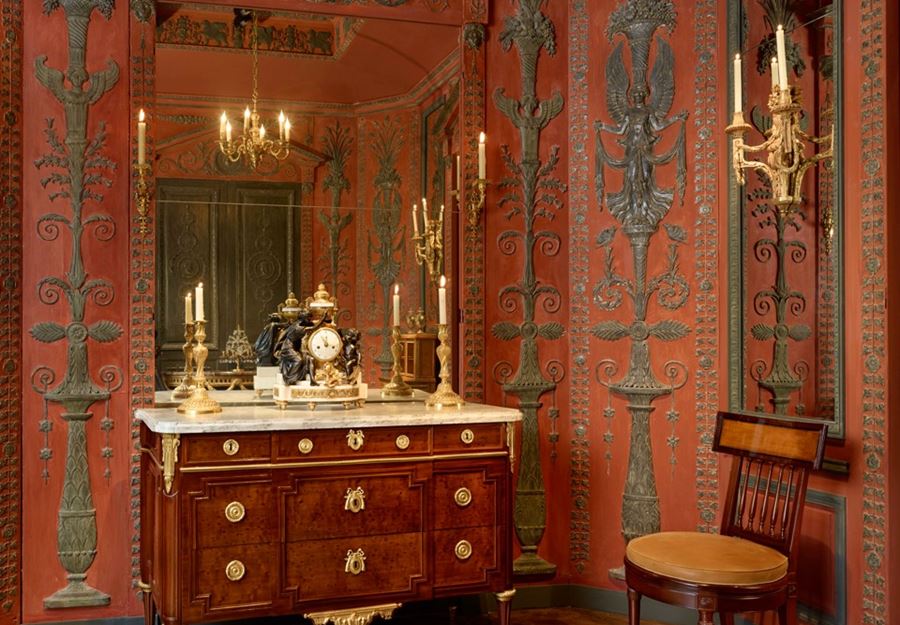 Discover the gallery
Galerie Léage
Highest quality 18th Century French & Russian Furniture & Objets d'Art
More Works From This Gallery