Description & Technical information
A pair of large pottery carp, in a dark blue-green glaze, with some brighter turquoise on the tail, fins and base. Facing upwards, tails flipped, they rest on circular bases with swirling waves in relief. They have smooth heads with protruding round eyes and open mouths, with barbels attached to its upper lip. The body is covered with smooth raised scales and they have a ridged dorsal fin and tail.

According to Chinese belief, carp turn into dragons by leaping the rapids of the Yellow River. Fish leaping from waves are seen a metaphor for transformation and the passage from earth to heaven. This legend is also associated with scholar rising to high office, the mere fish rising to new heights to become a dragon. The carp's ability to swim upstream against the current, was also likened to the scholar, who arduously perseveres through years of study. But the carp as a roof ornament, specifically expresses the idea of transformation from the earthly world of the roof to the celestial world in the sky above. Fish and water creatures were particularly popular subjects for the ends of the roofs, as the popular belief was that ornamenting roofs with water creatures, would help protect the structure against fire damage.

Chinese buildings were largely constructed in wood, had pitched roofs and ended curving in eaves. All roof components, including the tiles and ornaments, were made of glazed earthenware (liuli), which were generally produced locally in provincial kilns. Initially, only official buildings (palaces, government buildings, and temples) were permitted to use the more elaborate roof decorations. They were placed along the ridges and as finials. Larger amounts of figures, indicated a building of greater importance, yellow glazed figures exclusively reserved for imperial buildings. Ornamentation was thought to help with communication with the celestial beings, therefore facilitating the attraction of good fortune, protection and blessings.

The British Museum (London) has a roof finial in the form of a carp (nr. 1938,0524.89), as does the Victoria & Albert Museum, London (C.91-1939).

Date: 1850
Period: 1850-1900, 19th century
Origin: China
Medium: Terracotta, Dark blue-green glaze
Dimensions: 95 x 37 cm (37³/₈ x 14⁵/₈ inches)
Provenance: Private Collection, The Netherlands 2016
purchased in Hong Kong in the early 1990's
Literature: Beasts & Creatures Catalogue 2017, no. 22
Categories: Oriental and Asian Art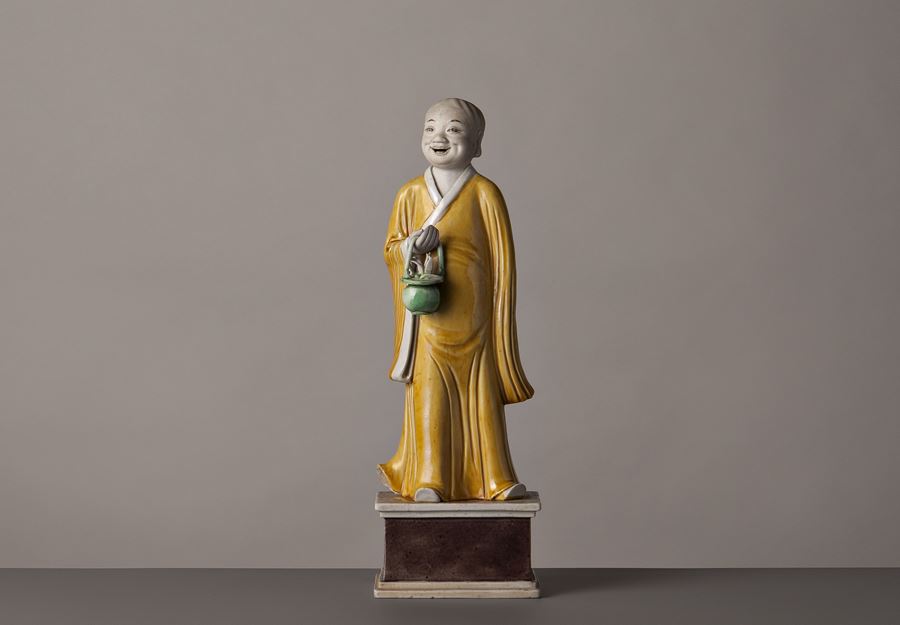 Discover the gallery
Vanderven Oriental Art
Chinese Ceramics and Works of Art
More Works From This Gallery