Description & Technical information
Porcelain, models by Johann Joachim Kaendler (1706-1775), 1743
Manufacture and decoration, Meissen c. 1745
Gilt-bronze mounts Paris, Louis XVI period, c. 1770

Comparable pieces:
Basel, Pauls-Eisenbeiss foundation (I. Menzhausen, In Porzellan verzaubert. Die Figuren Johann Joachim Kaendlers in Meißen aus der Sammlung Pauls-Eisenbeiss in Basel, 1993, Basel, p. 158).
Offenburg, Franz E. Burda collection (M. Kunze-Köllensperger, Meissen. Figuren Dosen und Tafelgerät aus dem 18. Jahrhundert, 1997, Offenburg, p. 225, cat. no. 150).

Kändler's Taxa or work record of 1743:
"1. Gärtner sizend, einen Bluhmen-Korb vor sich haltend, darein Bluhmen gesezet werden können, als Compagnon zur Gärtnerin" [1 seated gardener, holding a flower basket in front of him in which flowers can be put, as companion to the female gardener].
Date: 1743
Period: 1600-1750, 18th century
Origin: France, Germany
Medium: gilt-bronze, porcelain
Dimensions: 40 cm (15³/₄ inches)
Categories: Furniture, Works of Art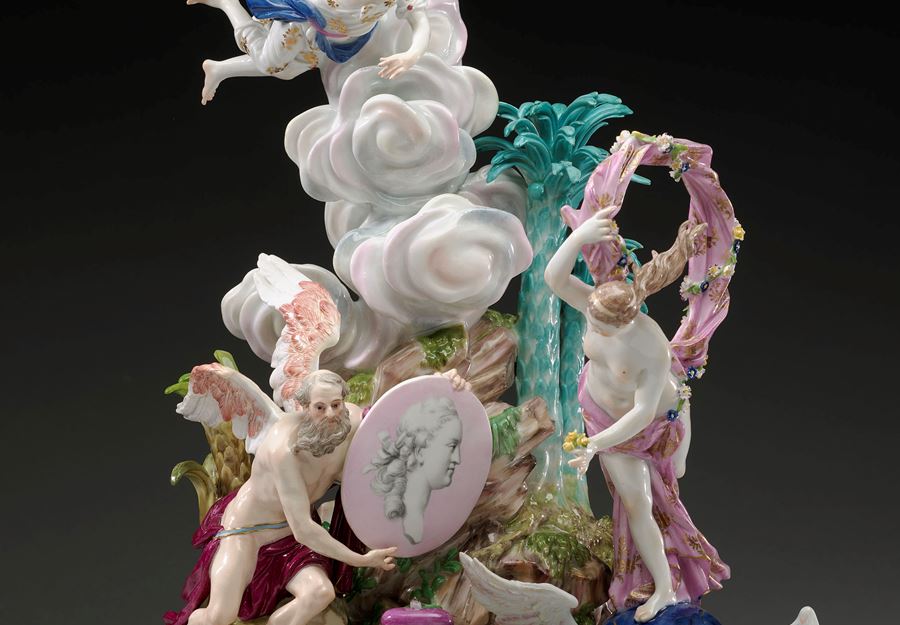 Discover the gallery
Röbbig München
Early German Porcelain, 18th Century French & German Furniture, Paintings & Objets d'Art
More Works From This Gallery