Description & Technical information
A George III giltwood mirror from the White Drawing Room by Thomas Chippendale. This mirror, a remarkable discovery, is identical in many carved elements and in construction to a pair of mirrors sold from Harewood House in 1987. That pair, now in a private collection, differs in not having sphinx platforms.
It was evident that our mirror had lost its ribbon tied roundel, and we were fortunate enough to be able to use photographic evidence and the experience of Carvers & Gilders Ltd. of London to reinstate it. The mercury silvered mirror plate is a replacement.

THE HAREWOOD HOUSE COMMISSION 1767–1778

Thomas Chippendale was first recorded working for Edwin Lascelles of Harewood House as early as 1767, and after Chippendale's death the documented commission continued with his son, also Thomas, until the late 1770s. This remarkable commission may, however, have spanned almost thirty years, furnishing Harewood and other Lascelles family homes, including their house in London.
Many of the Harewood papers relating to Chippendale's work have been preserved, making it possible to identify some of the pieces by the master at Harewood. There are some gaps, however, and records of Chippendale's early work at Harewood and the other houses have been lost.
Harewood House underwent extensive refurbishment in the 19th century under Charles Barry, and many Chippendale features and fittings including the sphinx mirrors were removed, dismantled and stored in the attic of the house. Entire walls were removed, and the layout of rooms was changed drastically. The furniture was moved around the house over the years, making it almost impossible to ascertain which piece originally belonged where.
Christopher Gilbert, whilst researching Chippendale for his seminal work on the master cabinet-maker, visited Harewood in the late 1970s and photographed the storage boxes containing Chippendale fragments. It was not until the late 1980s that the boxes were emptied and recorded systematically, and some mirrors were re-assembled where possible by Carvers & Gilders Ltd.
Circular mirrors are exceptionally rare, and no other Chippendale commission for the supply of circular mirrors is known.
A platform of identical size and design has been found in the store rooms at Harewood House. Identical sphinx carvings can be found surmounted on later pier mirrors in the Cinnamon Drawing Room (formerly the White and then the Green Drawing Room), where the mirror had originally been installed. This evidence links the mirror unequivocally to the other pair of circular mirrors and to Chippendale's work at Harewood House.
Research within the Harewood archives has revealed that this circular mirror was in fact originally one of a set of four mirrors. Two from the set were removed following Barry's refurbishment of the house in the 19th century, but the other two, including our mirror, had been removed from the room much earlier, when wall space was needed to hang two large portraits. The whereabouts of the fourth circular mirror is not known.
Date: 1780
Period: 1750-1850, 18th century
Origin: England
Medium: Giltwood
Dimensions: 201.5 x 123.5 cm (79³/₈ x 48⁵/₈ inches)
Provenance: Edwin Lascelles, 1st Baron Harewood, Harewood House, Yorkshire, England.
Collection of Chalmers Benedict Wood, US Foreign Service Officer and Ambassador, Wellington, New Zealand (1972–1974), USA.

Literature: Christopher Gilbert, 'Chippendale's Harewood Commission', Furniture History, 1973, vol. 9, pp. 27-31.
Illustrated:
Ronald Phillips Ltd., catalogue, 2017, pp. 6–9.

Categories: Furniture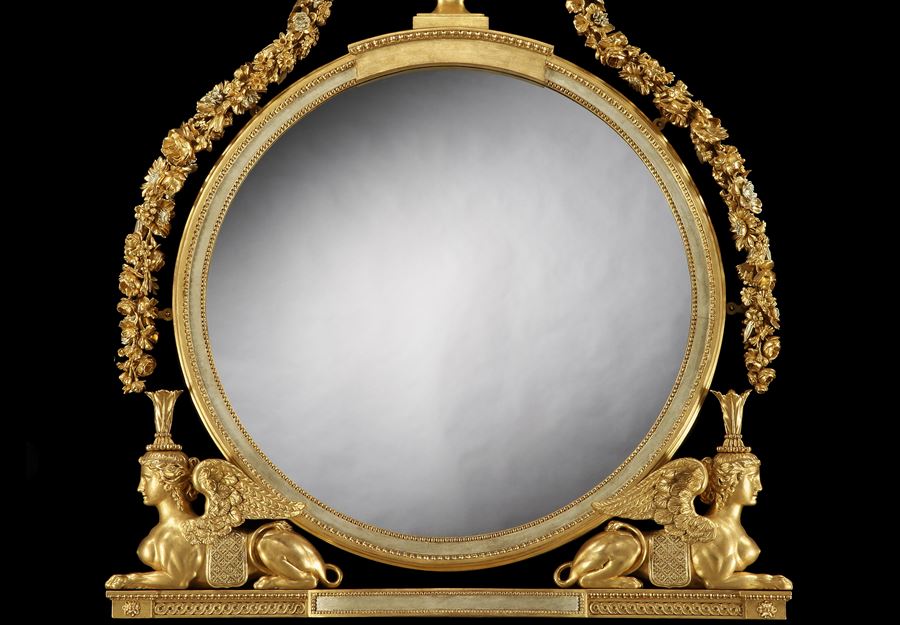 Discover the gallery
Ronald Phillips Ltd
18th Century and Early 19th Century English Furniture, Objets d'Art, Glass, Clocks and Barometers
More Works From This Gallery