Description & Technical information
European Market

Price: £3,200

A Chinese export porcelain dinner plate, decorated in bright famille rose enamels with a European subject scene of musicians, the rim with a colourful rococo border.

The print source for this scene has yet to be identified [see below for an update]. It is in the style of Watteau or Lancret, with a seated lute player next to a barrel, the woman with a triangle and another man making advances on her, holding a pair of castanets. Up to about 1800 the triangle often had a series of jingling rings on it which are shown here in the lady's hand.
The barrel is curiously placed and is reminiscent of illustrations for one of the Contes by La Fontaine, Le Cuvier, that is also known on export porcelain.
Such a scene is part of the tradition of fêtes galantes which were popularised by Watteau and others at the beginning of the 18th century. These scenes had a variety of people in outdoor settings reading, playing music or having a picnic. They were a carefully coded system of pastoral semi-erotic activities that were understood by the eighteenth century eye.

Research Update: It has now been discovered that the source for this is part of a larger image of Autumn (from The Four Seasons) by Johann Esaias Nilson, some gouaches for which are in the Bibliotheque des Arts Decoratifs, Paris. A set of these images was engraved by Johann Philip Koch (1716-96) and two of the others are also sources for designs on Chinese export porcelain.

References: Hervouët & Bruneau 1986, p188, No 8.15 a plate; Howard 1994, p88, No 75, a plate; Veiga 1989, p167, a plate; Sargent 2014, p226, No 82, three examples in the Conde Collection.

Date: 1745
Period: Qianlong period circa 1745
Origin: China
Medium: porcelain
Dimensions: 23 cm (9 inches)
Categories: Oriental and Asian Art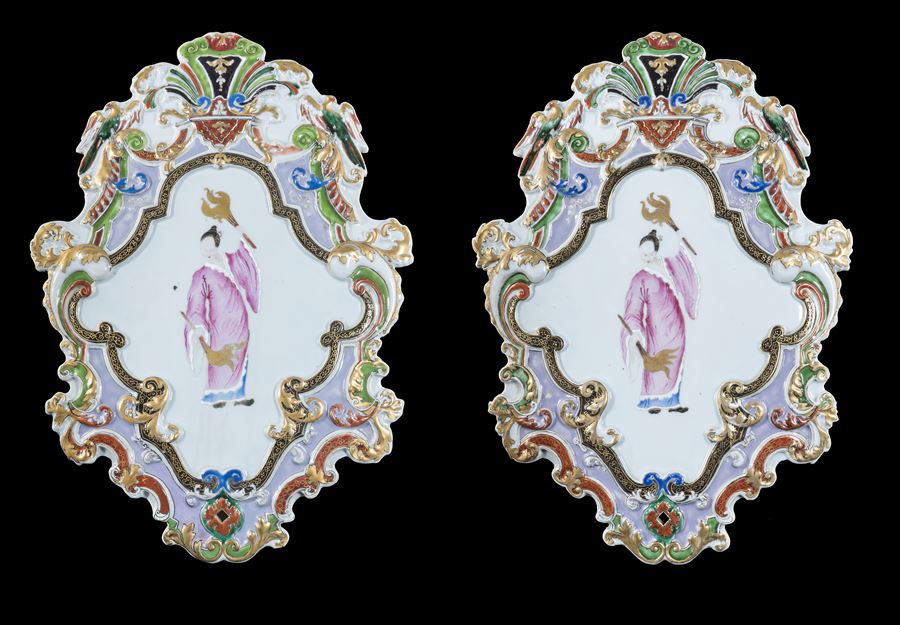 Discover the gallery
Cohen & Cohen
Chinese Export Porcelain, 17th & 18th Century, Works of Art
More Works From This Gallery