Description & Technical information
Qianlong period
European Market

Price: £15,000

A rare Chinese export porcelain dinner plate decorated with a European subject scene in bright famille rose, the rim with a gilt scrolling foliage border.
This scene shows Earth by Francesco Albani (1578-1660) one of a series of the four elements, painted between 1625-8 for the Cardinal of Savoy, later King of Sardinia, and which are now in the Galleria Sabauda, Turin. Cybele is seated in her chariot surrounded by personifications of three of the Seasons (Flora as Spring; Ceres as Summer and Bacchus as Autumn) but harsh Winter is absent as Albani intended to flatter the Cardinal's sunny disposition. A copy attributed to Poussin is in the Galleria d'Arte Bodda, Turin.
All four designs are known on Chinese plates and teawares, their tondo format fitting very well. There appear to be two orders of the plates, one with a blue border and the other with a gilt foliage rim border as in this example. There are also differences in the placement of the composition within the circle, suggesting a different workshop or set of painters for each order.

The series was engraved by many different artists including:
-Étienne Baudet (1636-1711) circa 1695, 'wrong' orientation for the porcelain but the same as the original paintings;
-Jacques Chereau (1688-1776) circa 1725, 'right' orientation;
-Nicolas IV de Larmessin IV (1684-1755) circa 1720, 'right' orientation;
-Antoine Hérisset (1685-1769);
-Nicolas Dauphin de Beauvais (1687-1783) 'right' orientation
-later engravers including Francesco Barolozzi circa 1796.
The series by Chereau, Larmessin or de Beauvais could have been the ones taken to China but it is not clear which was used. Other prints by Chereau and Larmessin are known on export porcelain.

Date: 1750
Period: 1600-1750, 18th century
Origin: China
Medium: porcelain
Dimensions: 23 cm (9 inches)
Literature: References: Mezin 2002, p86-9, Nos 67-70, four plates with each of the scenes and illustration of a set of engravings by Nicolas (IV) de Larmessin (1684-1755); Williamson 1970, plate XXXIX, four plates including 'Earth' with gilt rim border and plate XXIV a teapot with this design; Howard 1994, p111; Beurdeley 1962, p179; Hervouët & Bruneau 1986, p318-9; Jörg 1989, p174-5; Le Corbeiller 1974, p64-5' Sargent 2012, p297; Palmer 1976, p71; Howard & Ayers 1978, p323; Gordon1984, No 46; Puglisi, Catherine R. 1999, Franceso Albani, p144, Cat 60, the series, and note of two further engravers: A. Paquier & C. Ferreri; Scheurleer 1974, No 232, a plate; Pinto de Matos 2011, Vol 2, p228, No 320, a plate and illustration of the de Beauvais print version; Cohen & Cohen 2016, No 53, a plate with the same design but with the blue enamel rim; Cunha Alves 2016, p134, No 76, a teabowl and saucer with this design.

Categories: Oriental and Asian Art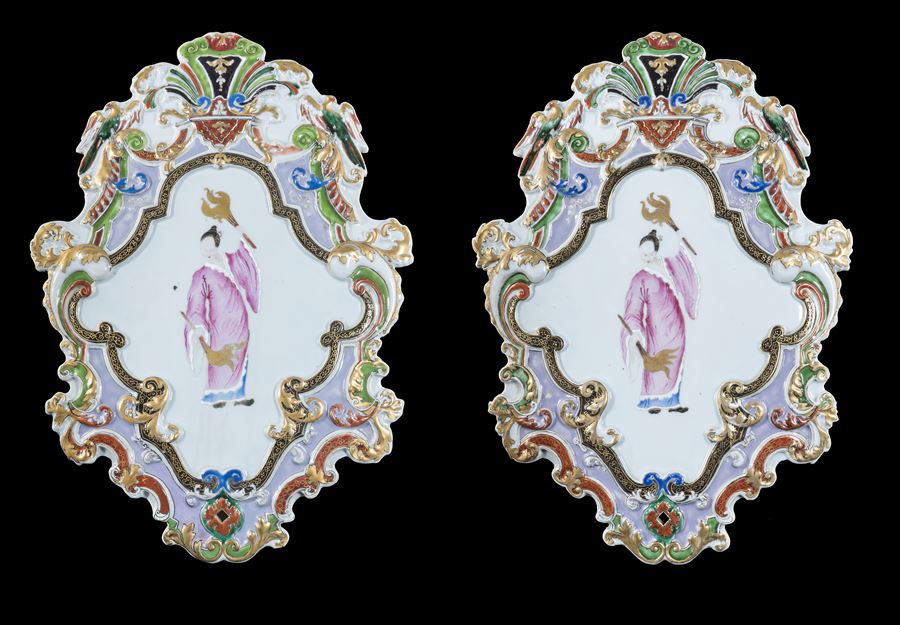 Discover the gallery
Cohen & Cohen
Chinese Export Porcelain, 17th & 18th Century, Works of Art
More Works From This Gallery