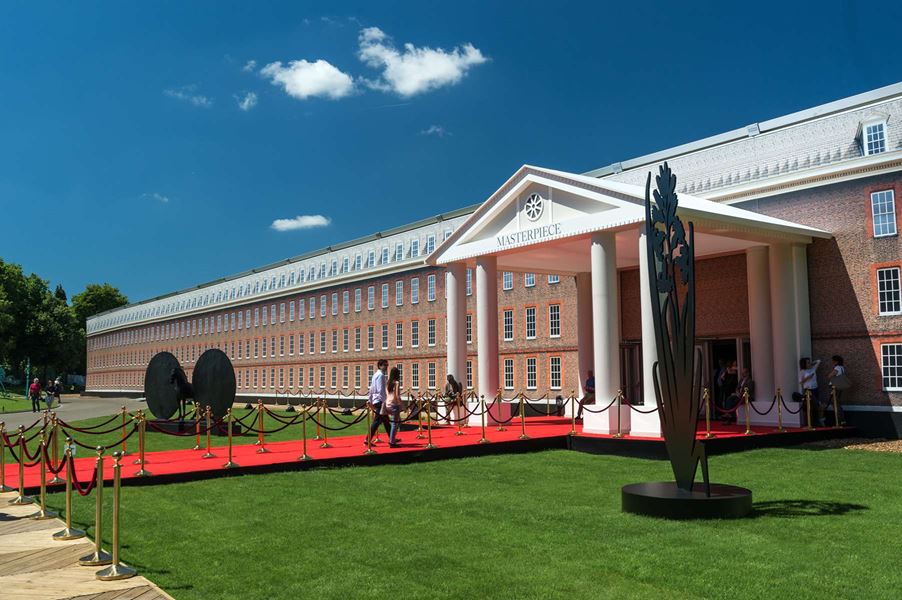 Masterpiece London, sponsored by Royal Bank of Canada, is delighted to announce the exhibitors joining the 2018 edition of the Fair, which runs from 28 June - 4 July at the Royal Hospital Chelsea.

Masterpiece London 2018 welcomes a strong roster of new exhibitors including Hill-Stone, Hammer Galleries, Hauser & Wirth, Jill Newhouse Gallery, Kallos Gallery, Landau Fine Art, Lullo Pampoulides, Vigo Gallery, and jewellers Moussaieff and Cindy Chao, exhibiting alongside returning galleries that include Agnews, Blain|Southern, Robilant + Voena, Dickinson, Amir Mohtashemi, Galerie Chenel, Rupert Wace, Thomas Gibson Fine Art, Modernity Stockholm and Vertes.

The thoughtful presentation of rare and individual pieces, which Masterpiece has become known for, will continue throughout the Fair with galleries including Axel Vervoordt, Rose Uniacke, Benjamin Proust, Perrin Fine Art and Alessandra de Castro pairing art and design from a range of eras in striking ways. The fair's cross-collecting ethos will be further reflected in Safani Gallery Inc and Geoffrey Diner Gallery's shared booth, where a mix of ancient Egyptian, Greek and Roman antiquities will be displayed alongside iconic 20th century and contemporary design. In the field of rare books, Les Enluminures will show fine examples of illuminated manuscripts and medieval and Renaissance jewellery, alongside historic rare maps brought by Daniel Crouch. An immersive booth from David Gill Gallery will recreate an interior from the home of the famed Surrealist patron, Edward James, with contemporary works of art from the gallery's artists.

Masterpiece's representation of Modern British Art will be as important as ever, with Osborne Samuel Gallery, Offer Waterman, Piano Nobile, Robin Katz, Hazlitt Holland-Hibbert, Richard Green, Alan Wheatley, Crane Kalman Gallery and new exhibitor Redfern Gallery. Works from Italian Modern Masters Alberto Burri, Lucio Fontana and Alighiero Boetti will be offered by Mazzoleni, Cortesi Gallery, M&L Fine Art, Tornabuoni, and newcomer Partners & Mucciaccia.

European Modern and Impressionist picture galleries, such as Dickinson, Landau Fine Art, Stair Sainty, Mayoral, Hammer Galleries and Vertes will be bringing exceptional works of art by Pablo Picasso, Claude Monet, Joan Miró, Camille Pissarro and Gerhard Richter. Die Galerie will bring Surrealist pieces in a booth shared with M F Toninelli Art Moderne.

Spanning 16th century engravings to contemporary screen prints, works on paper by major artists, including Albrecht Dürer, Andy Warhol, Peter Blake and Howard Hodgkin, will be offered by Sims Reed Gallery, Lyndsey Ingram, Long-Sharp Gallery, Peter Fetterman, William Weston and new exhibitors Hill-Stone Inc and Day & Faber.

With Thomas Chippendale's tercentenary this year, Ronald Philips will present a booth including 20 Chippendale pieces. Fine furniture and decorative arts from the 17th century to the present day will also be offered by Apter-Fredericks, H. Blairman & Sons, Steinitz, Godson & Coles, Thomas Coulborn & Sons, Edward Hurst and new exhibitor James Graham-Stewart. Modernity Stockholm, Oscar Graf, 88 Gallery, Linley and newcomer Sarah Myerscough Gallery will present classic modern and contemporary design.

Masterpiece's contingent of ancient art dealers will include new exhibitors Kallos Gallery and ArtAncient who will join Axel Vervoordt, Rupert Wace Ancient Art, Antichita Valerio Turchi and Galerie Chenel in exhibiting fine works from classical antiquity.

Masterpiece continues to be a destination for collectors of exceptional jewellery works. Unique contemporary pieces can be purchased from Cindy Chao, Van Cleef & Arpels, Boghossían and Moussaieff and a selection of antique jewellery can be found at Wartski, Simon Teakle, Verdura, Hancocks and S.J. Phillips.


Peter Harrington will be returning with their presentation of rare and historic books; ethnographic works will be shown by Patrick & Ondine Mestdagh Gallery and Finch & Co; fine porcelain and ceramics from the 16th century to the present day will be presented by E & H Manners, John Whitehead, Adrian Sassoon, Michele Beiny Inc and W. W. Warner Antiques. British and continental silver and silver-gilt will be brought by N & I Franklin and Koopman Rare Art.
Masterpiece London 2018 Exhibitors
18 Davies Street Gallery (London)
88 Gallery (London)
Adrian Sassoon (London)
Agnews (London)
Alan Wheatley Art (London)
Alessandra Di Castro (Rome) – Shared booth with Antichita Valerio Turchi
Amir Mohtashemi Ltd (London)
Anthony Woodburn (Lewes)
Antichita Valerio Turchi (Rome) – Shared booth with Alessandra Di Castro
Apter-Fredericks (London)
ArtAncient Ltd (London) [NEW]
Artvera's Gallery (Geneva) [NEW]
Axel Vervoordt (Belgium)
Bailly Gallery (Geneva)
Benjamin Proust (London)
Berko Fine Paintings (Belgium)
Blain | Southern (London)
Boccara (Paris) [NEW]
Boghossian (London)
Brun Fine Art (London)
Butchoff (London)
Cahn AG (Basel)
Caiati Old Master Paintings and Sculptures (Milan)
Carter Marsh & Co (Winchester)
Chatila (London)
Chiale (Racconigi, Italy)
Christopher Kingzett (London)
CINDY CHAO The Art Jewel (Hong Kong) [NEW]
Collisart, LLC (New York)
Cortesi Gallery (London)
Crane Kalman Gallery (London)
Daniel Crouch Rare Books (London) – Shared booth with Les Enluminures
David Gill Gallery (London)
Day & Faber (London) [NEW]
De Jonckheere (Geneva)
DAG (Delhi)
Dickinson (London)
Didier Ltd (London)
Die Galerie (Frankfurt) [NEW] – Shared booth with M F Toninelli Art Moderne
E & H Manners (London)
Edward Barnsley Workshop (Petersfield)
Edward Hurst (Salisbury)
Fabio Salini (Rome) [NEW]
Factum Arte (Madrid)
Finch & Co (London)
Galerie Chenel (Paris)
Galerie Félix Marcilhac (Paris)
Galerie Henze & Ketterer (Riehen) [NEW]
Galerie Ludorff (Dusseldorf)
Galerie Mathivet (Paris)
Galerie Sismann (Paris)
Geoffrey Diner Gallery (Washington) – Shared booth with Safani Gallery Inc.
Gladwell & Patterson (London)
Godson & Coles (London)
Grima (London)
H. Blairman & Sons Ltd (London)
Hammer Galleries (New York) [NEW]
Hancocks (London)
Hauser & Wirth (London) [NEW]
Hazlitt Holland-Hibbert (London)
Hélène Bailly Gallery (Paris)
Hill-Stone, Inc. (South Dartmouth Massachusetts) [NEW]
James Graham-Stewart (London) [NEW]
Jean David Botella (Paris)
Jill Newhouse Gallery (New York) [NEW]
John Atzbach Antiques (Redmond Washington) [NEW]
John Mitchell Fine Paintings (London)
John Whitehead (London)
Jonathan Cooper (London)
Kallos Gallery (London) [NEW]
Koopman Rare Art (London)
Landau Fine Art (Montreal) [NEW]
Les Enluminures (New York) - Shared booth with Daniel Crouch Rare Books
Linley (London)
Long-Sharp Gallery (Indianapolis)
Lullo Pampoulides (London) [NEW]
Lyndsey Ingram London, Ltd. (London)
M & L Fine Art (London)
M F Toninelli Art Moderne (Monaco) – Shared booth with Die Galerie
MacConnal-Mason Gallery (London)
Mallett (London)
Maruani Mercier (Brussels) [NEW]
Mayoral (Barcelona)
Mazzoleni Art (London)
Michael Goedhuis (London)
Michele Beiny (New York)
Modernity Stockholm AB (Stockholm)
Moussaieff Jewellers (London) [NEW]
N & I Franklin (London)
New Art Centre (Salisbury)
Nukaga Gallery (London)
Offer Waterman (London)
Opera Gallery (London)
Osborne Samuel Gallery (London)
Oscar Graf (Paris)
Pallesi Art Gallery (Monaco)
Pangolin (London)
Paolo Antonacci (Rome)
Partners & Mucciaccia (London) [NEW]
Patrick & Ondine Mestdagh Gallery (Brussels)
Patrick Bourne & Co (London)
Perrin Fine Art Ltd (London)
Peter Fetterman (London)
Peter Harrington (London)
Philip Mould and Company (London)
Piano Nobile (London)
Portland Gallery (London)
Richard Green (London)
Robert Bowman (London)
Robert Young Antiques (London)
Robertaebasta (Milan)
Robilant + Voena (London)
Robin Katz Fine Art (London)
Rolleston (London)
Ronald Phillips (London)
Rose Uniacke (London)
Rupert Wace Ancient Art (London)
S.J. Phillips Ltd (London)
Safani Gallery Inc. (New York) – Shared booth with Geoffrey Diner Gallery
Samuel Vanhoegaerden Gallery (Belgium)
Sandra Cronan Ltd (London)
Sarah Myerscough Gallery (London) [NEW]
Scultura Italiana di Dario Mottola (Milan)
Simon Teakle Fine Jewelry (Connecticut) [NEW]
Sims Reed Gallery (London)
Sinai and Sons Ltd (London)
Sladmore Contemporary (London) – Shared booth with the Sladmore Gallery
Somlo Antiqes (London)
Stair Sainty (London)
Steinitz (Paris)
Sundaram Tagore Gallery (New York)
The Fine Art Society (London)
The Redfern Gallery Ltd (London) [NEW]
The Sladmore Gallery (London) – Shared booth with Sladmore Contemporary
Thomas Coulborn & Sons (Midlands)
Thomas Gibson Fine Art Ltd (London)
Tornabuoni Art London (London)
Trinity House Paintings (Broadway)
Univers du Bronze (Paris)
Van Cleef & Arpels (London)
Verdura (London)
Veronique Bamps (Monaco)
Vertes (Zurich)
Vigo Gallery (London) [NEW]
W. Agnew & Company Ltd (London)
W.W. Warner Antiques (Kent)
Wartski (London)
Whitford Fine Art (London)
Wick Antiques Ltd (Hampshire)
William Weston Gallery (London)