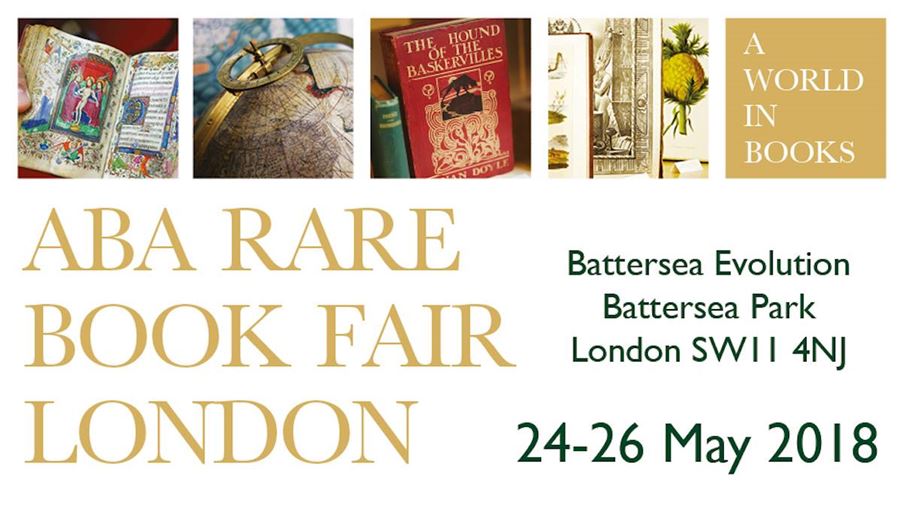 After two decades at the Olympia London exhibition centre, the ABA Rare Book Fair London is moving across town to Battersea Park. The 61st edition of the fair, which runs from 24 through 26 May 2018, will bring more than 160 dealers to Battersea Evolution, a 5,500 m² event space billed as the most versatile in London.
Aside from the larger, more dynamic surroundings offered by the move, there is at least one other compelling reason Battersea Park is a fitting locale for the Rare Book Fair – the stories that have unfolded there since it was founded in 1858 could fill hundreds of books. The first football game under the Football Association rules was played in the park in 1864. It was the site of the Brown Dog Riots in 1907, when medical students clashed with police while protesting a small statue of a dog. Anti-aircraft guns were stationed in the park during both world wars. And the park was the site of the worst roller coaster accident in London history, when the Big Dipper crashed, killing five children.
Perhaps the most important boast to which Battery Park can lay claim is that it was once home to the Red House Tavern, a particularly rowdy haunt Charles Dickens was known to often patronise. It would hard to imagine a more enjoyable accomplishment than to attend the Rare Book Fair this year, purchase a first edition Dickens then find a shady spot to read it near the Battersea Power Station, which now occupies the spot where the tavern once stood.