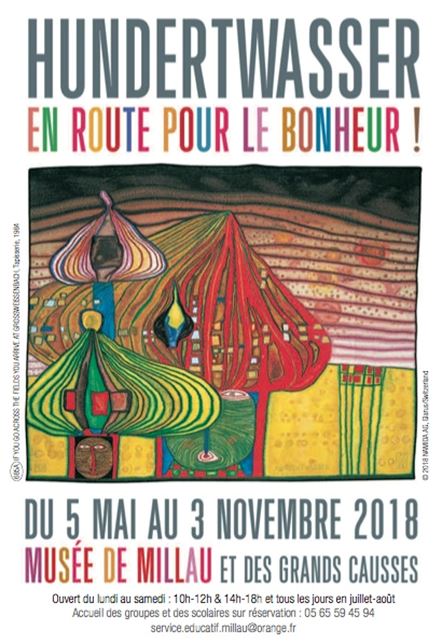 Friedensreich Hundertwasser – the one-of-a-kind artist, architect, and social activist – would have turned 90-years-old this year, had he not died at sea in 2000 on a voyage aboard the Queen Elizabeth 2. To celebrate the anniversary of his birth, the Museum of Millau and the Grands Causses in Millau, France, has opened a retrospective featuring more than 50 of his artworks, which will be on view through 3 November 2018.
Thanks to his outlandish architectural vision that favored organic, biomorphic, plant-covered buildings over straight-lined, Modernist ones, Hundertwasser is most often remembered today for the many fantastical structures he designed. But he was also a prolific fine artist, working in the mediums of graphic design, drawing, printing, painting, and poster making.
His artworks convey his vision of an ecologically balanced, harmonious, and happy world, in which humans work together with nature. His vision is nothing if not aspirational. This exhibition thus comes at the perfect time. Were we to adopt even a tenth of the optimism this genius possessed, the world today could transform itself into a much more equitable, and interesting looking, place.