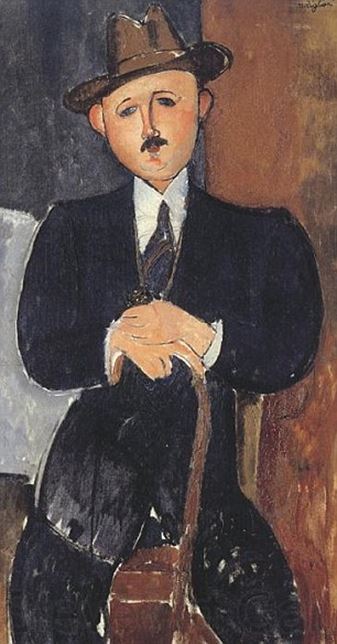 The Nahmad family is officially desperate. Their latest attempt to maintain possession of Seated Man with a Cane, a Modigliani painting looted by Nazis during World War II, which the Nahmads bought at Christie's for $3.2 million in 1996, is to claim that their "Seated Man with a Cane" is not the "Seated Man with a Cane" authorities are looking for.
The Nazis stole the work from Oscar Stettiner in Paris, and immediately sold it to one Jean van Der Klip. After the war, Stettiner sued the buyer in the French courts and won, but van Der Klip claimed he had already sold the painting to someone else, so it was never recovered. Lo and behold, in 1996, the van Der Klip ancestors brought the painting to auction, where it was purchased by the Nahmad family, who used an off-shore shell corporation to hide their identity.
In 2008, the Nahmads tried to sell the painting at Sotheby's, but failed when it came to light that it was likely stolen by Nazis. The Nahmads then claimed they were not the true owners, pointing to the shell corporation. Their lie was exposed thanks to the Panama Papers leak. The Nahmads trying out this last ditch story about theirs being a different painting because a New York judge recently cleared the way for the court case to finally be heard. Since the painting has an exhibition history pre-dating its theft, this lie, too, is doomed to be exposed. It is unfathomable why this wealthy family, who clearly does not need the money, does not simply do the right thing. Another question is how Christie's and the van De Klip ancestors have not been forced to give up their proceeds from the 1996 sale.