Description & Technical information
This rare fall front cabinet was made in Gujarat ca. 1580-1620. Its teakwood (Tectona grandis) carcass is veneered in sissoo (Dalbergia latifolia) and inlaid in teak, ebony, ivory, green dyed bone, and brass filleting, forming elaborate decorative marquetry compositions. The brass hardware elements comprise of the front lock escutcheon and the inner drawer pulls. The outer surfaces, as well as the inner fall front writing top, feature carpet-like compositions centred by figural scenes, framed by peripheral borders of stylized Chinese inspired cloud motifs, that seem to be unique to this specific writing cabinet.
Unlike other extant pieces of identical origin, the archetypal ornamental motifs of symmetrical flowering branches and birds are, in this instance, complemented by Iranian style, rather off the scale figures.
The front and lateral elevations are characterized by two male figures in Iranian attire flanking a flowering tree. An older man, seemingly a scholar or a sage, reclining and reading a book, and another, a kneeling youth, reading a safineh, an oblong shaped book, probably of poetry. The latter is portrayed in a sleeveless tunic over a shirt, or pirahan, and both display large turbans, characteristic of the Safavid period. Contrasting with these motifs, the top panel surface features two floor seated female figures, with one knee resting on the ground and playing tambourines. These figures, rather than following a regular Gujarati portraiture style, copy the pictorial Iranian model that is evident in contemporary Safavid paintings and in luxurious figural silk textiles.
Made according to the same techniques, with brass pins fixing the larger inlaid elements, and adopting the same materials, ivory and dyed bone of incised black highlighted lines, the figures are contemporary to the box and represent iconographic inclusions, certainly resulting from a specific commission, for which the cabinetmaker adapted a writing cabinet routinely made for the Portuguese market but restyled for an Iranian customer or for an Indian of Persian cultural sensibilities.
When open, the cabinet would originally expose six drawers arranged in three tiers: one long upper drawer, now missing, a central double-height square drawer, and two pairs of smaller, identical drawers. The drawer fronts, of inlaid decoration, are defined by flowering branches flanked by mirrored face-to-face hares. Identically to the other box surfaces, the inlaid motifs include green dyed bone elements that lend added sophistication and contrast to the marquetry surface. Alongside teak, the drawer bottoms are cut in ebony.
The central drawer displays a couple in local Indian costume, probably emphasizing the marriage character often associated to this type of object. The male figure is attired in jama (coat), pay-jama (tight fitting trousers), patka (waist band) e kulahdar (small turban), while the female features ghaghra (long pleated skirt), odhani (transparent veil) over the head, and a choli (fitted short bodice).
This Gujarati writing cabinet seems to correspond to a unique example of adaptation to the demands of an Iranian or Indian-Persian customer, for a product generally destined to the European market. Its iconography, derived from painted models and Safavid silk textile patterns, is an unequivocal demonstration of the Indian artisans capacity for adapting its artistic productions to a widely varied clientele.
Hugo Miguel Crespo

Date: ca. 1580 – 1620
Origin: India, Gujarat
Medium: Teak, Sissoo, Ebony, Ivory, Sandalwood, Brass, Iron, green dyed bone, brass hardware
Dimensions: 28.4 x 21 x 16 cm (11¹/₈ x 8¹/₄ x 6¹/₄ inches)
Provenance:
Private collection, Brussels; Edric van Vredenburgh collection, Brussels.
Categories:
Oriental and Asian Art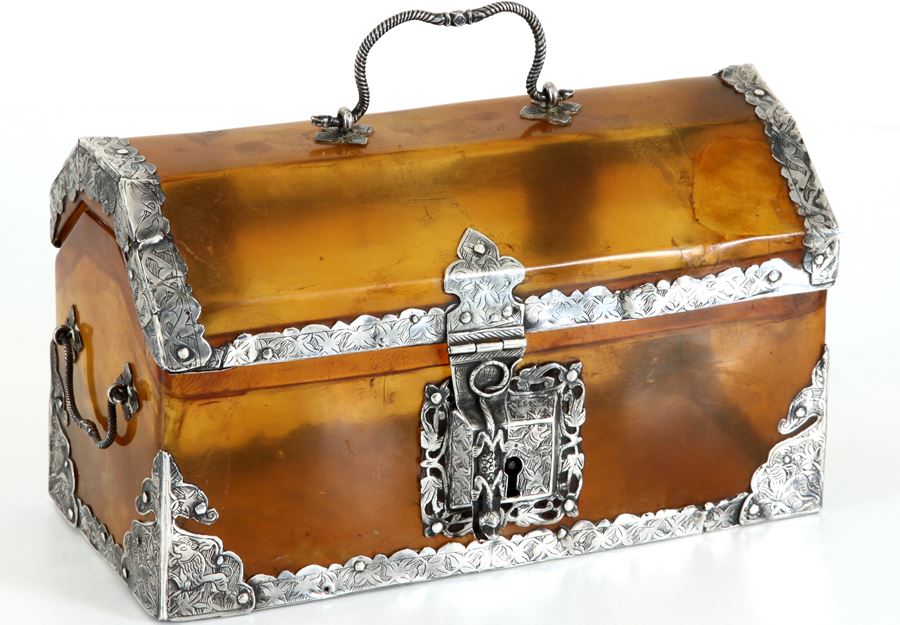 Discover the gallery
São Roque
Fine Furniture, Silver, Portuguese Tiles and Ceramics, Arts of the Portuguese Expansion, Chinese Porcelain, Fine Arts
More Works From This Gallery