Description & Technical information
This miniature table, in the shape of a stylized Lingzhi fungus, is supported by three scrolling cabriole legs. The top, decorated in soft shades of famille verte enamels on the biscuit, has a scene of rocks, flowering peony shrubs and prunus branches on a grassy hillock. The legs are decorated with a wood grain pattern in black on an aubergine ground. The back of the legs and underside are left undecorated and partially unglazed.

The Lingzhi (Glossy Ganoderma), is actually a woody fungus which grows on the trunks or roots of trees in southern China. It has dark colour and is very glossy, as if lacquered. Due to its hard texture it does not decay like other fungi, thus surviving for a long time. It was particularly appreciated for its great medicinal qualities, even believed to revive the dead, making it worth four times its weight in silver. Also considered the preferred food of the immortals, only deer were reputed to be able to find them. Because of these powerful associations, it became known as the fungus of immortality. The Lingzhi is a very popular motif found in every medium of Chinese art and a much used symbol of longevity.

The purpose of such tables, such is this one, is uncertain. It is suggested they were used on a scholar's or merchants desk to display small objects or to place useful items, such as a water dropper, brush rests or seal paste box. Another suggestion is that some tables would have been used as an armrest. The scholar could rest his wrist or arm during calligraphy or painting for a short repose, whilst still holding a brush. This type of object is found more often in other materials such as lacquer or wood or ivory; porcelain examples are much rarer.

A similar table can be found in the Musée Guimet, Paris (acc. nr. G5144) and one with the same shape but a different decor is published in the RA Collection catalogue. An oblong example with comparable decoration and colours is in the collection of The Rijksmuseum, Amsterdam (inv. no. AK-RBK 15896).

Period: 1600-1750, 17th century, 18th century
Origin: China
Medium: porcelain
Dimensions: 11.5 x 22 cm (4¹/₂ x 8⁵/₈ inches)
Provenance: Meulenaer – de Wit Collection, Belgium (2010)
With Vanderven & Vanderven Antiquairs, The Netherlands (1980)
Literature: Terese T. Bartholomew Hidden Meanings in Chinese Art, San Francisco, 2006, p187

J.P. van Goidsenhoven, La Céramique Chinoise sous les Ts'ing 1644-1851, Brussels, 1936, pl.12, nr.24& p. 150

Christiaan J.A. Jörg & Jan van Campen, Chinese Ceramics in the Collection of the Rijksmuseum, Amsterdam, Amsterdam/London, 1997, p187, nr. 209

Maria Antonia Pinto de Matos, The RA Collection of Chinese Ceramic : A Collector's Vision, London, 2011, nr.150

Maura Rinaldi, Ceramics in Scholarly Taste, Exhibition Catalogue, Southeast Asian Ceramics Society, Singapore, 1993, p.76-77

Categories: Oriental and Asian Art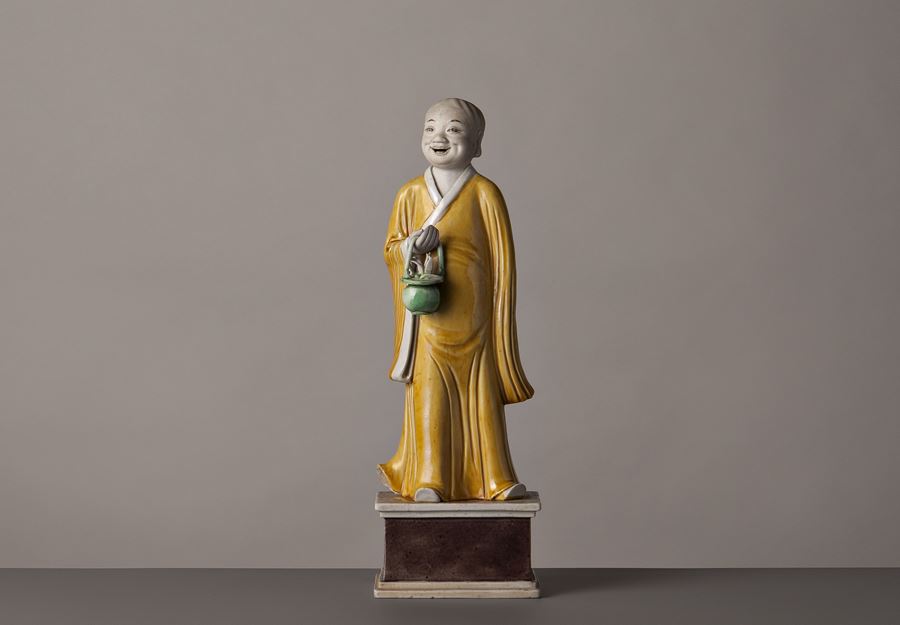 Discover the gallery
Vanderven Oriental Art
Chinese Ceramics and Works of Art
More Works From This Gallery